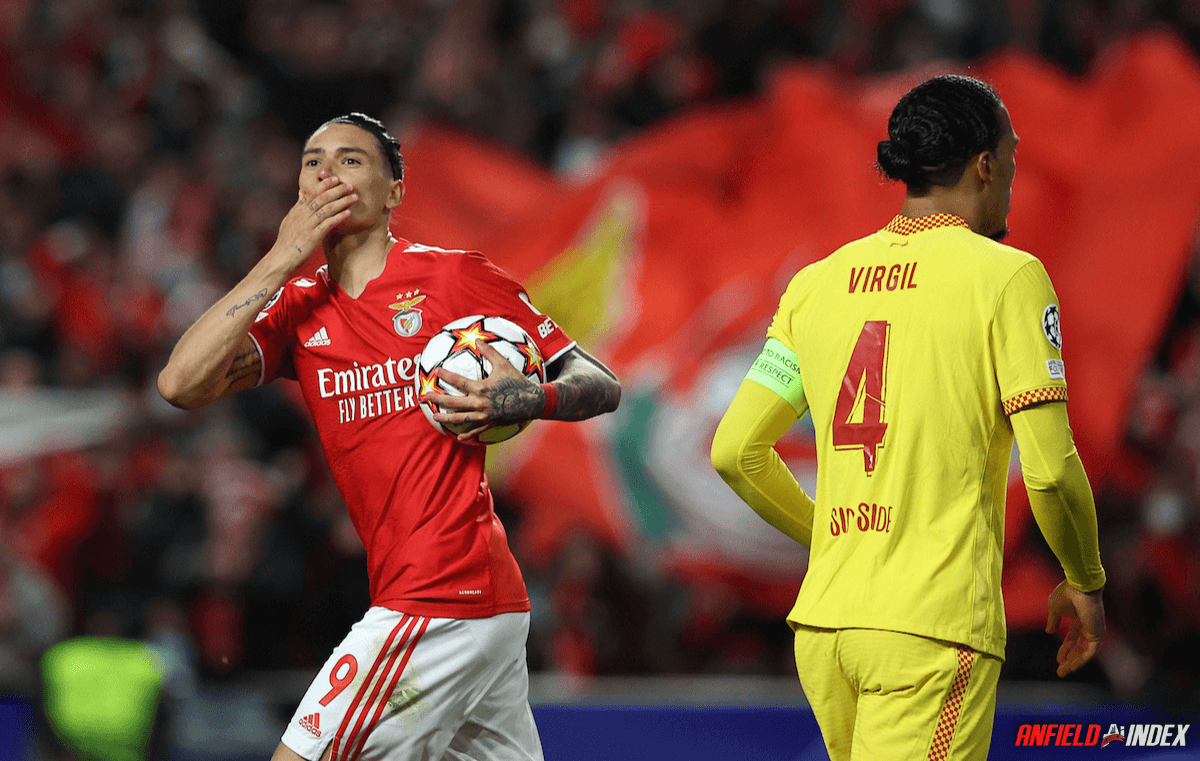 A Darwin Evolution
This week Darwin Núñez signed as a Liverpool player, in a deal that could eventually reach £85m. The guaranteed outlay is around the £63m mark (£20m upfront), and if the full fee is to be paid to Benfica, then that would be a mark of extreme success by the player. The cost is of course substantial, but then so is the player.
I've never really cared who cost this or that, only that the right tools were afforded to our world class coach, Jürgen Klopp. The most exciting prospect about this deal, is to recall what Klopp once did with another six foot plus striker. In 2010, Borussia Dortmund recruited the little known Robert Lewandowski to be their starting centre forward. The deal cost the Germans about £4m, and he has gone on to become one of the most prolific strikers of all time. His game was taken to unbelievable levels, and it was Klopp who was able to best harness all the attributes on offer.
When Jürgen Klopp arrived at Liverpool, there was an obscene amount of work to be done. The squad that he inherited was patchy at best, and in order to bring in a sense of solidity, a three man midfield was quickly established. Klopp had arrived with a defined 4-2-3-1 system behind him, and his previous Dortmund outfit was slowly built to ensure a brilliant structure. With Liverpool, he was given a squad of highly played players, with only a handful that could ever be moulded into his gegenpressing system. In order to slowly build his team up from a side that was once humbled 6-1 at Stoke, it was a process that needed a side step from his preferred formation. It would appear that with the Darwin addition, we could be about to see that system implemented at Anfield.

This summer could see the evolution of England's top two teams, with their attacks both adding an 'old fashioned number 9'. The low block era can be the most frustrating of watches, and it seems both Jürgen Klopp & Pep Guardiola will look to spearhead their attacks in the 2022/23 season. In Guardiola's case there is of course the more recent period of Sergio Aguero, where he was once the prolific striker in the City attack. The outset and end of Aguero under Pep is however a mixed bag. In the last two years, we have very much seen a rotation of central forwards incorporated, with only Gabriel Jesus as an established actual striker last term. Erling Haaland (City's new striker) is representative of pure destruction, but his strongest points may not be entirely be suited to a Pep system, just yet.
Last summer saw the Harry Kane saga that seemed to drag and drag. Harry Kane is one of the best strikers in world football, but it would have been some of the non scoring facets of his game, which attracted the attention of Manchester City. Harry Kane can at times act as the perfect 10/9 hybrid, with his build up play at times sensational. Kane is of course a prolific goal scorer by trade, but his movement and awareness on and off the ball would have been the perfect ingredient for a fluid and dominant Etihad side.
The Kane deal never happened, and Haaland eventually arrived. Haaland's ability in possession is frightening, and he will certainly score goals a plenty. This shift in pattern of play however, is what initially saw Aguero struggle to break into Pep's team. Aguero is a world class legend of the game, but he was an out and out striker at his best. His in game intelligence and experience allowed him to adapt, and that could be something Haaland will have to do also. The learning curve for both manager and player may not be entirely straight forward, and tight games may well see the manager regress to what is tried and tested. This is very much what has occurred with Jack Grealish, who despite the massive £100m outlay, has struggled to fit in.
In Liverpool's case, Jürgen Klopp is commonly seen as the best coach in harnessing the absolute best of his forwards. Robert Lewandowski, Pierre-Emerick Aubameyang, Marco Reus, Sadio Mane, Mohamed Salah, Diogo Jota and most recently Luis Diaz, represent a crop of average to good forwards that have reached elite or world class levels under Klopp. I can only imagine the excitement in Klopp, with this physical specimen Darwin Núñez headed to his training ground. Klopp has form for working with this type of striker, and taking them from brilliant potential to the highest level. With a batch of fullbacks built to deliver crosses, it will be a fascinating watch to see how the reds cope with the first attempted low block next season. The formation is inevitably going to shift, and the signing of a Raphinha type could just be the way forward in assisting that.
Last season we saw Mohamed Salah continually crowded out on the right wing, overplayed for club and country, and pretty much over-relied upon by both. With 5455 minutes accrued for the Reds and Egypt since last season, he became the most played footballer in any of the top 5 leagues. To summarise, Mo Salah played the equivalent of 60 games last season, which work out to about a full match every four days, for 8 months. This statistic is mind boggling, and his second half of the season showed a player in need of both rest and on pitch relief.
As Mo hits his 30th birthday, I think the Sadio Mane departure will see Salah get his contract. This will of course have been on his mind also, and the Reds need to sort this situation as a priority. If Liverpool were to shift to Klopp's old 4-2-3-1 (or even a 4-4-2 system), this would surely give Mo more freedom to hurt opposition teams from either a deeper wide position, or in behind Darwin. Mohamed Salah never became predictable, but the fact that Liverpool invariably have 70% of the ball, meant that the Reds' patterns of play did.
Raphinha would represent the perfect player to help shift systems, but it is the Darwin introduction which can most serve the whole team. A new attacking dynamic can reinvigorate a side, and with a track record with a prolific striker, Klopp is the ideal coach for Darwin. The team is evolving, and I expect one more midfielder/wide man to join the mix. Calvin Ramsey and Fábio Carvalho would represent the perfect depth pieces, but the addition of Raphinha type could just make for the ultimate window. Darwin is the start of the real evolution, but he could just be the start.