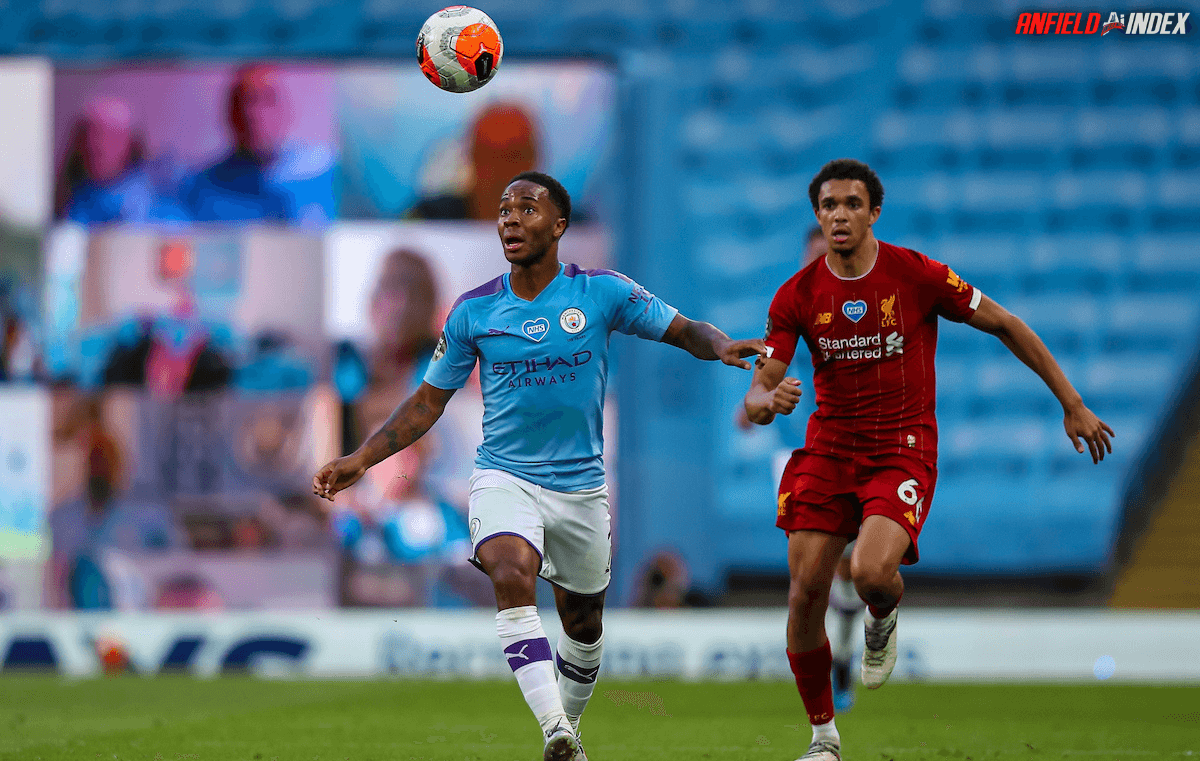 Raheem, A No Brainer
In this period of Liverpool brilliance, the common notion within the reds fan base is that reinforcements are needed. Nearby rivals Manchester City will continue to be superb, and ways must be unearthed to keep pace. The sports washing (as Dave Hendrick calls it) Etihad team cannot be bullied financially, therefore an exceptional transfer strategy and coaching department has been required. Whereas City remain the more dominant of the two, it means that more outside of the box thinking is needed by Jürgen Klopp & Julian Ward.
Last week we saw rumblings and rumours galore, with Mason Mount, Jude Bellingham, Gini Wijnaldum and Raheem Sterling being linked. For me, any of the above improve us, and give us a better chance of winning more silverware. When analyzing each name, there seems to be one name that is deemed more controversial than the others, and that is England's Raheem Sterling.
Before delving too much into the Raheem scenario, I think all reds fans can pretty much assume Jude Bellingham is out of reach this summer. Erling Haaland has already left Borussia Dortmund, and they will be confident that Jude will only improve his worth this coming season. Gini returning is also highly unlikely, but the notion of his return would be ideal. His acquisition would give that year grace, until we can really go heavy for Jude. Gini was immense, Gini was the midfield system, and Gini should be welcomed back if it's at all possible. What has occurred at PSG doesn't worry me at all, and Gini would be a valuable asset in a side built for his strengths.

With regards to Mason Mount, it seems a deal that would become too expensive and problematic. His ability and adaptable play would be a brilliant fit at Anfield, yet it would be a huge sum of money to get him out of the Bridge. With new ownership in place, it wouldn't be a great idea to sell such a consistent player, and with that would come a very high cost. If there is legs in that deal, then Julian Ward is at least looking at the correct level of player, but remains unlikely.
Raheem Sterling left Liverpool under a cloud, as a young man hungry for success. How he left is at best messy, with Brendan Rodgers always eager to be the ego in the room. As Raheem drifted towards elite status, Rodgers was simply not the right man, or experienced enough manager, to handle the Sterling situation. Raheem was obviously keen to move to City, but it was utter mismanagement by Brendan which saw England's flying winger leave.
Seven years on, Sterling has established himself as one of Europes best attacking wide men. Under the guidance of Pep Guardiola, he has won four League titles, and FA Cup, and four League Cups. He is a serial winner, perhaps Englands most important player, and would improve pretty much any team in world football. If Liverpool were to a move that Sterling wants, then I'm sure Jürgen Klopp would entertain the idea.
The likelihood of him returning to Anfield is still remote, yet the notion must be explored if feasible. Raheem left Liverpool in search of major silverware, and one would assume any next move would hold the same motivation. Under a Jürgen Klopp regime, Sterling would be returning as a refined attacking weapon. His tutelage under Pep would bring an elite level of mentality, and a finished article in his prime years. To dismiss his return would be short sighted, as Liverpool must be smarter and open to moves that improve their great side.
Though Sterling's stock has fallen somewhat, it must be noted that the City attack has been ever changing these last two years. Whereas the entire team benefits from the constant interchanging, it clearly makes the perfection of certain players form an issue. It is the system and City approach, that has seen them amass huge points totals these last two seasons. Next season we are likely to see Jack Grealish further integrated into a new look attack, as his price tag simply has to be justified. With Erling Haaland and Phil Foden the likely starters also, it does make Sterling's immediate future questionable.
With the reds looking to reinvigorate their own attack, Sterling might just be the ideal option for Jürgen Klopp. His ability on and off the ball is elite, and a combination on the right (with Trent) could be sensational. Sterling left so long ago, it really isn't an issue as to whether he should be welcomed back. The essence of this team is about striving to overcome, and Raheem would represent a player desperate to show City the player he still is. Raheem Sterling once shone alongside a certain Uruguayan, and with Liverpool now deploying that next breed of South American, it would be a superb signing. To defeat that which at times seemed unbeatable, Liverpool have to make moves that can make the difference. In Raheem Sterling there is a player that knows how to win major trophies, and would revel in this more electric reds side.
City are like a prime Bernard Hopkins, with control and moments of incisiveness all measured. Like Hopkins, a superior and tactical City often win through patience and brilliance. At Liverpool, though the nature of their game can at times be restricted, you often feel a Roberto Duran onslaught is looming. With so much speed and aggression in the Red's play, Liverpool could well immerse Sterling into a style which perfectly suits the player he really is. An angry and vengeance hungry Sterling would be a fine addition to this side, and would give more freedom to an often surrounded Mo Salah.
If there is the chance, Julian Ward should look beyond that which is almost irrelevant, and see a player that can greatly improve this team. It won't happen, but if Raheem Sterling was looking to play his prime years under Klopp, then that's something which must be explored.