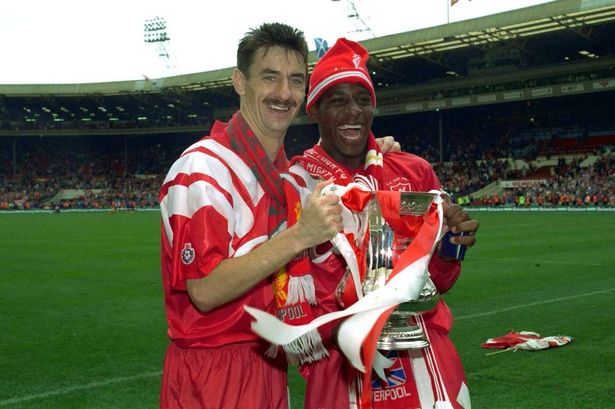 Ranking the best ever Liverpool forwards  
The BBC recently ran a survey inviting Liverpool fans to select their all-time Liverpool XIs. It's always intriguing to see how much these sorts of exercises are swayed by present-day players. Probably there are some whose memories don't extend beyond the past couple of games, while for others, no modern-day achievements will ever knock childhood heroes of bygone eras from their perches.   
That is natural enough, and when put together, we probably get as fair a reflection as is possible when trying to compare players from different eras. One of the most noticeable changes since the last time the BBC ran a similar selection two years ago is that Mohamed Salah has catapulted to the front of the line, and was a top choice up front, named in more than 60% of teams.  
Now Salah is seldom far from the headlines and is one of those players who has accumulated an international fanbase without even knowing how or why. With all the recent contract debate, online sport betting in the US was buzzing as much as it was in the UK as Salah followers weighed in on where he could and should be playing next season and beyond.  
It begs the question, are we really witnessing one of the all-time greats, and will he still be a top choice in 20 years' time? Let's take a look at the competition and see how he shapes up.  
King Kenny still a shoo-in
Sir Kenny Dalglish was the most-selected forward in 2020 and that remained unchanged this year. 70 per cent of respondents had him in their best ever XI, and with more than 500 appearances, six league titles, three European Cups and a Knighthood to his name, it's hard to argue against him. Hugely popular among Merseysiders, Sir Kenny will always be King Kenny to Liverpool fans.  
Ian Rush cannot be denied
Greatness up front is not just about the weight of goals, but also how you score them. Having said that, when a man finds the net for Liverpool 346 times, he cannot be denied. Again, Rush was included among the starting three forwards in the all-time XI for more than half the Liverpool fans who took part, both in 2020 and this year.  
Luis Suarez on the bench
In 2020. Dalglish and Rush were joined up front by Luis Suarez, who was selected by 32 per cent of respondents. This year, that dropped to 27 per cent, while those choosing Salah shot up from 31 per cent to 61 per cent. It's a swing, but it is mostly an across-the-board shift towards Salah. The majority of those who backed Suarez in 2020 still did so this year, and anyone can see why. He might not have scored as heavily as some, but none could match El Pistolero for his grace and control in the middle. 
If the BBC asks the same question again in 2024, it will be intriguing to see whether there are any changes. Is Salah just a flavour of the month or will we still be selecting him in our all-time XIs alongside the likes of Rush, Dalglish and Souness in years to come?