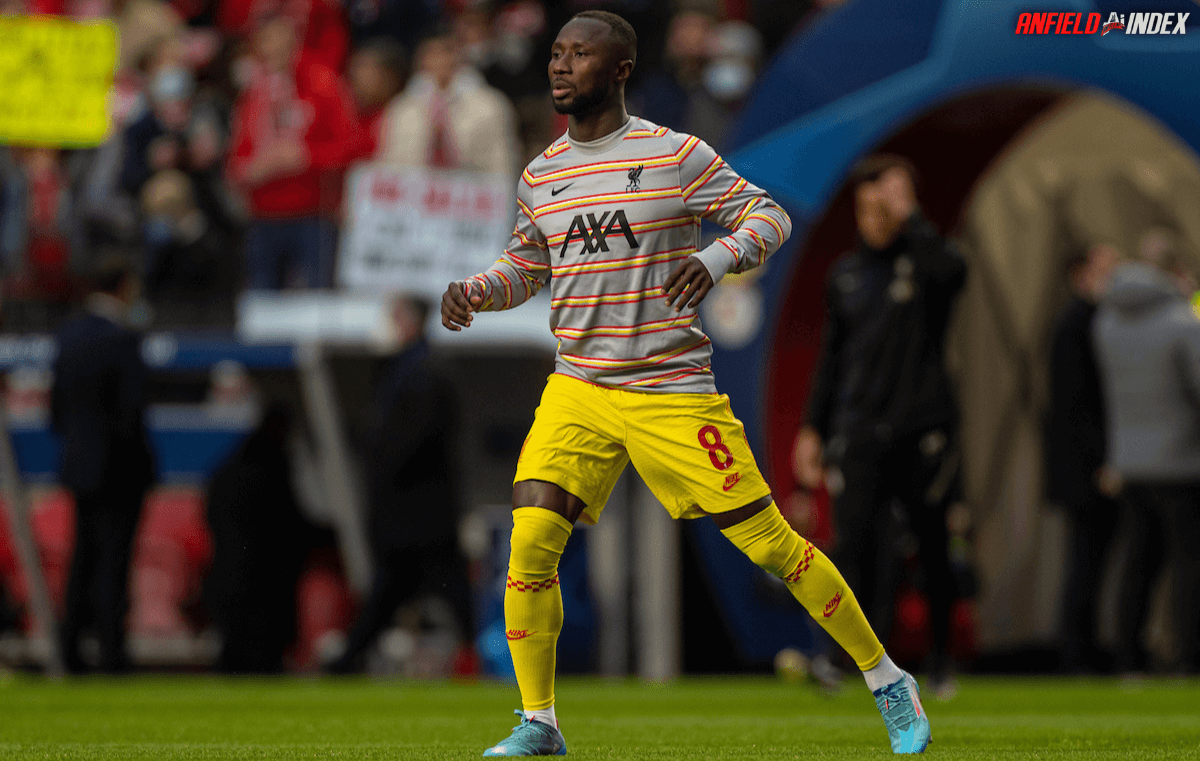 The Importance Of Naby Keita
With a year remaining on Naby Keïta's current Liverpool deal, a decision must now be made on the future of the gifted Guinean. After a somewhat staggered first few years, last season he showed himself to be of the required level that the Reds' midfielders need. Regardless of how you judged him prior to last season, his importance to the side last year cannot be overlooked. Every player has his loyal followers, and unfortunately just as many have the opposite. The key is to remain focused on form, and the tangents that could effect that.
Liverpool are currently looking like being one elite player light, if they are to remain with the 4-3-3 system. Different games will inevitably call for different variations, but line breaking midfielders are probably our weakest area right now. When Gini arrived from Newcastle, he was a gifted and attacking wide man, that would soon be remoulded into what Klopp needed. Gini sits alongside the likes of Emre Can & Naby Keïta as the system players that are often criminally underrated. It has taken till this last season to see Klopp's true incarnation of Naby, and his rebuild now warrants a new deal.
Last season Naby Keïta played 40 games for Liverpool, and was only missing on a few occasions with injury. His body has now been built to withstand the rigours of the Premier League, and his importance on the field is now unquestionable. To have him as a rotating option alongside Thiago Alcantara is vital, and the ever growing demands of top tier football mean we have to look at depth, and the adequacy of each piece within. Naby & Thiago are system players that are ultra intelligent on the pitch. Their work on and off the ball allows transition in play, and Liverpool's devastating style of play needs this type of player to add that much needed ingredient.
To allow Naby Keïta to drift away (as he approaches his prime years) would be short sighted, and I fully believe Jurgen Klopp is now fully invested in Naby as a first team player. One more squad addition is indeed needed, but his ball carrying, ball retention, off ball positioning and ability to play in various midfield roles, is the quality we need. The Ox has limitations, Harvey and Curtis are inexperienced, Milner is a back up to the back ups, and the captain should be the deputy holding midfielder. That leaves three elite midfielders in Thiago, Fabinho & Naby. One more progressive midfielder is needed that can come straight into the first team. I do believe Jude Bellingham to be that very player, but certainly not at the cost of Naby who should remain a key player.
We are on the cusp of Liverpool's greatest modern day squad. Back when there was only one sub (and players rarely got injured), limitations in squad depth were never a reality. In 2022, contingency plans must be made in the event of Thiago and others getting injured, and though Naby is much more than a back up, a rotating scenario (between Naby & Alcantara) in mid level games should be afforded. It feels like certain games could see upto four forwards on the pitch this season, with an intent to blow low block teams away. Cavalier styles are super on the eye, but the structure must be built to control throughout. System players that can recycle the ball and control tempo to a high level are rare, and that is what both Thiago & Naby bring.
As the excitement builds towards another charge, the final weeks will soon become the final days till the first game proper. With a few questions and obvious expectations in the window, we must not forego that which keeps us ticking. Naby isn't for everyone, and that rhetoric must be abandoned for logic. Naby Keita is a key piece within this squad, and as much as I would love Jude Bellingham to arrive, the importance of this delightfully gifted Guinean must not be dismissed.