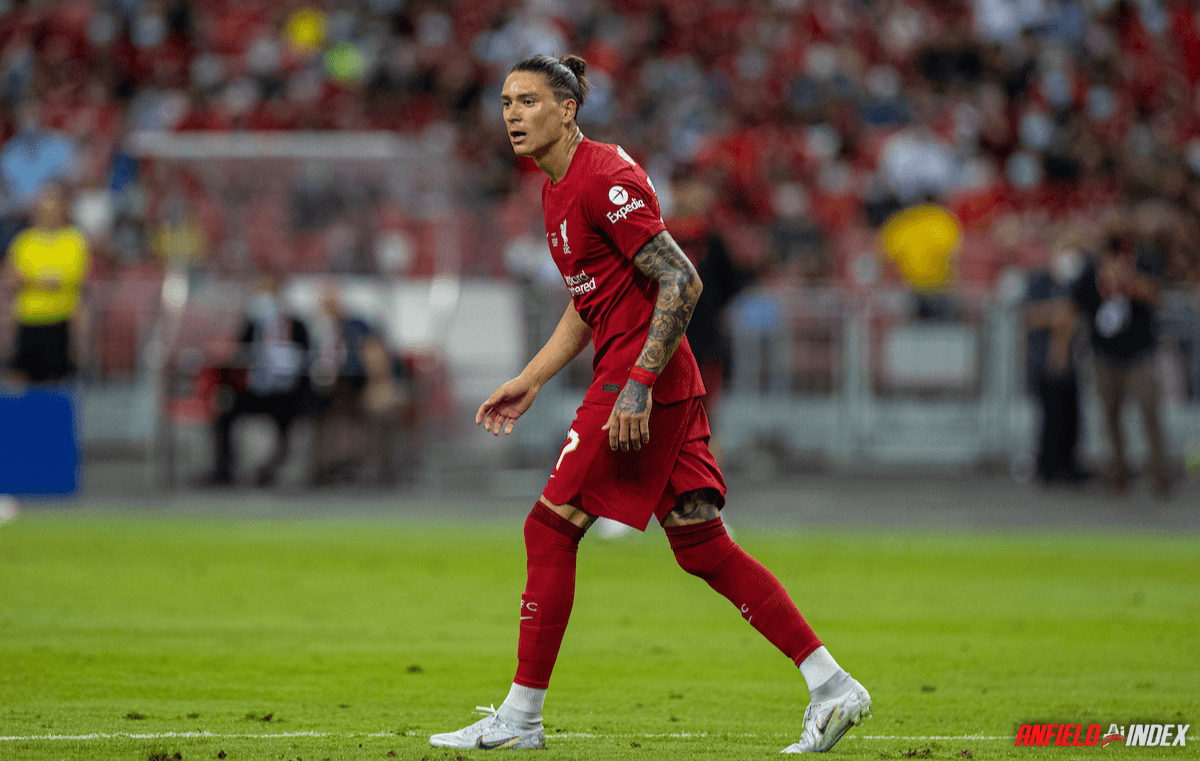 Darwin - Return Of The Number 9
I wrote just prior to the RB Leipzig friendly how patience was required for all new players. I was keen to state how pre season is nothing more than the warm up to the season, and how we had to trust the process of integrating new arrivals. The match score (and more to the point, the scorers against RBL), surely ratify some of those thoughts, and it hasn't take long for the negative comments to swing round to pure jubilation. Not until we see the true identity of the new attack can we truly judge, but the Reds' most recent outing definitely caused a stir in the fanbase.
In world football, there were many different avenues and names that could (and would) have been considered, before signing Darwin. Once Sadie Mane left for Bayern Munich, the trigger was pulled, and the Benfica man arrived. Though Mane's actual forward line replacement was Luis Diaz, Sadio's departure made the acquisition of a central forward a necessity. In Darwin Nunez, they tapped into the knowledge of new Sporting Director Julian Ward. Ward had been a Michael Edwards disciple, and part of Julian's back story centred around a keen knowledge of Portuguese football. He had carried out extensive work in that league, and that was absolutely a vital reason as to how Diaz was recruited. There can be sensational players unearthed within any country, but the FSG regime of late has shown that only the correct identity will do. Ward has gone to the well of Liga Portugal once more, and could even delve there one final time this window.
In modern times we have seen the likes of Manchester United, Arsenal, Chelsea and Tottenham pivot relentlessly in their dealings and recruitment decisions. The identity of a modern United and Arsenal continues to be confusing, with stylistic targets forever altering. The notion of Sporting Directors being a hindering art is short sighted, and everyone must surely respect the methodology put into place by Europe's best recruiting clubs. Liverpool aren't just fishing within the same league for talent, but operating under the guidance of a man who is identifying talents that are attainable. The Reds are self sufficient, and simply have to work smarter than all other teams. The notion continued to work, and I believe a new gem has been unearthed.

Liverpool have chosen Darwin, and have paid a handsome amount to make him a red. Tremendous and widespread research would have been done to ensure the right forward was signed. In Julian Ward. they appear to have a man with a strong perspective of the Portuguese League, and a brilliant analytical group. The process has thrived due to the correct decisions, and some people simply have to look beyond the fact that Sadio is gone. A break up of the famous trio was always inevitable, and now we have to focus on what Darwin can do for his new team.
Pre-season (as a whole) has to be taken for what it is, but as we close in on the next campaign, the moments and team shape will show how on pitch relationships are growing. I believe the Darwin signing will unleash a new wave of attacking threat, and give Mohamed Salah a much needed centre forward to work around. The movement, strength, pace, and lethal ability of Darwin, can only grow within this group, and the four goals scored against RBL certainly show that.
So many times last season we lacked that cutting edge, that ability to simply score, and have a man designed to create havoc in the opposition box. With low blocks now a common reality, I believe a more direct nature will be taken by Klopp, with more urgency to see the ball forced into the box. Much of Liverpool's game has been about controlled aggression, especially these last few years. Teams simply do not want to engage this world class team, so Darwin may be that presence in the box, that allows us to simply charge through and become more forceful in our play.
On July 30th there will be an interesting contest between England's top two teams, as Liverpool face off against Manchester City. Though this friendly match also means little, it'll be interesting to see how Liverpool line up. My guess would be that Roberto Firmino starts as the false nine, with Darwin coming on later. Bobby's best games often emerge against teams that like to play out, and Darwin may be protected from this occasion, certainly as a starter. The opening day will see Liverpool travel to Fulham, and this is a match where I truly would like to see Darwin unleashed.
Certain games will require certain strategies, and Manchester City are far different to that of Fulham. Often times we see certain players eased into the Premier League, but a game against newly promoted Fulham could create the perfect first senior start for Darwin. I'm excited to see how this next group evolves, and how the Klopp tactic board will address these ultra defensive sides. Fulham may could be the first start of Darwin, and if that means the return of a true number 9, I'm most certainly all for it.