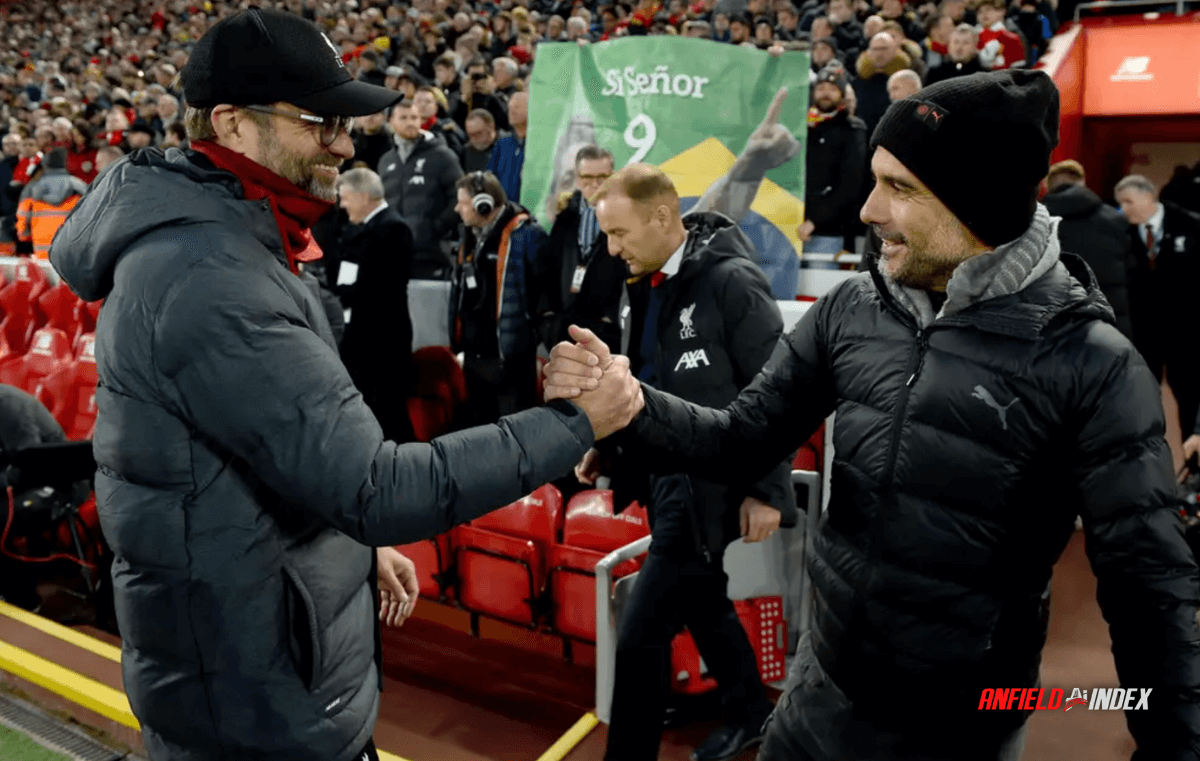 Liverpool v Man City - The First Hurdle
We all know that the community shield is little more than a glorified friendly, but when two particular sides collide, sometimes it brings a little more needle and attention.
Not since the days of Fergie's Manchester United & Arsene's Arsenal, have we seen such a long running duel between two English domestic sides. City are without doubt the recent victors overall, but Liverpool remain that relentless element in their side. The on going transfer window has seen both sides evolve their respective forward lines, and this Saturday's charity match may offer some insight into where each side are currently at.
Erling Haaland versus Darwin Núñez will be the agenda put forward by the matchday pundits, but for me I would be surprised if both start. Minutes, load building, system requirements, and other intangibles will decide the lineups, and we could see an open game as a result. Neither manager will want to suffer defeat, but the game plan and pre-scheduled minutes for each player will probably dictate proceedings. Often times you will see eager managers pitch their preferred starting eleven from the outset of pre-season (Man United, cough), but when elite teams are preparing for the long haul instead of the short (and much craved) pop, then logic will often prevail.

Liverpool seem destined to offer different variations in their system and set up this season, with 18 English teams likely to sit deep. This weekend will see a 4-3-3, and a much talked about Bobby Firmino hunting down defenders. City are the team more likely to alter their style (certainly with their patterns of play), and Liverpool could use their aggression to pounce on a group in transition.
One of the more key points, certainly for me, is how each side will adapt to the loss of personnel. Liverpool have lost Sadio Mané from their pool of starters, whereas Pep has lost both Raheem Sterling and Gabriel Jesus. Both the departed City players played key roles in City's recent success, and to lose both could really be something that is overlooked. Sterling was and is an elite player, and whereas Bernardo Silva, Phil Foden and Riyad Mahrez will continue to operate at his level, his long term replacement will not. Jack Grealish is the £100m pound player that will eventually have to be drafted into this team, and when compared to the two players leaving, it's a drop off. His stylistic attributes do not bode well in a possession heavy team, and his threat can often be nullified by the low block. With Sterling & Jesus, they had players that were versatile and dependable, but Grealish is a player simply not built for a Pep style.
Kalvin Phillips is a great signing, that perhaps offers more solidity during the attacks early transition. Erling Haaland is box office, but probably limits the massive on ball movement of players we've these last two seasons. Haaland can be the absolute goal threat, and will light up the league, but there will be moments where his off ball work may become an issue. City have played with a deep false nine, and will now be changing things up to suit Haaland. Julián Álvarez is an interesting striker, but we have seen back up City strikers struggle at times.
Liverpool seemed intent on their own adjustments from January this calendar year. Luis Diaz automatically took up the left hand forward role, and Sadio Mane became the middle man that offered a more physical and movement based centre forward. I have no doubt that Mane leaving was known about long before this summer, and transitioning Diaz early was the key factor. To switch from Bobby to Darwin (long term) would have been a longer road, but the switch from Sadio to Darwin not so much. Liverpool (as City) have opted for a more direct goal threat, and will be looking to batter centre backs that are often so well protected. The movement and energy of Liverpool will still be there for all to see, but the off ball movement in the final third may be a little more incisive this season. Darwin will offer a more direct offensive threat, but maybe not this weekend.
I see Liverpool winning this Saturday, as I believe all starters will be players that have been there prior to this summer. The result means little to many, but to beat City would also be grand. A tried and trusted system will surely be thrown at Pep's men Saturday, with various changes and styles introduced later on. However the game goes, this game could well be the entree to one of the most explosive seasons in memory.
As Steven Gerrard once famously said, we go again…