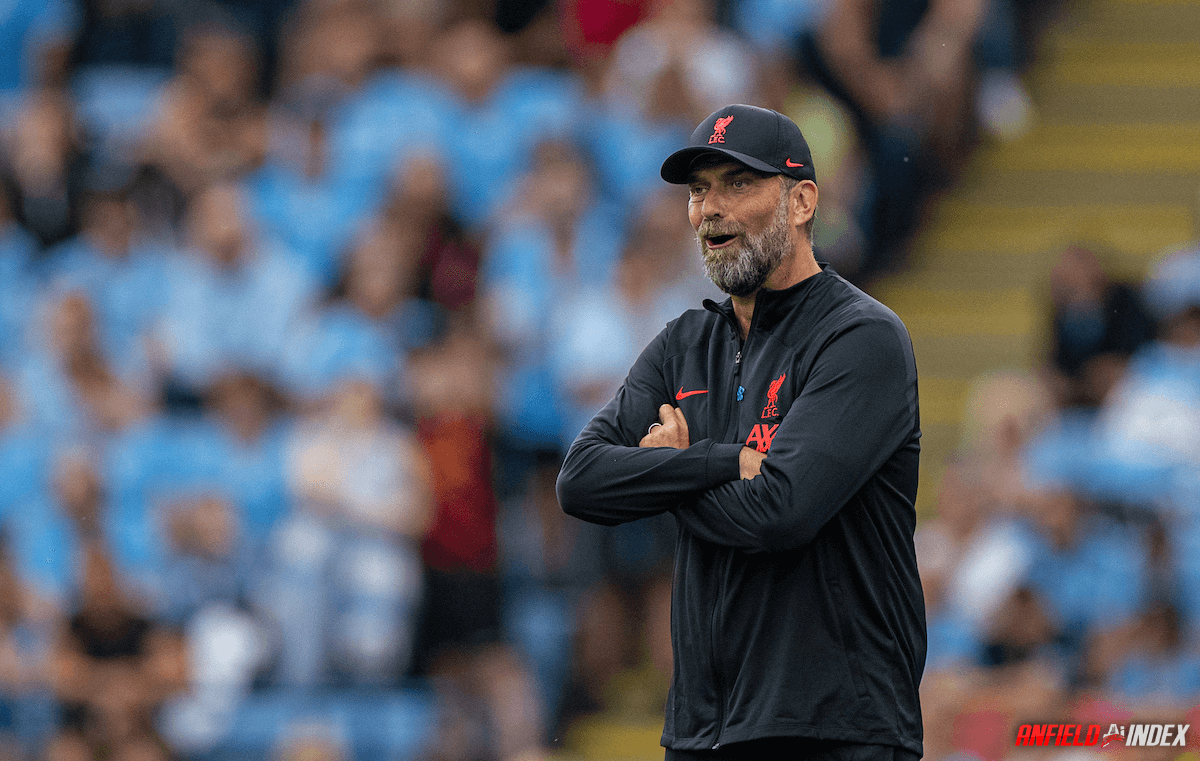 Liverpool 3 - 1 Manchester City - Match Report
Liverpool started this game with a desire to hunt anyone wearing blue, and the tempo was set from the first whistle. Salah was keen to drag Cancelo into wide and deep water, and the fullback didn't know when to push on. An early chance was due to a great switch and great running from Mo, and he seemed destined to score today. The side netting stopped that early chance, but set all alarm bells ringing. Mo's willingness to start wide and stretch teams is a great space creator, and will allow all sorts of avenues for Darwin & co.
With Laporte out, there seemed a nervous look to the City backline and team, with only KDB standing up to the reds swarming nature. Adrian (in the Liverpool goal) was called to make a few good saves, and played as well as any 3rd choice keeper should.
The starting line ups were as predicted, yet Liverpool forced the contest much to Jurgen Klopp's delight. Pep was evidently still trying to find the correct Haaland formula, with a new Centre Forward now in the side. The system seemed disjointed, with Haaland opting to maintain a purely central position, where once interchangeable movement was evident.

The opening goal was a brilliant show of switching play to create space, with patience surging into urgency. Trent passed the ball into the far corner after some incisive passing, and the lead was as deserved.
Liverpool continued to snuff out City, with only half chances falling the champions way. Haaland showed good movement, yet couldn't crack the pundits beloved high line. Liverpool never looked out of control, and despite a few obvious moments, the game ticked along at a red level pace.
With Thiago orchestrating the tempo of the match, the second half merely continued as the first ended. City eventually got a goal, with a dubious VAR decision allowing Julian Alvarez to score a debut goal. The defence should have done better, and the keeper should have been stronger, yet the goal probably should have been chalked off. The reaction was superb for Klopp's men.
With the subs incoming, Klopp certainly didn't sit on his hands. Darwin was already into the game and stretching a worried backline, and the chances came with a more frequent nature. A couple of one on ones would be just short for Darwin, but that would be sorted later.
With a clear aerial threat in the reds new striker, City struggled to maintain his presence, which led to the penalty. A clear handball allowed the referee to revel in VAR, and Mo was able to slot firmly across the keeper. The Darwin goal then came shortly thereafter, as space opened up everywhere within City's half. A great ball by Salah was perfectly nodded across by Robbo, with Darwin more than willing to use his head to stoop and nod home.
The match was a friendly, but the rivalry created a good contest. City won't be too bothered with a blip to their pre season, but the reds looked amped up to supersonic levels. The players are looking on point, and a Darwin, Mo & Diaz front three looks terrifying.
Let the games begin.