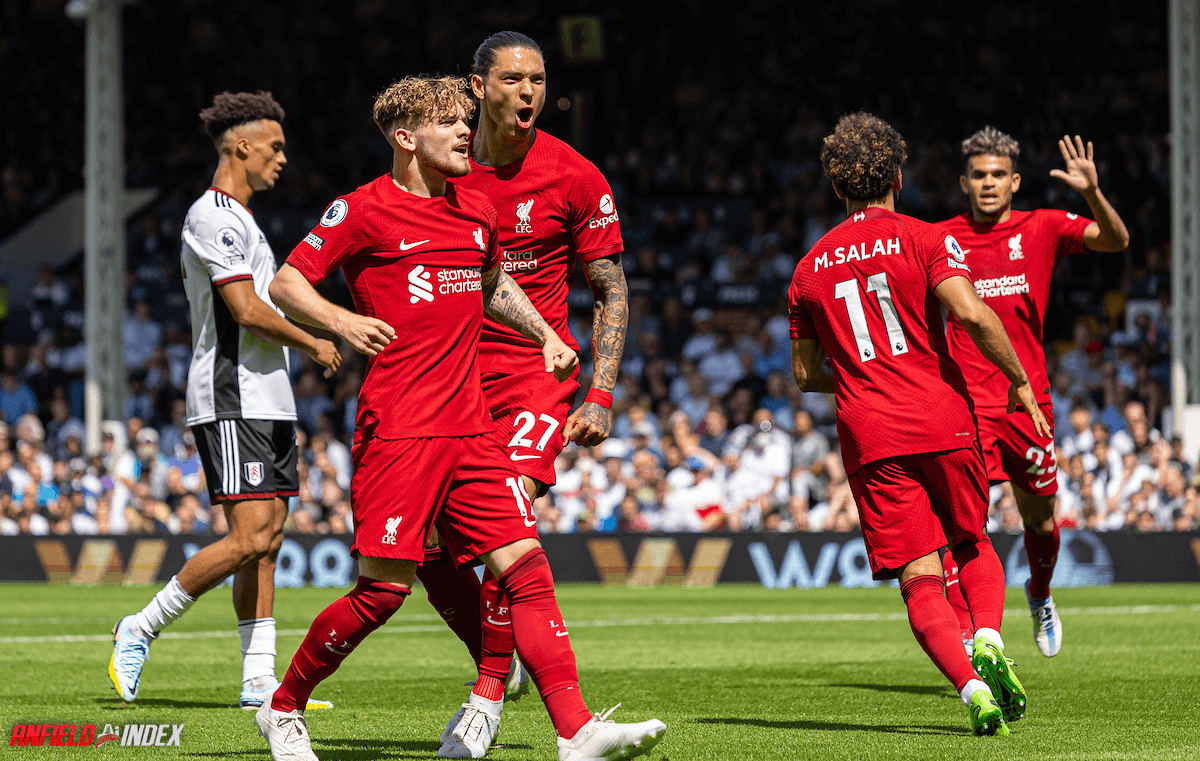 Fulham 2 - 2 Liverpool - Player Ratings
Alisson Becker – 6.0
Came straight back in after injury, and saw some good early action to ease himself in. Will feel very unlucky to have conceded two with so little clear cut chances coming his way. Was a spectator for the most part.
Trent Alexander-Arnold – 6.0

He seemed unable to command his flank, with Fulham intent on creating a war zone whenever certain players were in possession. Was able to aid the forwards with the last goal, but his impact was not of the level required. His second half well outshone the first, where he seemed underprepared for the work of Fulham.
Andy Robertson – 6.5
Always willing but frustrated time and time again by a resolute array of opposing players. A slow start in terms of quality, but always a willing worker. More needed.
Virgil Van Dijk – 6.0
Was at fault for the penalty with a clumsy challenge, and seemed slow to get into the game. Should have forced more from those around him, and led from the back. An unusual off game.
Joel Matip – 6.0
Tried to penetrate when in possession, but found the game. An average outing and uncomfortable game for the giant defender.
Fabinho – 5.0
A poor outing for someone usually so geared for the physical challenge, and hooked. Probably should have stayed on ahead of the skipper, but cannot complain at the substitution. A rare off game.
Subbed – 59 mins
Thiago Alcantara – 5.0
Was harassed and hounded from minute 1, and struggled to get a grip of proceedings. The injury was a very worrying moment that saw him hobble off early.
Subbed – 51 mins
Jordan Henderson – 5.0
Seemed genuinely lost at times, and his negative impact on the team is once again a real issue. Struggled in the more attacking midfield role, struggled in a two man middle and couldn't stand any authority on the game. The games are just passing him by at this stage, but the rhetoric will be that he hit the bar.
Mohamed Salah – 7.5
The Egyptian King played well, when support and service was given. Was given little support by the midfield and much of what came his way were scraps. Good goal, good assist.
Roberto Firmino – 5.0
Chosen ahead of Darwin, he seemed lost at times with no one to press. Not the correct forward for this type of game. Certain players need to play for the game needed.
Subbed – 51 mins
Luis Diaz – 6.5
Seemed the more lively starting forward, rattled to post in the first and grew into the game. He was spark that might fire, by that which failed to grow after the break. Started to tire, was hooked.
Subbed – 78 mind
Subs;
Darwin Nunez – 8.0 (on 51)
Should have started, and helped salvage a point for his team. Good goal, good assist. It's a shame that lost points were what it took for logic to override loyalty.
Harvey Elliott – 7.0 (51)
Brought on against his old team, and was intent and demanding of the ball. This performance will see him start next week.
James Milner – 7.0 (on 59)
Came on and showed desire, and a will to combat a good Fulham side.
Fabio Carvarlho – 5.5 (on 78)
Nearly scored with a well executed volley.
The Manager;
Jurgen Klopp – 6.0
A recent raft of injuries meant the starting line up became predictable and as dependable as possible. Starting with Henderson & Firmino seemed odd given the likely possession stakes, and Fulham were the far better outfit for at least an hour. The preparations seemed lopsided l, and Liverpool just looked toothless and predictable once more, until Darwin Nunez arrived. Losing Thiago to injury was a bitter blow, but his use of subs still seemed against which was needed. Liverpool were fortunate to get away with a draw, and must improve in the next clutch of games.
This really seemed like a Brendan Rodgers day of shuffling, and hopefully can see the reds move in the market & buck up their aspirations.