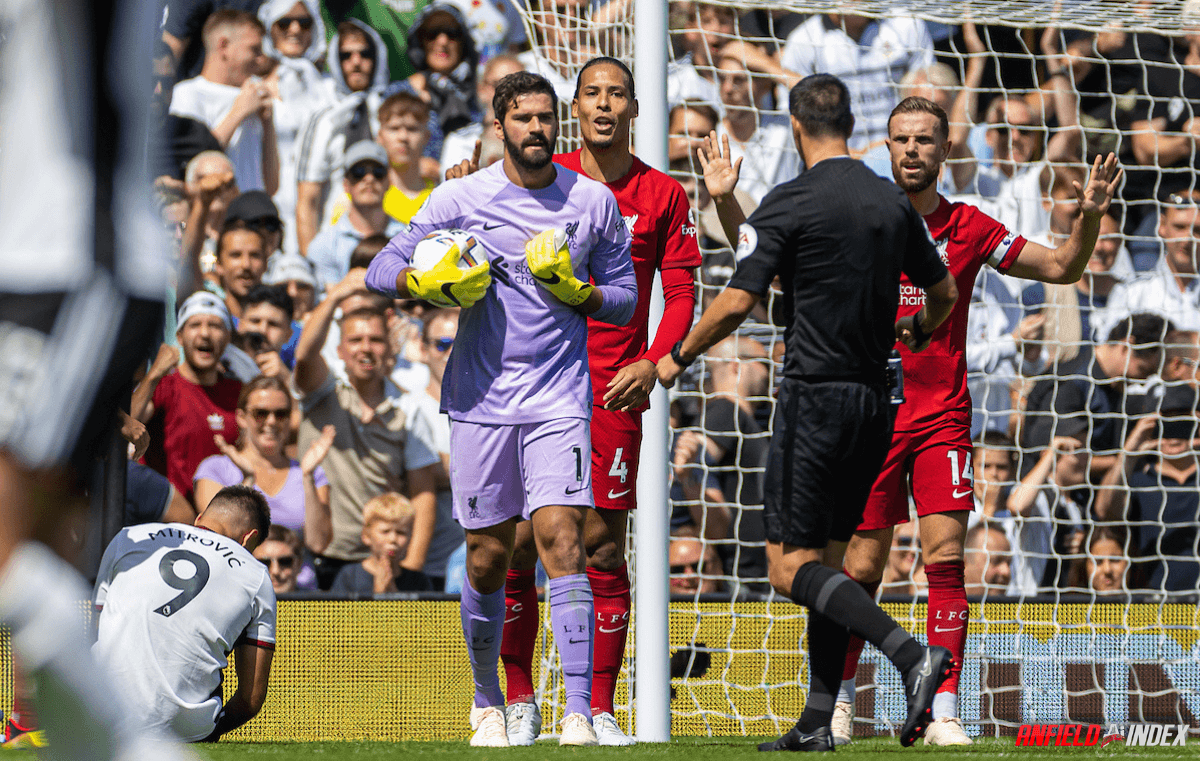 Fulham 2-2 Liverpool - Observations from a disappointing opener for the Reds
Liverpool eked out a point at Craven Cottage against Fulham, with a performance that barely merited it, to open the new Premier League season. The Reds were far away from the level they need to be at, for a side with ambitions such as theirs, and sent out an immediate note of concern to Jurgen Klopp on the opening day.
Aleksandar Mitrovic opened the scoring, rising above Trent Alexander-Arnold at the back-post, in a first-half where Fulham overwhelmed Klopp's side. New signing Darwin Nunez made his impact straightaway, as he tucked in a Mo Salah cross to equalise. Soon after though, Virgil van Dijk conceded a soft penalty for a foul on Mitrovic, and the Reds trailed again. The Salah-Nunez duo rescued the point late on, as the Egyptian King scored on the opening day of a sixth consecutive season.
Here are some big talking points from the Opening Day.
The Captain Concern
Really, the answer is simple. Liverpool cannot afford another midfield performance like the one in the first half of this game. The Reds were second to every loose ball, looked physically second-best, and had no grip on the game. Jordan Henderson was rightly criticised by all and sundry, but it's clear the skipper still has the manager's trust.
Henderson really does seem to have lost the dynamism and the energy that enabled him to play in the right-sided eight role. He was caught up field a little too often, didn't offer protection to Trent Alexander-Arnold, and was more a nuisance than of any assistance in the attack. Henderson's ability to not pick intelligent spaces is becoming a huge concern, as he invariably ends up receiving the ball in tight areas, and then giving it away because he has to make decisions and execute under immense pressure on him.
The difference that Harvey Elliott made after coming on was a bad indictment on Henderson the eight. He still does have his utility, though, the skipper.
Once he moved into the six role, the balance automatically became a whole lot better, and the Reds had more of a foot-hold in the game.
The Injury List
As if having Diogo Jota, Ibrahima Konate, Naby Keita, Kostas Tsimikas, Curtis Jones, and Alex Oxlade-Chamberlain out injured wasn't enough, Liverpool were dealt a further blow with Thiago Alcantara coming off with what looked like a hamstring injury.
Klopp maintained post-game that Liverpool wouldn't sign a midfielder that wasn't of use to the club long-term, but with only four senior midfielders fit now (Henderson, Milner, Fabinho and Elliott), you really have to wonder whether the manager will push to have another added to his squad before the end of the month.
Obviously, Liverpool have a history of waiting for who they want (and we all know who they want, don't we?), but both in terms of reliability and quality, it would be of immense help to have an addition to the midfield in this transfer window.
Our Number Nine
The stark contrast we witnessed after Nunez replaced Roberto Firmino was almost jarring. Firmino really has run into a rut, nothing is sticking for him, his touches are almost trampoline-like, he's not offering a significant goal-threat, and his passing has been awful recently.
Nunez, on the other hand, has two goals and an assist, and a penalty won, in about 80 minutes of Football (Community Shield and Premier League opener). The Uruguayan is causing chaos with his movement. He's also got an incredible ability to take shots when given just a little bit of room. That sheer volume is going to be huge for Liverpool this season.
Nunez has also shown in these early days that he's developing an understanding with Salah already. It shouldn't be far away when we see Nunez on the pitch right from the start. But irrespective of Nunez, Firmino's form is a massive concern, at least until Klopp is able to call on the services of Jota.
Still Early Days
Although far from ideal, that performance might just be what the Reds need to kickstart their season properly. Klopp knows that this level will not take the Reds anywhere near the ambitions that they have. A jolt this early can sometimes click a team into action fully, and that's what Liverpool will be hoping for.
This is still a team filled with world-class players, who will rarely be as bad as that collectively. But when you know the nature of the beast you're fighting against, performances like this one cannot be accepted, even as an aberration.