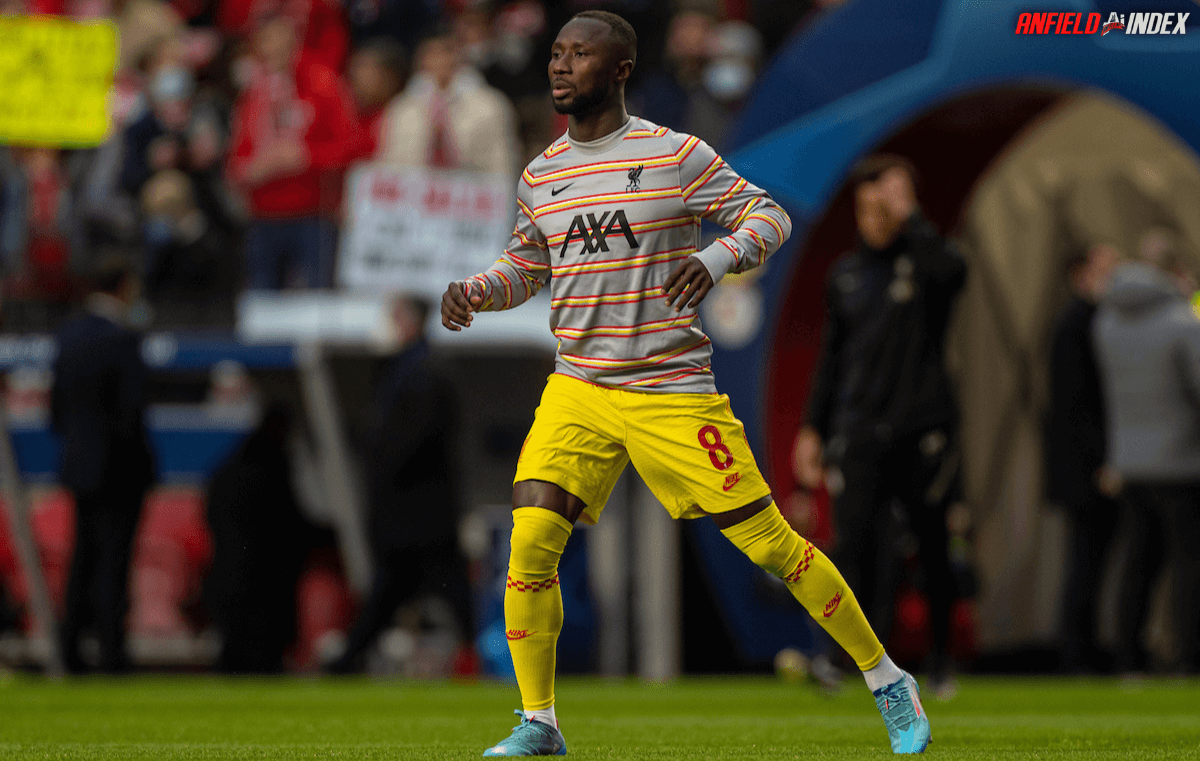 Naby Keïta & His Window Of Opportunity For Liverpool
As soon as Thiago Alcantara was confirmed as an injury casualty, most Liverpool fans panicked given the Spaniard's superb influence on this current Liverpool side. The Liverpool shape can commonly be predicted with a clear understanding of  its structure. Thiago Alcantara has operated as the orchestrator and tempo setter in every game he's played, and his lack of availability is of course a concern. He has been able to enhance his physicality and get up to speed, within a league far more gruelling than that which he would've been used to.
When considering the must start players within the reds squad, people often look towards Thiago Alcantara, TAA, Fabinho, Mohamed Salah, Alisson Becker and Virgil van Dijk. The key is not always in the personnel but in the bespoke abilities that can help maintain the teams shape and structure. With no Thiago for the next 10 games, Jürgen Klopp will now look to test physical durability of the little Guinean, Naby Keïta. Naby is an outstanding footballer, who was bought to be a penetrating box to box midfielder. Naby Keïta has commonly been overused by his country, and sustained multiple injuries in his first few years at Anfield. Last season saw him compete in 40 games, and the hope is that he is now prepared to undertake a consecutive run of games.
I honestly don't believe there's a single player I want to succeed more than Naby Keïta. Not since Daniel Sturridge have we seen such a gifted and important player, continually plagued by injury. Eventually the injuries to Daniel Sturridge saw Liverpool career come to a premature end, and despite seeing prolonged spells of his elite talent, we never really saw that under the  management of Jürgen Klopp. In Naby Keïta, I believe we have an elite level player who can more than replicate what Thiago gives, and I believe he can be an attacking force that can enable less predictability. In this moment, Naby Keïta has a bonafide chance to cement this place in the side, thereby securing his manager's trust.

With Curtis Jones and Alex Oxlade-Chamberlain injured, adding Thiago to that list very much limits Klopp's short-term options. If Naby can come through the next 10 to 12 games (unscathed), I truly believe that it could be a test which signifies he is ready to meet the demands of the Premier League. Often times we have seen Naby and Thiago rotate in that controlling role, with a common fear that one (or both) might break down. I'm only a handful of articles into the season, and already I'm going to remark upon Wijnaldum once more. Gini was bulletproof, and was able to be a consistent starter throughout his tenure. When I saw his loan to Roma completed, I very much hoped (in that moment) that he had returned to Anfield. Our system demands robust players that are willing to run through walls for Jürgen Klopp. The sad reality is that too many players within our midfield group are just unable to meet those demands, and will often fall injured in attempting to be what this team requires.
I believe we will sign Matheus Nunes or one other in the coming days, and as stated in yesterday's piece, I think that will allow Harvey to develop behind an established RCM. In terms of Naby Keïta, I hope that Klopp rolls the dice and grants his number 8 that starting spot for the next 6 to 8 weeks. Last season Naby Keïta surprised everyone with his appearance numbers, and I think he himself is reluctant to commit to a new contract without knowing he's going to be a true first team player. I will often look at the bright side of any situation, and with Thiago laid low for 6 to 8 weeks, I simply see this as the opportunity to convince Jürgen Klopp of his starting credentials.
We all have our favourite players, and we all have our reasons for preferring one player over another. The simple fact remains that Jürgen Klopp picks the team he wants, and it may just be up to certain players to force the issue and appease some of the fan base with change. I think if in 2 months we look back and Naby is still  playing regularly, he can go on to become the player he is destined to be. The fact he was granted the number 8 jersey only points to the significant role that Jürgen Klopp believed he would have in his version of Liverpool FC.
On Monday night we entertain Crystal Palace at Anfield, in what will be Matchday 2 for the Reds. In the next couple of days I'll be preparing a preview on behalf of EPL index, outlining current news, predictions, and my opinion for what is to come. At the very bottom of that preview is a player to watch prediction, and this is based upon who I believe will positively impact that specific game. I can tell you now that injury permitting (obviously), I believe Naby Keïta will have the most positive impact on that game. If the next 6-8 weeks go to my liking, it could create a brilliant pathway for the next phase of Naby's career, which I still believe could be utterly elite.