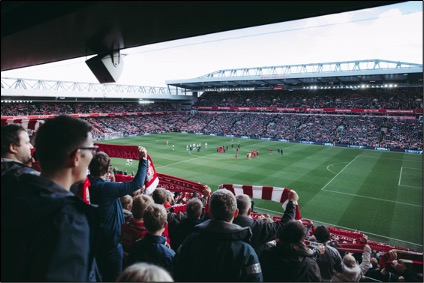 Betting on Liverpool: The Biggest Wins for Fans of The Club
Liverpool Football Club has long been one of the most popular and beloved clubs in England, bringing together die-hard fans from all over the world.
The rich history and legacy of the club attract plenty of new fans every year, including those who enjoy betting on Liverpool games and matches. Bettors can still win big by placing bets on the club based on their experience and past results.
In this article, we'll talk about some of the biggest wins Liverpool fans (and even some rival fans)  have recently experienced after betting on the football club. Let's dive in.
Tony Ward
Year of Bet: 2019
Amount: €91,000
Manchester United supporter Tony Ward, in March 2019, bet that Liverpool clubs would win the league for the first time in 30 years.
Since his mother had passed away in October, Ward decided to wager the entirety of the cash he had received from her on the possibility that Liverpool would win the Premier League title at odds of 4/6.
The Premier League season was postponed for many months due to the coronavirus pandemic. To eventually get his €91,000 in prize money, the United supporter had to wait even longer. Betting on the Liverpool team game is not the only place players can win. One of the most reliable places to win money playing online games is a fast payout casinos UK, which is extremely popular among players who play in an online casino. This is different from sports betting because you have some control over the outcome.
Mr. Hope
Year of Bet: 2019
Amount: €5,000,000
According to the claims of a football fan, an unpaid wager of €5,000,000 on Liverpool to win the Champions League in 2019 remains outstanding. According to the Birmingham Mail, "he feels the money has not arrived because the bookmakers misplaced his betting slip."
According to Mr. Hope, he placed a wager of €20 with BoyleSports on May 3, 2019, predicting that Liverpool would prevail over Tottenham and take home the championship. It was a high-stakes bet when Liverpool lost the first leg of their semi-final match against Barcelona by a score of 3-0.
According to him, the odds were 400 to 1 that Liverpool would defeat Barcelona by a score of 4-0 at Anfield. They triumphed with a 4-0 score at Anfield.
According to him, the accumulator bet also included Spurs beating Ajax at odds of 18-1, followed by Liverpool beating Spurs in the championship game at odds of 35-1. Both of the forecasts ended up coming true.
After placing a wager of €20 and handing in his betting slip to the bookies the day after the championship game, the slip was misplaced. As a result, he conducted a one-person protest outside the establishment, leading to his removal from the premises.
Wayne Jones
Year of Bet: 2018
Amount: €21,000
A supporter of Manchester United won a total of €21,000 from a wager of only €20 on the team's rival, Liverpool FC. The great wager that Wayne Jones placed consisted of €20. He ended up winning €21,420 because he predicted that Liverpool would defeat Arsenal 3-1 and that Alexandre Lacazette would score the game's opening goal for Liverpool.
The Manchester Evening News adds that he also backed Jack Grealish to score first at Fulham the same night, which was placed at 15/2 at the time. His total wager was paid at 125/1 with Betfred. These are great odds that very few gambling service providers can match. Another way to find such high rewards is playing GambLizard online games. In an online casino, you can enjoy the game and win quick money without having to wait to long for outcomes.
When it comes to spending his winnings, Wayne didn't overspend on expensive products or exotic holidays, no matter how much they were. Mostly, he plans to get new running shoes for himself.
Carl Green
Year of Bet: 2019
Amount: €1,000
A Liverpool supporter who placed a last-minute wager on the team in honor of his pregnant daughter won £1,120. Carl Green and his pregnant partner Lyndsay Rudd were getting ready to watch the important second leg of The Red's Champions League semi-final at home that night.
Afterwards, he started singing Liverpool songs to his unborn child, who didn't seem interested until she heard the name Divock Origi mentioned. Liverpool Echo reports that she began to "kick" and move around.
As a result, Carl decided to stake €5 on a 4-0 victory for his team, with 24-year-old Divock Origi scoring the game's first goal. As a result of his heroics, the Reds thrashed Barcelona 4-1 in a lopsided victory that night.
The biggest wins for fans of the club come when they put their money where their mouth is and bet on their team.
What could be more gratifying than having your faith in your team rewarded with a big payout?
Of course, not every bet will result in a win, but that's all part of the fun. So why not try it out if you're feeling lucky?
Author Bio:
Leslie Alexandr is an avid football fan who enjoys online gambling in casinos and sports betting sites. Liverpool FC is one of her favorite English teams to watch. When she's not watching Klopp's boys dominate the EPL, she's helping online gamblers improve their betting experience by creating content for Gamblizard.