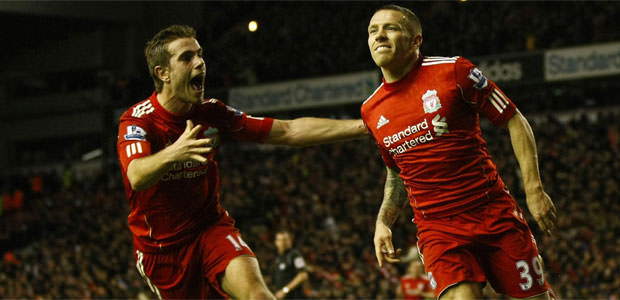 AnfieldIndex Exclusive: Liverpool FC Stats from Carling Cup Semi-Final 2nd leg
Liverpool FC have finally made it to the new Wembley Stadium and how sweet it is. The road to Wembley was a tough one with Away wins over Stoke, Chelsea and Manchester City along the way how fitting it that it came down to the 2nd leg at Anfield to decide whether Liverpool made the final.
They did exactly that and now have a match against Cardiff to look forward too. Cardiff boy Craig Bellamy is certainly relishing the opportunity to play against his home town and former club as well as playing at Wembley for the first time (I'm sure it'll be a first time for many of the squad). Back to the semi-final – a lot of supporters said that the game felt like a European night and it certainly had all the drama of one of those famous nights!
Let's look at the stats that we have collated using the PerformaSports iPad App for Liverpool FC only. Remember we have collated this from the coverage on Sky Sports and therefore a few passes may have been missed where replays were being shown etc. The stats below are the best possible representation that we could give as far as the television coverage assisted

Defending
There was only one moment in the game where there was a lapse in concentration on the night for Liverpool FC and there were a few to blame for this. City's 2nd goal had a lot of things wrong with it. In order then; firstly Gerrard could have closed down and maybe blocked the cross a bit better, secondly Johnson kind of moved out of the way and third was Agger who was caught static on his heels as Dzeko ran in on the far post to slot home (probably expecting the cross to be dealt with but still he should be on his toes). All three players, if switched on, could have avoided that goal from happening within the same second however it was not to be and it didn't cost them in the end as Bellamy got the equaliser (or winner on aggregate) to send the Reds through to a date at Wembley.
Apart from those mentioned above for the 2nd goal, Liverpool were pretty dominant in defence. Take a look at their stats:
[table id=15 /]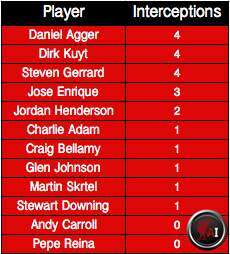 As I said apart from the one loss of concentration moment Liverpool defended really well. From the table above one of the stand out performers for me was Martin Skrtel. The fact that he won 11 out of 14 aerial duels is phenomenal and it took away City's aerial threat of Dzeko. Daniel Agger's one lost aerial threat was the flick on from Dzeko that led to Aguero's overhead kick so you can see what it's impressive from Skrtel as he pretty much nullified any aerial presence from City going forward and this could have been the issue as it seems they went long far too many times.
From those stats you can see that Liverpool fought from the front. Their forward players making up just over half of those stats in the ground duel stakes. Bellamy, Henderson, Kuyt & Downing all winning every single one of their ground duels. This is quite an achievement for Jordan Henderson who is not usually known for his bite but you could see at the full time whistle how much getting to a final means to the young man. I was also quite impressed with his one touch passing once again. I think I may have to go through the video archives this year and compare accurate first touch passes, I really believe his would be the best.
Daniel Agger and Glen Johnson were also very solid, the latter required such a performance after his abject display at the Reebok in Liverpool's previous game. Agger, Kuyt & Gerrard all read the game pretty well on Wednesday night and achieved four interceptions each whilst Enrique and Henderson also ensured they were alert enough to counter City's forays forward.
Passing
Liverpool FC passed the ball much better than against Bolton or even the City game at the Etihad stadium. They were much more accurate although the possession stats totally favoured Manchester City and therefore restricted Liverpool to just 292 passes.
[table id=17 /]
There are some excellent numbers in the table above though. Most notably is Dirk Kuyt managing a 90% pass accuracy! Seriously, whilst watching I didn't notice him give the ball away much in this game and he upped his game for this semi, just like Glen Johnson did. Downing, Kuyt and Johnson all really impressed with the way they kept the ball and kept it simple. Agger and Bellamy as usual were on top form but it was the Man of the Match Bellamy with his 18 out of 19 passes completed that took home a 94.72% pass accuracy. Yes, yes I know Martin Skrtel managed a 100% pass accuracy in his 12 passes however most of these passes were along the back line so it's not as impressive as playing in the pressure area where defenders are closing you down.
Shooting
Once again Liverpool had many attempts on goal against Manchester City but most of them were a result of deflections or the ball landing in an opportune area as I could only count three chances created (one of them being an assist). For examples, Enrique's shot was a bad clearance, Kuyt's shot in second half was also a result of a clearance, Bellamy's shot on target in first half was all his own work (or the ineptitude of Savic, whichever you prefer) so there weren't really many opportunities created. From what I saw, Henderson's cross to Kuyt (which he headed wide), Kuyt's cross to Downing who forced a great save from Hart and Johnson's quick one-two with Bellamy as the last chance. Joe Hart was a man on a mission once again but thankfully he was beaten twice which was more than enough to book Liverpool FC's place at Wembley.
[table id=14 /]
The night belonged to Liverpool and the passion from the supporters and players paid off. Let's hope this is the start of a new era for Liverpool FC and that the young players like Kelly, Spearing (should be fit for the final) & Henderson can really push on from these experiences and drive themselves towards more success.
We hope you've enjoyed the stats from AnfieldIndex.com. We've spent a lot of time collating these ourselves so we'd really appreciate some feedback or comments!