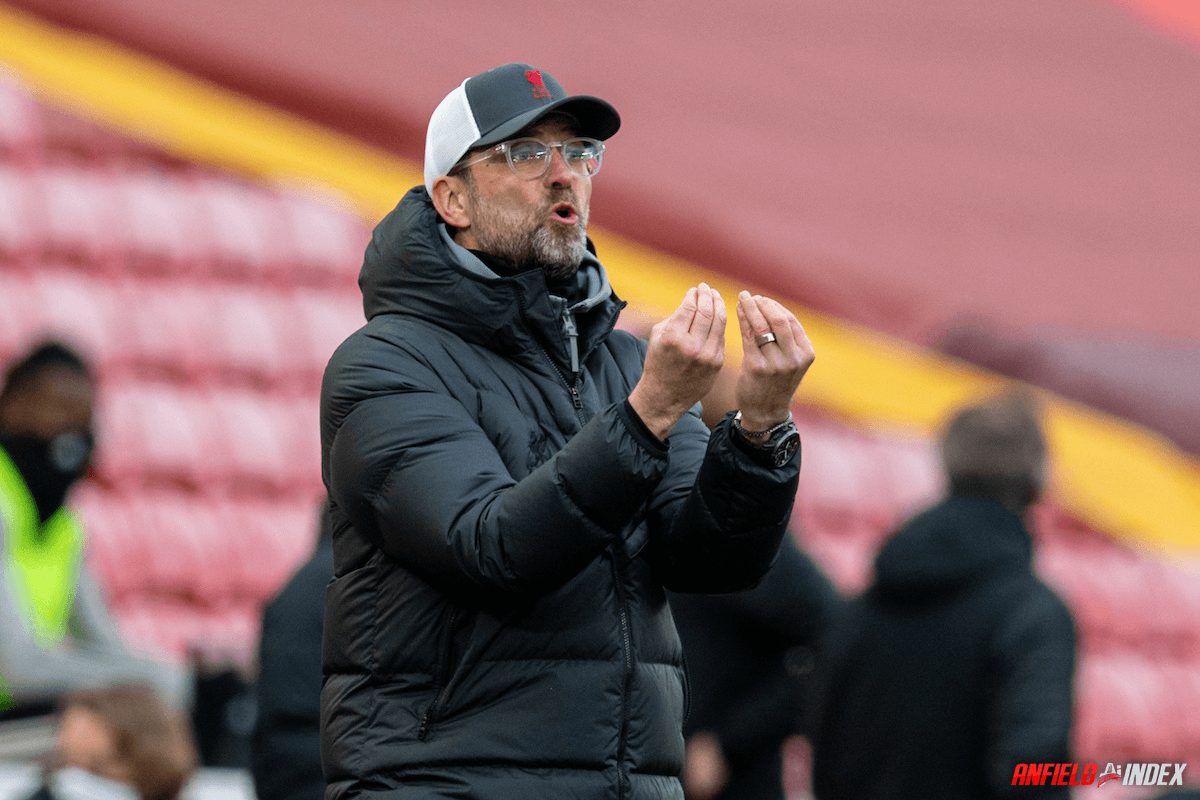 Manchester United v Liverpool - Klopp Needs To Up His Own Game
If you had the chance to listen to the latest edition of 'Rate, Don't Hate' podcast on the Anfield Index, you'll know that I'm all for some form of shake-up within this current Liverpool team. As it stands, the injury crisis is alarming, and will make certain decisions a necessity when the times comes to picking the eleven for next Monday evening. What we do know is that Darwin will be joining that injury list for the next few weeks, due to his moment of uncontrolled reaction and deserved suspension.
The unfortunate and stupid red card received by Darwin (against Crystal Palace), should be used as a period to mould his mentality. To cope within such an unforgiving league will take time, and reflection from the stands may offer good guidance to the control he'll certainly require. Darwin is a young man in a new country, within a new league, playing for an elite football team. To take a step back for the next few weeks (and watch how things unfold), could be exactly what is needed for Dawin to succeed long term. With Diogo Jota, Roberto Firmino, and Darwin Núñez all unavailable for varying reasons, it would appear that Mohammed Salah will take up the central striking role in a few days time. These next few days need to be a complete orchestration of how to attack Manchester United, and keep them pointless at the bottom of the table. There are rumblings of a Bobby return, but whether or not he'll be fit to start will be a major question.
I suspect Manchester United will approach this next outing in a cautious manner, especially after what happened against Brentford last week. Erik ten Hag may eventually wish to instill more possession-based play, yet surely he won't want to open himself up to final third pressing against the Reds. If I'm Jürgen Klopp, I'm going for the jugular, and devising a plan that can simply overrun a vulnerable Manchester United team. For me it would be a 4-2-3-1 system, which would incorporate a 10 into the side. Now we all have our different opinions on Naby, but ultimately he walks into our best starting eleven, and he should be a key starting piece next Monday.

I actually don't mind if Bobby is back in time to start, as United may just attempt to hold onto the ball. Bobby plays best against teams which like to maintain possession, so him starting wouldn't be an issue with me. My logic (at this time) points to him being unable to start however, and I would love to see Naby & Fabinho in a double pivot midfield. This would offer an experienced and elite level of control, and I would bank on that pair dominating most midfields. Harvey Elliott would be the starting piece from the right, and I would be tempted to start Fábio Carvalho in the 10. With such a strong midfield pair behind them, I would be intrigued to see how United would react to relative front four, and I would love to see the youthful energy of the former Fulham boys together.
Two points from a possible six is far from ideal, and we can't look at Monday as anything but a must win scenario. We have to get through games, and we have to find a way to start building our points tally. We have once again become predictable, and the overload on some of our key players (Mo & Diaz) need some system alterations from Klopp. We have an opportunity to strike whilst United are at their lowest point, and to leave them bottom on zero points would be a wonderful outcome.
My wishes are meaningless, and the likelihood is that Bobby starts, and Naby joins Fab & Hendo in midfield. With that (and under the current circumstances) I have no issue. Probably the main and most important starter will be Joe Gomez, who has to come in for the hapless Nat Phillips. Phillips seems a genuinely nice lad, and he will thrive in certain games in the lower leagues. The issue is his game simply doesn't compute with elite level football, and he would continue to be a target whenever he starts. If Saturday comes and Nat's name is on the team sheet, I would imagine Marcus Rashford & Jadon Sancho would start bickering as to who pins themselves to Nat's shoulder. Nat simply cannot start this game, as if nothing else, it would give a boost to our competition. Joe is an elite level defender, and I would love to see him have a run of games in this side.
As match day 3 comes into view, surely the first win of our season will reveal itself. I actually don't think there's any better game for us right now, and the Manchester United players (and manager) will be feeling maximum pressure within their own stadium. Can Erik ten Hag risk going toe to toe with us, or will he try and sit back and counter attack. If he sets out a low block and fails, will that only make his situation (with the fanbase) untenable…? They have questions, and Liverpool have questions. The logic for me is that we have more answers and abilities than our greatest rival, and we need to add one more nail to their season coffin on Monday.
It's a big week for the big German, and I sincerely hope he spends the final hours of Monday evening sipping his Erdinger beer, smiling at the show his boys have just put on.