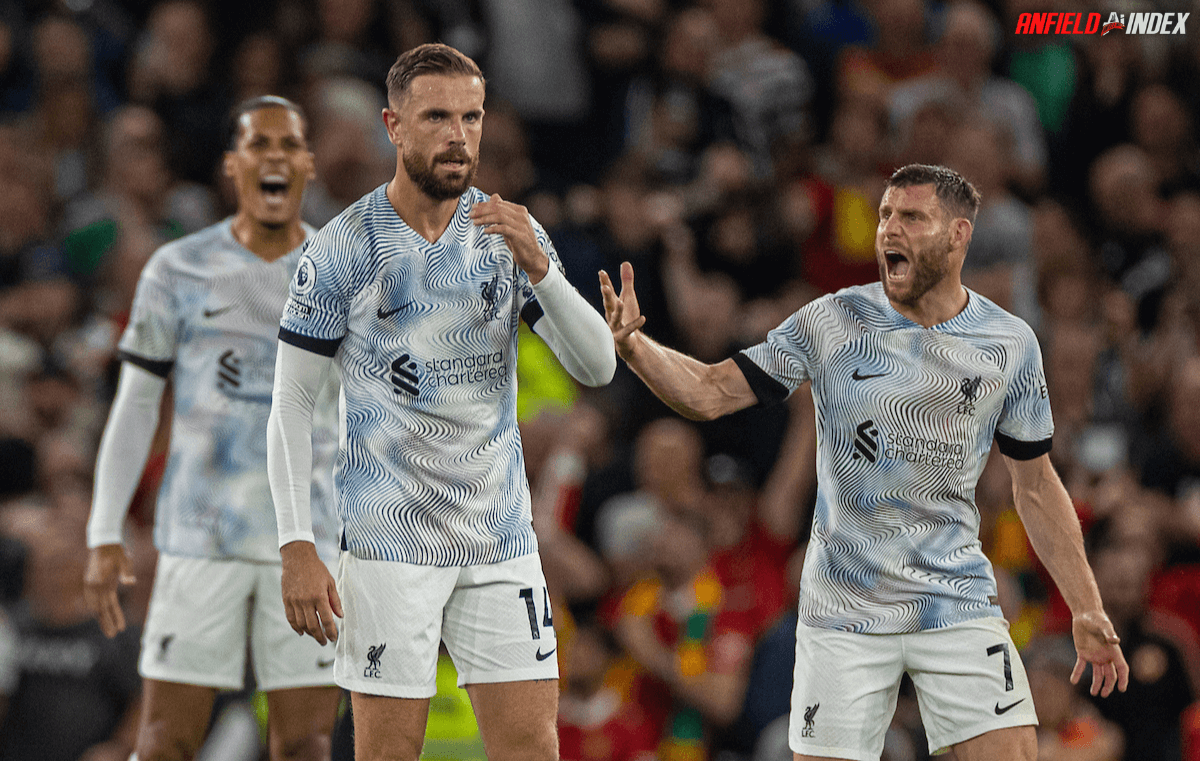 Manchester United 2 - 1 Liverpool - The Player Ratings
Manchester United 2 – 1 Liverpool – The Player Ratings
Alisson Becker – 5.0
Had an early scare, with the post coming to his aid. Could do little for the opening goal as United pulled the Reds backline apart. A great fingertip stop from Eriksen's free kick stopped the home side doubling their lead. The second goal was a great strike, and though it would be harsh to judge him on the goals, he seemed hesitant and not his usual commanding self. Poor with his feet at times.

Trent Alexander-Arnold – 4.0
Looked very shaky in the opening stages, with indecisive moments almost allowing United through. Eventually they broke through to take an early lead, with continued joy on Trent's side. He was targeted time and time again, and his attacking purpose could do little to make up for the problems he faced in defence.
Andy Robertson – 4.0
The most likely outlet early on, as United targeted the opposite flank. He was unspectacular and easily guarded against going forward. An average game, that lacked the drive he so badly needs. At 2-0, the team & Robbo just seemed inept. Passion overcame.
Subbed – 85 mins
Virgil Van Dijk – 5.0
Was nearly caught out early on, and looked positionally unsure as Manchester United went ahead. He improved (which wasn't tough), but he was far far from his usual high standards. Should have done more for the first goal, and his line was all at see for the second. The game was being chased by then, and much of his work became stretched and reactionary.
Joe Gomez – 4.0
Seemed out of match practice, with United's early assault dragging him all over the place. He was at sea for the two goals, and he simply wasn't prepared for the urgency thrown his way. So sad to see this wonderful young defender struggling so much.
Jordan Henderson – 5.0
He couldn't get into the game, as United. Showed more urgency higher up, and nearly created a chance with his pressing. He tried to be productive, but he just couldn't gain any control and despite flashes of good work, he was many levels below that of the man he replaced. Wasn't the worst player, but simply couldn't replicate what Fabinho is.
Subbed – 59 mins
James Milner – 4.0
Looked old and unable to match the home sides pace, and despite his effort, he struggled to maintain the required pace. A bad game, and the most damning sign of where this midfield group is at. So out of his depth on certain games, with his aged legs showing until he left the field.
Subbed – 73 mins
Harvey Elliott – 5.0
Was a peripheral figure from the opening bell, and United showed real intent. He came into the game when they were chasing, but needed more leadership around him. He tried to make things happen, and enjoyed good moments, but the structure is all over the place and he doesn't quite know what to do or where to be at times.
Mohamed Salah – 6.0
A relative spectator for the opening third, the game simply didn't come to him. He pushed, but it all seemed too little, too late. The goal was late, and he lacked support around him.
Roberto Firmino – 4.0
Neat but ineffective through the first period, then disappeared for the remainder of game. Looked old and tired, but there was simply no other options.
Luis Diaz – 5.0
A decent run and shot after the opening goal showed his danger, but ineffective for the most part. They are once again showing that of the key attackers are crowded out, then they can stop this once rampant front line.
Subs;
Fabinho- 5.0 (on 59)
Should have started.
Fabio Carvalho – 5.0 (on 73)
Unfair to rate badly.
Kostas Tsimikas – 4.0 (on 85)
N/A
The Manager;
Jurgen Klopp – 3.0
How Fabinho didn't start is amazing. He's really struggling, and doing little to help himself.
The purse strings simply have to be opened up, and reinforcements need to be found.
A bad night for the team, and a bad night for the manager.