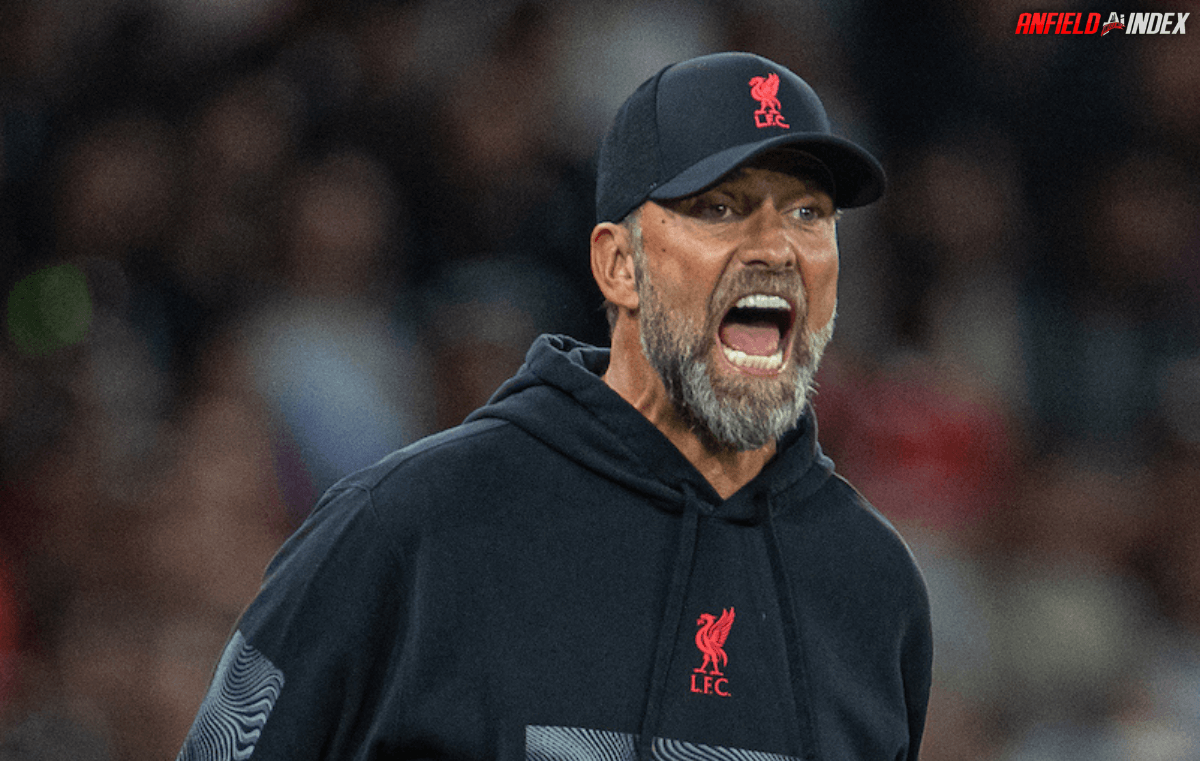 Liverpool FC & The Damning State Of Play
Being almost unsurprised by the defeat at Manchester United, kind of sums of where Liverpool FC are right now. Since the departure of Gini, they have simply let the standards of the midfield drop dramatically, and watching Monday's game only signified that the Reds are in need of new blood. The signing of Thiago two years ago is the only first team ready player signed since then, and is a damning reality that has really started to bite.
Naby Keita once again succumbed to injury, and despite his undoubted abilities, he simply isn't a reliable player for the Reds. Liverpool seemed all in on the summer signing of Tchoumeni, and have failed to adjust their sights when he eventually landed at Real Madrid. The Bournemouth game comes next for Liverpool (on Saturday), and with two points from three games, it's once again a worry as to how that game will play out.
There is evidently blood in the water, and teams will now be looking to come full frontal at the Reds. Possession will mean very little if Liverpool simply fail to protect the backline in transition. Quality will eventually come to the fore in attack, but Liverpool's system has always been built on their ability to control the middle ground, and this is currently their Achilles heel.

Julian Ward was sat watching the game at Old Trafford on Monday, and he must now take his responsibility as Sporting Director to drastic levels, and locate viable recruits. The hardest point in any transaction is trying to sign a player when the club is clearly in dire need. We have seen United continually touted obscene prices in their 'down' years, as clubs would force them to pay a premium and beyond. The difference for Liverpool, is that they rarely have the capacity or desire to be dictated to, and their structure is built very tightly upon value for money. I sense the final week of this window will be a busy period, with the reds likely to target players only into their final years contract.
With that in mind, it dramatically reduces the pool of sufficient players available. Jurgen Klopp clearly only wants specific types, and his personality can sometimes see him stand fast with what he already has. At this stage, Liverpool look like contenders for top 4 only. After coming so close to all 4 major trophies last term, it's close to startling to see how the last three games have unfolded. To build from a position of power is key, and smart recruiting has been a key to the Reds' success since Klopp arrived. Liverpool were always reshaping away from mediocrity, yet are now in a position where an entire area of their team are struggling.
Neglected areas can spread misfortune throughout most teams, and we have seen key individuals falter in a system with too many creaks. If the Reds enter September as they stand now, it could be another season (like 2020/21) where they continuously struggle to be the team we all believe them to be. The system will not change, thus the need is for more established players to be brought in.
Logic dictates many things, and the hope is that sense prevails in the next seven days. Klopp cannot ignore the obvious, and this small period must be spent in attempting to replenish an area drastically weakened by multiple injuries. Jordan Henderson is now a poor player that struggles at this level, and will continue to have poor performances as he regresses. James Milner should be a 20 minute cameo player, that shows the desire needed to close out games. Harvey Elliott should be a player that is guided and mentored through these next few seasons, not looked upon as a saviour of a European powerhouse.
It's important to note that the injury list is alarming, yet the signs have been there for too long that something was needed. To lose out on Tchoumeni was tough, yet contingencies should have been in place. Liverpool do not need a drastic overhaul, they just need a midfield group built to absorb and control games. Currently, we have a threadbare middle ground, and it will mean the system cannot work as required. So many teams have replenished and invested in bettering their situations this summer, yet the reds have descended into the bare minimum category.
I still have overwhelming faith in our world class manager, and hope that his hard headed approach isn't something that will see us remain short-handed. Julian Ward has the biggest test of his short reign, and must achieve what his job description demands. The position of need is the requirement, and the requirements are there for everyone to see. All clubs that this team face will be all too aware of our midfield frailties, I just hope Jurgen Klopp and Julian Ward have the sense to take action, before we become that club that used to be contenders.