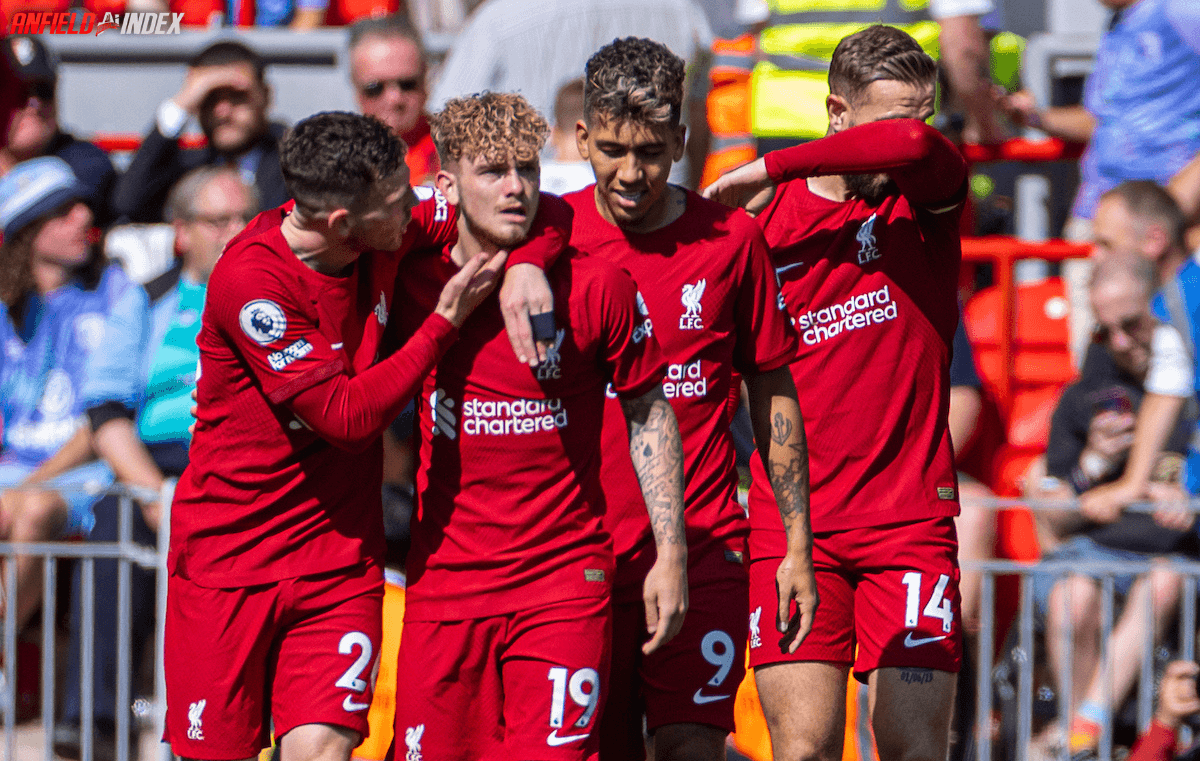 Liverpool FC 9 - 0 Bournemouth - The Player Ratings
The Starters:
Alisson Becker – 7
Well positioned to clear or gather any slightly overhit long ball, which came in useful once or twice. Didn't have much to do, but did it well.

Trent Alexander-Arnold – 8
What a strike! Trent looks like he's got something back after an underwhelming start to the season, but today he looked ready to win, and comfortably. Not every pass comes off as envisioned, but he gets enough of the hard ones right, putting in a dream of a ball for an offside Diaz, but the own goal stood, and it's a credit to Trent as much as a mistake from the defender. Let's not forget that strike, though. A beauty.
Andy Robertson – 7
Full of energy, always pressing and challenging if a defender has the ball anywhere near him. Driving forward whenever he's given space, he had a good match, but surpassed by his replacement on the day.
Subbed – 69th minute
Virgil Van Dijk – 8
He played the casual game that many have criticized him for in recent weeks, but today he showed his quality, mostly with a perfect header that makes one wonder why he doesn't just score every week.
Joe Gomez – 7
He's a player who hasn't been a regular starter in years, but we all know his quality. He did well today, showing strength and initiative pushing forward to win the ball without ever being exposed.
Fabinho – 6
Going about his business, but not asked to do much by a Bournemouth side that had little to offer. He should get credit for serving a controlling role along with Henderson.
Jordan Henderson – 6
Henderson didn't impress early on as he lost the ball a couple times, but to be fair to him, Bournemouth clearly planned to break every bone in his body in the first half hour. Once everything settled down, the captain was able to keep possession and move the ball around with an occasional run forward. Had a good dummy header to confuse the keeper leading to Bobby's 4th goal contribution.
Subbed – 69th minute
Harvey Elliott – 9
The teenager was the spark the midfield needed on the day, always dangerous, sublime touch, and a beautiful finish when the ball dropped to him at the edge of the box. He was brilliant, but you can understand if the manager doesn't want his two young attacking midfielders together in the midfield when solidity is the priority over running up the scoreline.
Subbed – Half-time
Mohamed Salah – 7
Played well throughout, but after missing a tap-in, you wondered if he just didn't bring his shooting boots, apparently confirmed in the second half by another poor attempt with only the keeper to beat.
Roberto Firmino – 10
Excellent attacking initiative in the early phases. Looked like a new man with his energy and touch, but the biggest difference was his position, often right between the Bournemouth centre-backs. His positioning paid off as he was ready to pounce on a deflection and deftly finish the opportunity. He looks like a striker again.
Subbed – 69th minute
Luis Diaz – 9
Lovely header, wasn't it? Brilliant play early on, looking like he would be the star of the show, but he was ready to combine with everyone in red, one of many who shined in the Anfield sun. There's something about his scrappy endeavour combined with genuine athleticism and skill that makes you dream of what he could achieve in the years to come.
The Subs:
Fabio Carvalho – 9 (on HT)
Excellent in the press, and it's good to see him get more than a cameo appearance, but what do we say about that volley? He takes it brilliantly as Kostas dropped the ball to him with what one might describe as a lovely cushioned header. Liverpool have a special player on their hands, and it's clear for everyone to say. He deserves a start and very soon.
Kostas Tsimikas – 9 (on 69)
Brilliant substitute showing with two assists. Fans who have been hoping he gets more starts might get their wish.
Stefan Bajcetic – 6 (on 69)
Looked tidy and you're likely to see more of him this season.
James Milner – 6 (on 69)
Did his job with a minimum of fuss, and had a great shot that tested the keeper at his near post in the dying minutes.
The Manager:
Jurgen Klopp – 10.0
Klopp understood the task in front of him, and he lit a fire under his players.
These Reds… they've received a lot of criticism already this season, some of it fair, some of it not so much. Today, they showed what they're capable of, and they look ready to get right back in it.