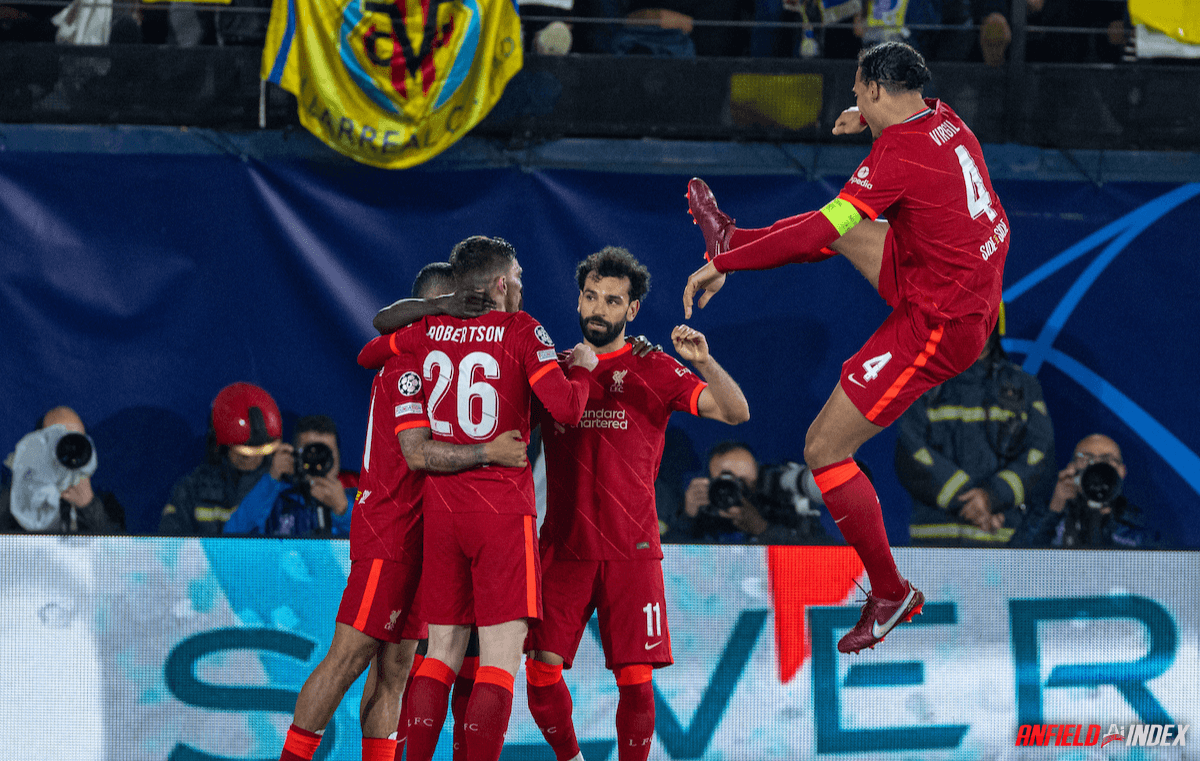 Why Europe Can Offer A Much Needed Distraction
Six games in, and the Liverpool progress has been at best irregular. With a summer transfer window posing as many questions as answers, it has become a worried fanbase very quickly. When we lost to Man United, that was a low that was quickly reacted to. In the past week we have seen a disjointed display against Newcastle and then Everton, garnering four points. The only positive right now is that Manchester City dropped points, but it doesn't mask how poor the reds have been thus far.
I spoke after the Palace game on Rate, Don't Hate, how I wanted to see Mohamed Salah shifted into a more central position. His current form is a continuing concern, but the system simply isn't helping him at the moment. With Mo continuing to be restricted to a wide role, he seems too far from goal to really inflict damage. As we approach game week 1 of the Champions League, perhaps now is the time to test different avenues.
Fábio Carvalho has offered great cameo performances, and if Everton had sat deep this past Saturday, his inclusion may have made sense. The fact is however, that teams are coming for this current Reds team, in full awareness that our midfield control is lacking. When we lost VVD a couple of seasons ago, we showed for a few games that we could absorb to some degree. The continuing injuries mounted soon after, leaving the defensive shape threadbare. What we learned was that cover was imperative when key individuals were missing, and without the majestic control of Thiago this season, we simply lack overall cohesion.

Overwhelming reliance on key individuals often points to the brilliance of such players, and it appears the Reds had become over reliant on either Thiago or Naby setting the midfield tempo. Last season we generally saw one or the other playing LCM, and the balance was able to shift delicately between the creation of one of these on one side, and the playmaking of Trent on the other. Trent seems out of sorts, perhaps because of the controlling burden he has placed upon himself. In players like Fábio and Harvey we see moments built upon reaction, when what we lack is the ability to control midfield situations. Whereas we became somewhat predictable last season, we still had the control and ability to overcome. Right now we are seeing different types of predictability, and a clear inability to overcome.
Arthur Melo has arrived, and it is pretty damning that we are looking to pin a coherent midfield upon this new body. Regardless of that, it's probably something we need to do, in order to find our lost rhythm and ruthless nature. A shift in system seems likely, and a midfield pairing of Arthur and Fabinho should at least be considered. Two established midfield operators would offer a platform for those ahead to build new patterns of play, and those behind to navigate their way to more solidity. Arthur has the attributes we currently lack, and the abilities of Thiago Alcantara must at least be closer to Arthur's skill set than others.
Harvey Elliott is a wonderful young talent, but his position should be from a wider position right now. To shift to a 4-4-2 would enable both Darwin and Mo to build a potentially frightening partnership, and see Salah become that second striker. With Napoli on the horizon, it's hard to imagine the rejuvenated Bobby Firmino not starting. This scenario maybe halts that pairing right now, but I certainly wouldn't be against seeing Mo & Bobby starting through the middle. This Champions League game can offer some much needed respite (from the disappointing League run), and should be about finding the best current structure. Fábio appears out, so to allow Arthur to come in would make all the sense.
I wrote a year ago how Mohamed Salah was the world's greatest in waiting. That article seems a very long time ago, but this early season has seen him too often on the outside looking in. When considering our backline, the shape is built upon the world class ability's of VVD. When looking at Darwin, one would assume this signing was built upon the world class delivery of Trent. We see how the midfield has been shaped around the elite paring of Fabinho and Thiago, and yet Mohamed Salah seems almost a foil for others in the forward line right now. Brilliance should be built around, and Mo is still the player that should sit proudly amongst the worlds best, but only if Klopp allows him the freedom to be that player.
At Manchester City, the system is dictated by the mastery of KDB. Pep Guardiola has brilliance throughout his squad, but he still knows that his main attacking reliance has to be built to best serve his captain. At Manchester United we saw how Bruno Fernandes could explode when the attacking system was tailored to his needs, and indeed how much it fell away when it shifted in a Cristiano direction. Shackling ones most potent attacking weapon can reverberate through a teams patterns of play, and adjustments need to be made in order to release the Egyptian King.
Injuries are an apparent issue, and the window should have been about adequate reinforcements. Julian Ward, Jurgen Klopp and FSG have failed to deliver what was needed, and that summer mismanagement has seen the team falter. We house such a bespoke system, and we perhaps forget that it only truly works if key pieces are either fit or fully utilised. Klopp is a world class manager, and is absolutely the right man to figure out this current mess. In the meantime, the reds march into Europe once more and need to show both character and fight to rise once more. Moaning about what has happened is both predictable and pointless, but certain players do need to up their game. Klopp is also performing well under par, and hopefully the next couple of games can see the true reds rise again.