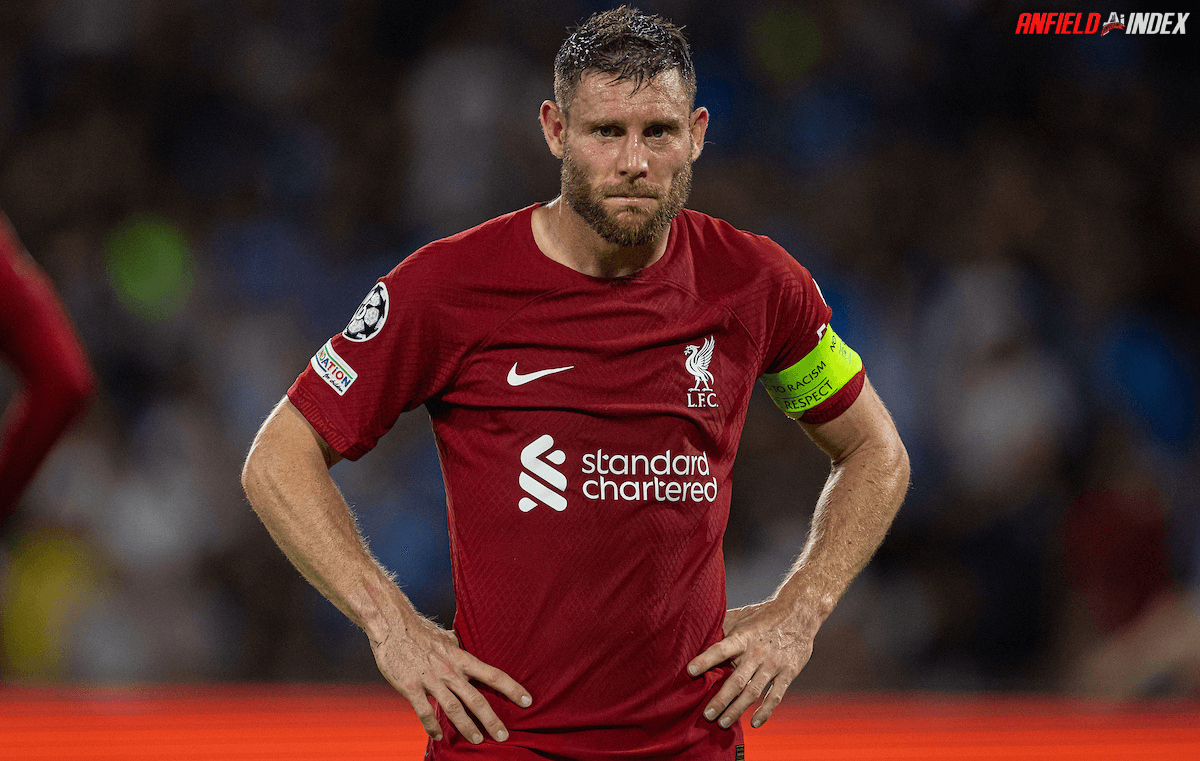 Napoli 4 - 1 Liverpool - Player Ratings
Alisson Becker – 2.0
Could do little with the surging ways Napoli came out, and both the two opening goals were clinical, though the second maybe he could have done better. Was hopelessly let down by some of his players. Was poor for the fourth, and even the penalty save couldn't hide a bad game.
Trent Alexander-Arnold – 3.0

Was again unsure in possession through the first, short of one driven pass into Mo in the box. Was caught high time and time again. Shredded for the third goal. A better second half once the midfielders came on.
Andy Robertson – 3.0
A shadow of Robbo, and couldn't impact the first half at all. Kept encouraging, and drove when he could. Better later.
Virgil Van Dijk – 4.0
Was pulled about, rattled, and generally poor through the first half. The penalty was soft, but it was still a foul. Improved as much of the team once the midfield had able bodied in front.
Joe Gomez – 0.0
A dreadful first half, and solely at fault for at least the second goal. Indecision, poor on the ball, weak in the tackle, and even his pace was ineffective against such a strong attacking lineup. The third goal was gain weak in all areas.
Harry Maguire levels.
Subbed – 45 mins
Fabinho – 3.0
A line shield against a great offensive team. His first half was al about chasing down alleys to catch up. Looked so different once Thiago entered, but Liverpool need actual alternatives.
Harvey Elliott – 4.0
Was ineffective, despite trying to be productive in possession. Offered little off the ball, and he needs to be taken away from certain situations as soon as possible. Too reliant and like the rest of the team, free once Thiago arrived.
Subbed – 75 mins
James Milner – 0.0
Once again so out of his depth, so slow to react to a turbo charged team, and was always multiple steps behind play. The penalty was tough, but they kept breezing through a midfield where he offered nothing in the first half. Hopefully his last start in a proper game.
Subbed – 61 mins
Mohamed Salah – 3.0
Looked off again, and only when he started to move more central did he brighten up. Less of a wide role was quickly needed. Snatched at chances, and looked she'll shocked at his teams display.
Subbed – 61 mins
Roberto Firmino – 3.0
Couldn't get upto much, and was often crowded out through the painful first half. Very weak in the third goal lead up.
Subbed – 61 mins
Luis Diaz – 7.0
Seemed eager to explode, and probably offered the brightest first half option. A great goal at least showed his willing for 4-1. Continued to plug away, and nearly scored again with a brilliant bullet header.
Subs;
Joel Matip – 5.0 (on 45)
Had to come on, but clearly wasn't ready and was caught for the 4th goal. Looked better, and couldn't be worse than Joe. Looked to be progressive with his passing.
Thiago Alcantara – 7.0 (on 61)
A welcome return. Showed a level that has been lacking. Skill, desire, technical ability and guile. Our most important player.
Darwin Nunez – 6.0 (on 61)
Now needs a run of games. Worked hard and at least showed desire.
Diogo Jota – 4.0 (on 61)
Welcome back. Was fruitless for the most part.
Arthur – 4.0 (on 75)
Part of more control, but just starting out.
The Manager;
Jurgen Klopp – 3.0
Picking James Milner I'm this have simply helped to give the home side that initiative. The notion that any 36 year old can play at this level, in midfield, is absurd.
Half time in the reds dressing room must've been fun.
The move to take off Joe was clear, and maybe he had to mange Thiago's minutes. The latter subs at least showed that the dreadful run could soon end. Wolves next. Needs to get things right, and soon.
Steven Smith