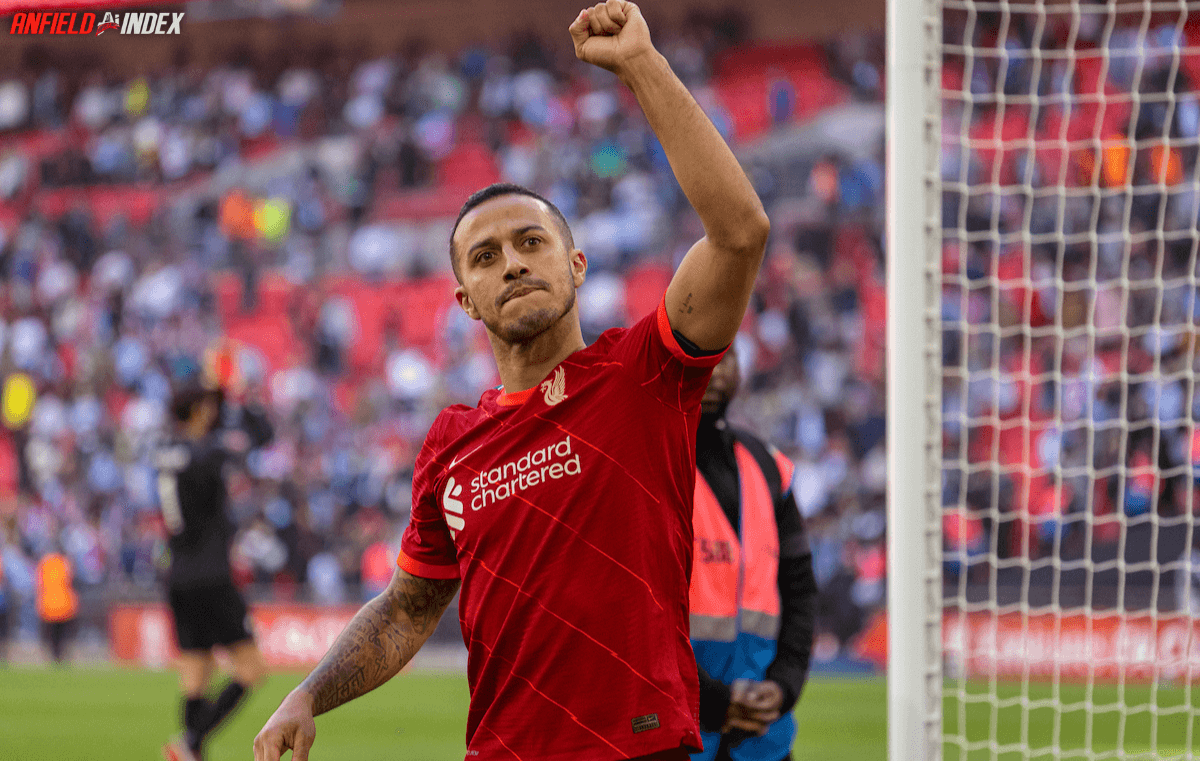 How To Replicate The Genius Thiago Brings
Steven Gerrard & Luis Suárez are Liverpool's most notable legends of the recent past, and were players that were often relied upon to propel their respective team to greatness. Though Luis actually played with Stevie for the entirety of the Uruguayan's Anfield stay, Gerrard was at that point far from the powerhouse he once was. Luis became the talisman of his era, and nearly gifted Stevie the ultimate prize of Premier League glory.
Gus Poyet once remarked how Liverpool would fall anyway without the services of his countryman, Luis Suárez, and the striker's departure was most definitely a huge part of the Reds' subsequent tumble down the table. The reliance upon Luis had been so emphatic, that he almost carried a flawed Liverpool side to the title, and though that team was a side of blistering entertainment, it was built around the world class talents of Luis Suárez. He had a system built to exploit his devastating talents, and therefore he himself became that system. When he was no longer there, the team simply lost all sense and cohesion, with so much of their previous play centred around the explosive Uruguayan.
From Steven Gerrard's early twenties through to his thirties, he was often times phenomenal. He was able to produce brilliant displays time and time again, and the most unlikely of Champions League wins could not have been possible without his exploits. Rafa Benitez would immediately look to unleash this powerful force, with a solid midfield pairing often employed to enable Gerrard freedom to inflict damage. Gerrard's abilities were his natural footballing gifts and a overpowering nature to take games away from teams. His impact perhaps sees him stand as Liverpool's greatest ever servant, yet only in a couple of seasons was he given a first eleven that he didn't have to carry game after game. Unfortunately it was always a lack of squad depth or managerial misjudgment, that saw him continually fall short in his desire to be a league title winner.

What we saw this midweek was the return to the starting line up of Thiago Alcantara. When Liverpool signed this world class footballer, he was entering a side already in possession of a League title and a Champions League win. Thiago was brought in to help evolve the Reds' patterns of play, and add more control to their common chaos. His various runs of games (as a red) have seen his game reach absurd levels of brilliance, and he became the most vital on ball controller in the team. The opposition would be reluctant to press, as Thiago could simply penetrate any space created with any number of passes. The ebb and flow of matches would often revolve in line with Thiago's tempo, and he would quickly become the reds sole architect and most important midfielder.
In this lies the main issue: in attempting to replicate that which Thiago gives (when injured), it is to hand over the controlling reigns to another. With Naby Keïta, love him or loathe him, he was often able to replicate much of Thiago's controlling traits. One would play, whilst the other was rested. The major problem in this short period of the season, is that neither have been available, and the Reds simply didn't know how to control key areas of the pitch. Jordan Henderson, James Milner, Harvey Elliott and Fábio Carvalho are infinitely different players to both Thiago & Naby, and are all many levels below what they bring to a game.
Liverpool maintain vast amounts of the ball, and thus have needed players comfortable in and out of possession. Intelligent off ball work is vital to transition, and Harvey isn't mature, experienced, or able enough to be these things. Milner is too old, and Henderson simply isn't good enough. Arthur Melo was recently recruited, and his addition is a key indication of the need for more intelligent and possession comfortable players. Our ability to launch attacks have often been sprung by traps and brave possession play. This season teams have simply been able to swarm us, with a fragile midfield unable to deliver what was needed. The lack of Naby and especially Thiago, have created a very damning look at what others simply cannot bring to a game.
When Thiago was named last night, I was overwhelmed with a calm and a restored sense of confidence. Thiago was a phenomenal presence against Ajax, and allowed all the pieces around the board to navigate to his bespoke rhythm and play. Thiago may just be the greatest technician Liverpool have ever seen, and the reliance (on him playing) by such an elite set of players is testament to that. Though it is a wonderful thing to see Thiago playing, it is also fear invoking, as we know the next injury is always likely. The reds need to be more brave, and that must start with Klopp. Jurgen has to quickly integrate Arthur into the system, and get Naby back into the rotation as soon as he's fit. We need to look at where and who the 8's have failed so much in this Thiago-less period, and realise that other avenues and players have to be explored. Naby simply has to be reintegrated, and his contract sorted.
Each game holds certain factors, and we need to edge our way back to terrifying teams. We often see how teams will fall at the feet of Manchester City, and we need to be able to cope with the loss of Thiago, at least here and there. At 31 years old, we cannot allow ourselves to be fully reliant on this one player, regardless of how brilliantly he goes about his business. This next few weeks and months should be about getting other players and systems ready to go, as a training ground fall back to cover the inevitable what if.
Jurgen Klopp and Thiago Alcantara are undoubtedly some of the best in their respective fields, and last night we saw Thiago reiterate that fact with regards to his performance. Now it's up to Klopp to show that he can build a team, that will one day soon have to absorb matches and periods without his Spanish magician. Klopp has to replicate what Thiago has proved, and that is imperative if Liverpool are to re-engage this season.
Yes that's a line from Top Gun: Maverick, and much like Thiago, it's simply spectacular viewing.