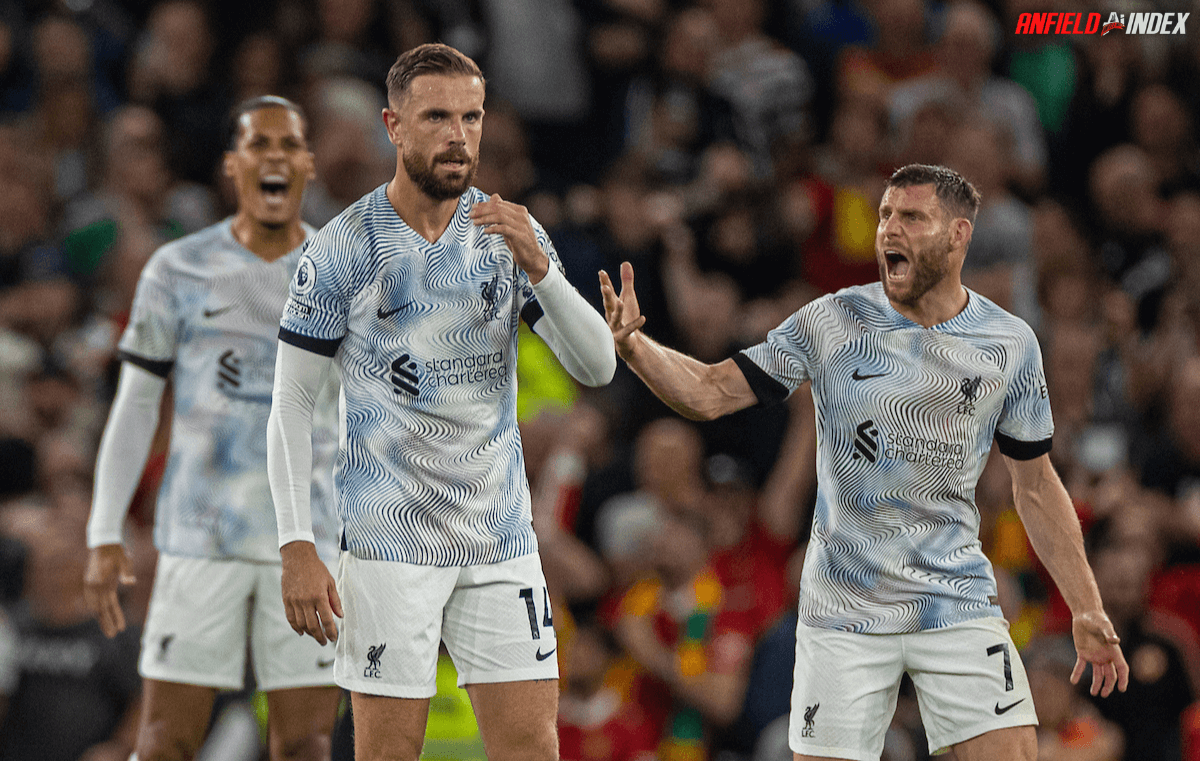 Which Liverpool Players Should Enter Into The Next Phase
It's international week, and unless it's a major summer competition, I rarely pay any attention to the results and performances. The games usually revolve around occasions of no consequence, uneven match ups, silly qualification games, and a raft of ever-changing line ups. I checked on Monday to see whether the international break was over, only to learn it hadn't even started. Liverpool's premature halt in their season has meant a prolonged stop, and it feels longer than the entirety of pre season. Please return us to actual football.
So with very little to write about this week, I'll be looking at which current players should move into the next phase (and final phase) of Jurgen Klopp's reign as Liverpool manager. It'll circle around key first team pieces, the fringe players, and those up and coming youngsters of note. I'll also add a few names that should be targeted in the next window(s) to replace those I choose to throw to the fire.
Alisson Becker
The world's premier goalkeeper, he should be tied down to a deal that supersedes Klopp's reign. There's nothing to upgrade upon, it simply doesn't exist.

Caoimhin Kelleher
A good young keeper that could perhaps garner a similar fee to that of Danny Ward. He'll see Ali ahead of him, and know the truth about his first team chances. The club should look to move him on next summer when his value may peak as a Reds squad player.
Replacement – Marcelo Pitaluga (Academy)
Trent Alexander-Arnold
Bad moments come and go, and Trent will go down as a fullback that transcended the game. That's a keep for me, for his world class talent will explode once Klopp finally finesses the rest of the squad.
Calvin Ramsey
We know little, but we rarely get these recruitment wrong. He and Trent mean the right fullback role should be boxed off for many years.
Andy Robertson
It's a difficult one, as his form has been unsteady for so long. The system returning should see his level improve, and the competition at left back should continue for the next few seasons.
Kostas Tsimikas
A wonderful competition piece that will hopefully continue to challenge for that left back sport until a new addition is needed, which shouldn't be for the foreseeable.
Virgil Van Djik
The next permanent captain, and someone that can be a vital player well beyond Klopp's reign.
Joel Matip
He's improved constantly with age, and his international retirement should mean he can play an important role within the centre back group for a couple more years. Joe probably leaves before him.
Ibrahima Konate
The future defensive leader of this team is boxed off.
Joe Gomez
This could be the season that decides his future. His class is unquestionable, but he may see his likely omission from the World Cup squad as a reason to move on. He's unlikely to be a regular starter for us, and with a big contract now signed, we would demand Ben White levels of money.
Replacement – David Carmo (Porto)
Nat Phillips
Sell at the next opportunity.
Replacement – Rhys Williams (Academy)
Thiago
Extend and take advantage of everything this genius offers.
Fabinho
Extend and the likes of Bajetic to learn from a world class enforcer.
Naby Keita
Extend and try to rebuild his worth. To lose so much money on such a talented midfielder can't happen.
James Milner
Time to retire
Replacement – Stefan Bajetic (in-house)
Arthur Melo
Let's see. The want to better his chances by any means shows outstanding desire to be a red.
Jordan Henderson
A back up role that winds down his contract as a sporadic performer.
Curtis Jones
A loan is desperately needed, or a good fee & Buy back. We just don't know how good he can be, and the injuries are a worry. Has to leave to further his career, either on loan or permanently.
Replacement – Moisés Caicedo (BHA)
Harvey Elliott
Develop in a position that suits, and recruit so that he isn't just shoehorned into a role that doesn't suit him. A long term squad player.
Alex Oxlade-Chamberlain
He leaves for free next summer.
Replacement – Michael Olise (Crystal Palace)
Stefan Bajetic
Keep and develop him under Fabinho as a long term option.
Mohamed Salah
Find the system that suits this wonderful player, long term.
Luis Diaz
Allow this man the develop into the league's most devastating wide man.
Diogo Jota
Let him and Darwin battle for that middle spot and extend accordingly.
Darwin Nunez
Have patience & faith, as eventually this huge talent will adapt and explode.
Roberto Firmino
Extend as a rotation piece, and allow him to leave with Klopp, so that the man below can flourish. A further addition should be sought at that point however, one that can allow Mo to slide into a two man attack.
Replacement – Bukayo Saka (Arsenal)
Fabio Carvalho
We need to find out what player this is, and mound him into the next team.