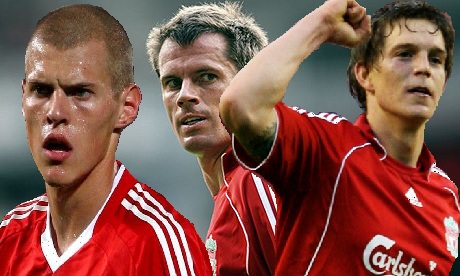 Skrtel, Agger, Carragher | The Battle for the Centre
This time last year was a good time to be a Liverpool fan. Up until Saturday 8th January 2011 we had endured one of the most challenging times in terms of club form and morale, with the "Liverpool way" seemingly being eroded in front of our eyes. In recent times there had been the Djimi Traore back heeled OG against Burnley in the otherwise glorious 2004/5 season. There was the sounding out of Jurgen Klinsmann as a replacement for Rafa Benitez in 2007, by the far from funny, Trans-Atlantic Laurel and Hardy, Hicks and Gillett.
But the manner in which Roy Hodgson, our then manager and figurehead, carelessly abandoned the long held principles of our club had been hard to stomach. Openly criticising players (Glen Johnson), defensive tactics sucking the spirit from the team; lack of support of Fernando Torres to accusations of diving by Mr Ferguson; constantly expounding the details of his illustrious career of consistent mediocrity, not to mention criticising the support of the fans themselves. I could go on. Then, just over 12 months ago, spirits were raised and Mr Kenneth Dalglish lifted the gloom that had sat over Anfield since the summer. With a smile and a hastily interrupted holiday he presided over the Lazarus like resurrection of fortunes, dragging us back from 13th to vying for 5th in the last game of the season.

It is fair to say that Liverpool's path back to our rightful place under Kenny's lead has not been without bumps. Sitting down and writing an article seemed somehow superfluous given the disappointment of the Bolton defeat for example. But equally it was good to see that in times of adversity Dalglish is able to take the hard decisions. Open criticism of his team does not come lightly and prior to this we have seen collective responsibility for victories and deserved morale boosting praise when goalkeepers and woodwork conspired against us. But it was good to see our leader share the pain and remind those on the pitch of what it means to wear the Red shirt and the standards expected from those who do. Vindication came a few short days later, the Liverpool we know back on the pitch triumphing over the Premier league champions elect, and bringing the arch of Wembley into our near future.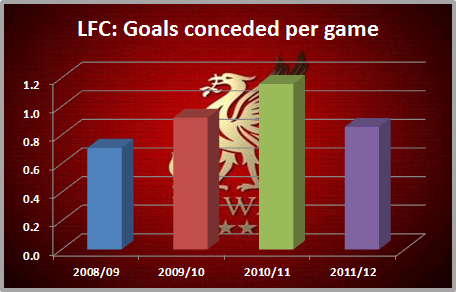 But another hard decision has been taken in the background that it would have been hard for anyone but Kenny to have taken without creating much dissent. It's still odd to see our one time cramp stricken hero of Istanbul sat watching from the bench. It was odd enough when he was out with a calf injury. But now Dalglish largely keeps Jamie Carragher on the bench due the form of his favoured centre back pairing Martin Skrtl and Daniel Agger.
Anyone watching Liverpool this season cannot fail to have noticed the improvement in the composure and form of Martin Skrtel.  I've mentioned it before but Skrtel's last ditch clearance to thwart Demba Ba, bears repeating and was typical of the form he has shown.
Daniel Agger has already started more games (17) than he did in the whole of last season and this in no small part has contributed to our solid defensive form.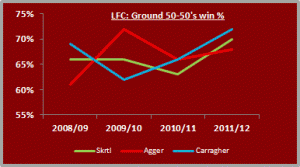 When comparing our 3 centre backs the times Jamie Carragher has been the man on the spot to stop countless threats to the Red net over the years. ESPN Soccernet sums up Carragher's strengths:
Strengths:

Passionate beyond the call of duty
A committed tackler who has excellent positional sense
Can slot in at right-back
I would have no complaint with that description and what he lacks in pace he more than makes up for in timing and ability to read the game.
When you look at Carragher's stats since 2008/09 season it certainly shows him as the most consistent performer in a ground  50-50, with an average of winning 67% of ground 50-50's, and sitting at 72% win percentage this season, 2% higher than Skrtel ,who is currently performing his best in  ground 50 50's in the last 4 seasons.
In the air is however a different situation. Skrtel has been consistently winning a higher percentage of aerial 50-50's than his fellow centre backs for the last 4 seasons, averaging a 71% aerial success rate over that time. He is currently sat on 77% aerial 50 50 success rate which when you consider Sami Hyppia in his last year with the Reds had a 67% win rate in the air, is impressive indeed. Even more so when the much vaunted Vincent Kompany has a current aerial success rate of 74%.
Looking at overall tackle success % I was fully expecting Jamie Carragher to be our most consistent performer. "He doesn't lose many" was my first thought. And what the stats don't necessarily show is how important those tackles were. But the stats over the last 4 season point to Skrtel as the clear winner in terms of the percentages of tackles he wins, averaging 81% tackle success over the last 4 seasons. Carragher is next in terms of a 4 season average at just over 70% success rate with Daniel Agger just behind. Skrtel is currently sat on 84% tackle success rate, only 4% behind Kompany and 14% ahead of John Terry.
In terms of passing and ball retention, a defender must do more than hold his own in the modern game.The likes of Dani Alves, Sergio Ramos, and our own Glen Johnson show how defence can be turned into attack, so long as we keep the ball. Looking at the pass completion figures for our 3 centre backs, the performance of Skrtel is again leading the pack for the last four seasons, with Skrtel averaging 83% over that period, followed by Agger at 80% and Carragher at 79%. As was shown in the League cup against City, Agger's forward play (to me often reminiscent of Hansen in his pomp) I think puts him ahead of his 2 rivals in terms of attacking strength. But also this season (with fingers firmly crossed on him remaining injury free) he is leading the pass completion stats of the 3, sitting at 86%. Again using Kompany as the benchmark, Agger is only 2% behind in terms of successful passes, though somewhat further behind in terms of media acclaim.
We have seen Carragher brought on to shore up midfield this season. We have seen him return to the first team against Stoke and keep a clean sheet, complete 82% of his passes successfully. Job done. But I cannot be the only one who's heart slightly sinks when I see Jamie look up field and punt a ball to Andy Carroll? If my mortgage rested on one of the 3 making a last ditch tackle in a one on one situation in a high pressure game I'd still probably go for Jamie Carragher. But if the ball drops to a defender just on the half way line I want that defender to be Daniel Agger.
Kenny has seamlessly moved in Agger and Skrtel as his preferred centre back partnership. The stats seem to back him up and the Anfield faithful aren't complaining. But it's also very comforting to know that should anything happen to either of them, we have a warrior of a man sat on the bench ready to put his body on the line every time for the cause. An embodiment of the Liverpool way brought back by Kenny Dalglish. And to think Hodgson had the temerity to think Dalglish was only suited to being a Liverpool ambassador? In a way he was right. But it's something he does with every word and action. To paraphrase another great man, Liverpool was made for him and he was made for Liverpool. YNWA.