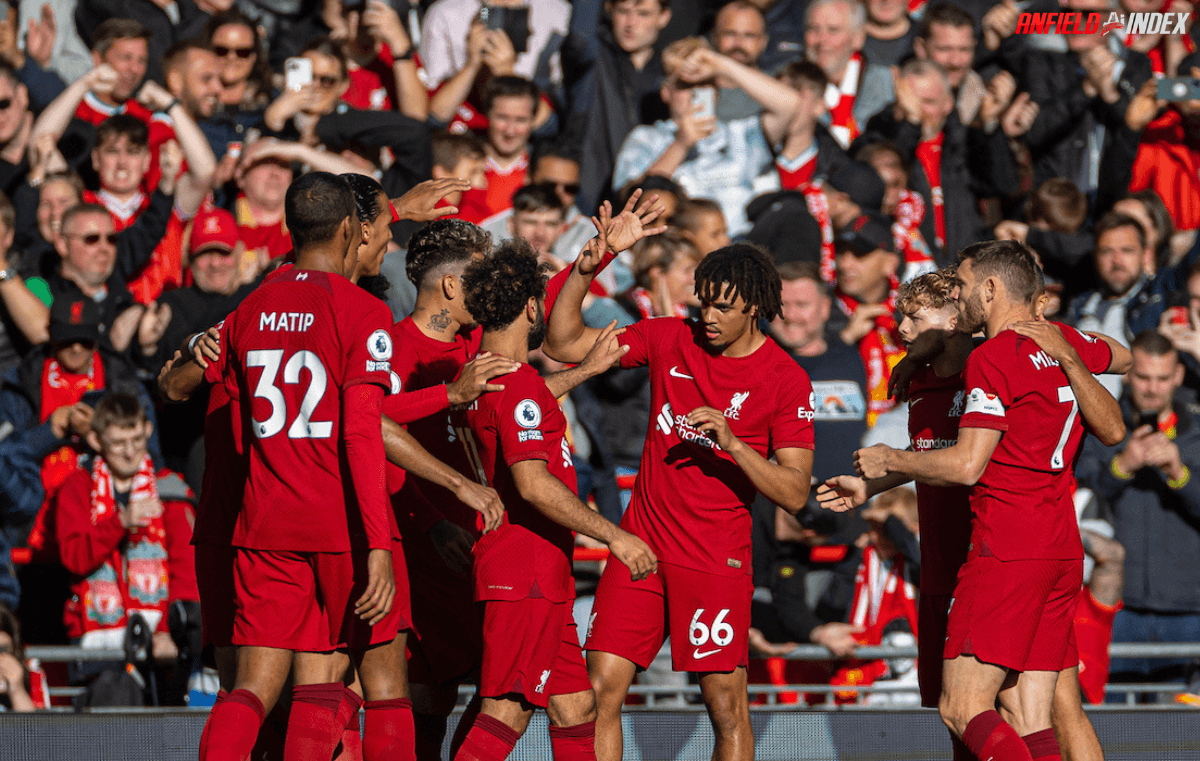 Liverpool FC 3 - 3 Brighton - Player Ratings
Starters:
Alisson – 8
Week after week we rely on him, and he does his job. Trossard's finishing becomes his problem, but for conceding three in a home match, you can't ask for much more from the Brazilian keeper.

Trent – 5
Let's Trossard turn him for the opener, which matches the tone of the season thus far as the world-class right-back continues to be questioned in defensive situations. Looked more positive in attack, and maybe should've been through on goal but didn't look confident attempting to take the bouncing pass in stride. Some good delivery into the box and an excellent attempt for a would-be match-winning free kick, but the opposition keeper was equal to it. 
Matip – 7
Matip pressing the opposition keeper is everything we could have asked for from the first minute back after this ridiculously long break, and he was good throughout, never looking the weak link defensively, and providing some good attacking intent.
Virgil – 5
Had a great clearance to prevent a tap-in that would've given Brighton a three-goal lead at the time, but then looks terrible for their equalizer, ultimately costing the reds two points.
Tsimikas – 7 (subbed 59′)
Up for a defensive scrap but also provided more quality in the pass than most. The new trend of subbing one of the full-backs seemed harsh on him as he offered more than his replacement.
Fabinho – 6
Helped control when called upon and grew into the game, but still not at his best.
Henderson – 7 (subbed 59′)
Hardly puts a foot wrong and somehow doesn't do enough either, but had a truly excellent outball leading to Firmino's second goal.
Thiago – 5 (subbed 89′)
His passing was far too inconsistent for his standards. Still, it's good to see him start and last nearly 90 minutes. Will be better next time.
Salah – 7
This season looks to be one of Salah not making enough of his shooting chances but still finding the perfect pass. His assist was a moment of genius, and he looked more impactful as he played a little narrower than most of the season so far. 
Firmino – 9 (subbed 75′)
Didn't look clinical until he did, and he kept that going. So calm for his second goal. It's good to have Bobby scoring while Darwin is settling in.
Carvalho – 5 (subbed at half)
The young attacker has a legion of admirers begging for him to start as his appearances for the reds have been excellent until today. Given the nod, he didn't impress. Definitely one for the future and undeniably valuable already, but not likely to steal Diaz's starting spot with that performance. 
Manager – 7
Not much wrong with the game plan. It's the execution that appears to be the problem. Going down by 2 in the first 20 but taking the lead back before 65… impressive. Klopp can't take credit for Brighton's own goal, but his substitutions worked. If only they held on to their lead once they scraped it back.
Substitutes:
Diaz 45′ – 7
Half-time substitutions don't get more correct than this one. Huge impact on Liverpool's attacking possibilities. Consistently Liverpool's brightest spark.
Milner 59′ – 4
Bringing him on at fullback is a choice. He committed a tactical foul that looked a bit desperate and cynical. A horrible clearance gave Brighton possession in a dangerous area. His positioning for the final goal is suspect, but you can't blame him for that one with Virgil missing the clearance entirely.
Elliott 59′ – 6
Good positioning, passing, and ball retention, he always looks like he could do almost anything, but didn't quite do so today.
Jota 75′ – 7
Good impact, but needed to find a way to threaten the goal.
Darwin 89′ –
Hard to imagine why he's not higher in the attacking pecking order. Nowhere near with a half-chance headed in injury time, but glares at the ref like he's holding a grudge against the entire PGMOL, which he might do.