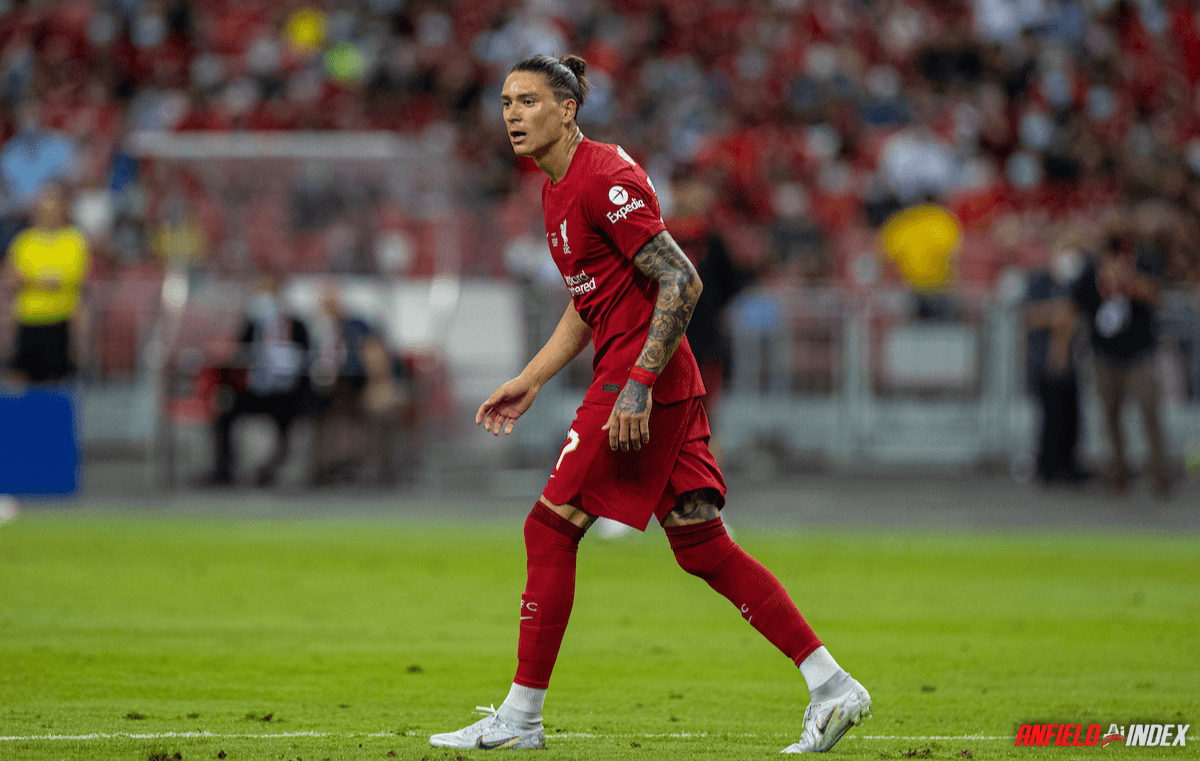 Liverpool v Rangers - Time To Unleash Darwin
Liverpool's hugely disappointing start to the campaign continued at the weekend, with a 3-3 draw at home to Brighton. Brighton are an impressive outfit this season, and that coupled with the annoying international break could perhaps explain some of the reds weekend inconsistencies. The main concern however, is Liverpools continued inability to play through adversity, and navigate their way through tough games. Jurgen Klopp's team are performing just about as badly as the memory allows, and a shake up is surely forthcoming.
This past summer saw Liverpool agree a deal to bring the ultra talented Darwin Nunez to Anfield, yet his early season has been just about the opposite to that of Manchester City's own summer signing, Erling Haaland. Haaland is a bonafide freak of nature, and he looks like some extraordinary hybrid of Christian Vieri, Ruud van Nistelrooy & Fernando Torres. Early season comparisons are now impossible, but Klopp must still find a way to integrate his Uruguayan striker into this team.
Whatever tactical tweaks, positional tampering or form issues that have caused this slump, the rut must now be overcome, and the reds have to be more ferocious in their play. Roberto Firmino is enjoying some very good moments this term, but this team urgently requires an attacking style that can strike fear into the opposition. Bobby is a key squad player, but this forthcoming Champions League tie must be about building both form and more potent attacking system. Liverpool's defensive issues must be eradicated, and a more aggressive style has to be put in place in the lead up to the Arsenal game. There seems to be no area that is in any way fluid right now, so to be more attack minded in the line up may just be the way forward.

With Jordan Henderson still desperately struggling for form (and Thiago perhaps in need of a midweek rest), it could finally signal a start for the myth that is Arthur. If Thiago is able to start alongside Fabinho (with an ample break before Sundays trip to Arsenal), then even the better. Based upon form, Harvey should absolutely be the third choice of midfielder, and allow starting slots to be awarded more upon performance. To see such a well structured set up fail time and time again, must mean that big decisions have to be made, and a switch to 4-2-3-1 has to be a positive step. Harvey Elliott could offer that central link, which would allow a midfield pairing (Fab & Thiago/Arthur) to control vital areas in behind. A more refined system could also give attacking support to the forward line. This is where Darwin must now be close to starting once more.
Diogo Jota was unable to complete his final Portugal appearance last week, and was unable to start against Brighton as a result. If he is still unable to take up a centre forward berth, then the time for Darwin must become reality. With Liverpool looking so open and unable to control their defensive third, a more attacking system could be that which takes the pressure of the backline. The defence is an array of talented players, but the overall lack of fluidity higher up the pitch is something which is piling the pressure on the reds rearguard. With a more prominent and attacking system, the reds could perhaps outgun teams and force teams away from a defence, that continually looks unable to dominate their zone.
It's the most peculiar predicament, and there is most definitely underlying failings within both the players and coaching groups. We have a world class manager, and he now has to be more forthright and ruthless in his plans. We have Darwin, we have Mo, and we have the maverick which is Luis Diaz. This front three is the brainchild of the recruitment department, and one which allowed the reds to agree to the sale of Sadio Mane. Hindsight points to there always being some period of transition, but world class teams should surely be able to overcome the obstacles that have since become gargantuan.
Rangers could be the perfect opposition to implement a more ferocious style of play. In MMA, we sometimes see that fighter which seems overwhelmed against the cage. Liverpool have found themselves in that very same environment, and much like a fighter in trouble, sometimes you simply have to let your hands loosen, and trust in the offensive capabilities within. Darwin Nunez is a gifted and explosive entity that needs putting into the game, and allow this team to show their strength. This next few days will show the character of both the players and the manager, and two wins is vital. Hard work and determination need to be shown in abundance if the reds are to prosper, and we have to hope this horrendous period is only a peculiar snap shot in time, and not a sign of times to come.