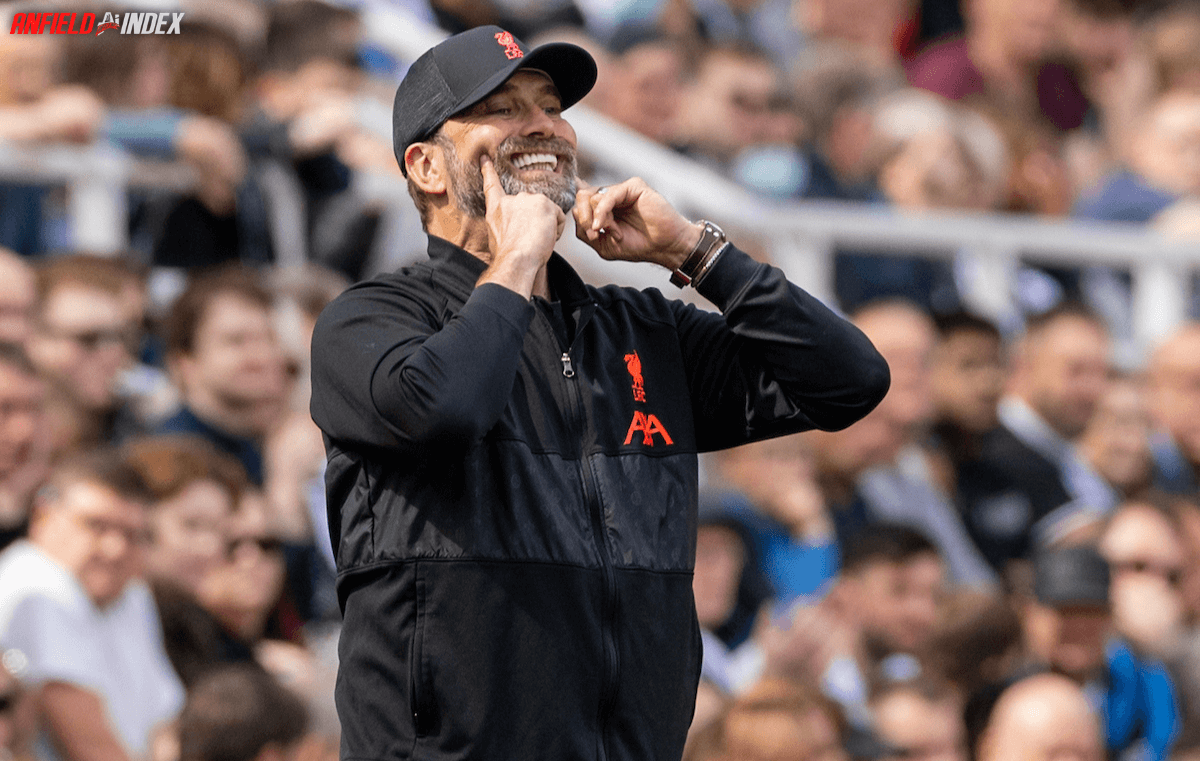 Liverpool v West Ham - Now To Push On

I predicted a 2-2 draw with City this past Sunday, but was delighted to be wrong. Liverpool ran out deservedly as winners with a 1-0 home win causing much of the small blue portion of Manchester to fall into meltdown. Bernardo Silva & Pep Guardiola were outraged, the sports washing entity as a whole was dissatisfied, and today there has been murmurings of a smear campaign against Jurgen Klopp.
The only part of all that which is relevant, is that Liverpool were both triumphant and emphatic in their journey to get there. This season has been about as absurd and uncharacteristic a campaign as imaginable, with poor performances and dropped points awash within the reds early season fixtures. Something happened in this last week though, and it was that final 30 minute spell against Rangers which seemed to have awakened the beast within, and all of a sudden Liverpool FC remembered who they were.
My early season hope was to see Mohamed Salah drafted into a central role, and for a 4-4-2 system to be administered. My hopes came to light over the weekend, and the resulting display was nothing less than pure joy. Aggression, purpose, endeavour, and the will to out work their opponents seemed to be swirling through the Liverpool players, and the hope is that the team can continue with this current vein of good form.
Every great team will eventually reach its peak, and descend back down the other side. Changes at this point are inevitable, and football (much like it's teams) with simply evolve. The recent evolution has seen Liverpool and Manchester City maintain their recent places at the pinnacle of the game, with their elegant and fiercely competitive styles of play often overcoming all comers. Whereas City have always had the continual ability to invest heavily In their squad, Liverpool have often been more diligent and controlled. That thought my was mentioned by our manager prior to the game, and the needle within the 90+ minutes was plain to see. City are a team and group in denial, and the whole scenario is utterly ridiculous. Klopp was simply stating the clear and obvious reality, and hopefully more light will be shed upon those that play so far outside of FFP.
Getting back to the Reds, Mohamed Salah is perhaps the most gifted and dangerous player that Liverpool have ever had. To imagine not building an attack around this man's terrifying attributes is ridiculous, yet somehow it took till the latter stages of last weeks Champions League match up (1-7 win at Ibrox) for Mo to be the central figure of our attack. Mohamed Salah is box office, Mohamed Salah is a match winner, and should now be continually unleashed with all others attacking pieces selected to support this man. Jurgen Klopp is a wonderful man, and his ability to build this next great team is hopefully something he will take on with vigour. We saw him get sent off for defending one of his boys, and that's the aggressive manager I want to see for the duration of his stay. Hopefully the fire has been lit, and the anger is back within this marvelous group.
There is clearly work to be done in the next two windows, and perhaps the next month will be a rough ride with all the injuries, but we must simply kick on regardless of the issues. Every team will be feeling fatigued, the games and injuries may start to mount for our opponents also, so we must use our world class individuals to carry us through. The hard work shown at the weekend was ultimately what shone brightest, and that trait must be a continuing one, thus enabling certain individuals to shine.
West Ham are a team that have had a rough start to the season also, with their own issues causing them to underachieve. We have to be on hand to carry the momentum we have built, and start instilling fear into our opposition once more. Teams have lost that fear, and we have to be forceful in reiterating our capabilities and will upon those we face. West Ham are a danger, and for that game I'm hopeful we just get the win and move on. Milner was fantastic on Sunday, but with a more solid system employed, Trent should now come back into the starting eleven to add more potential in our deliveries. With Diogo Jota sidelined, let's just throw the talents of Darwin into this game, and allow this new dimension and system to rattle teams that became far too accustomed to the way we play.
Each and every game must be about the work rate, the positional intelligence, and the correct utilization of our best assets. City was a marvelous win, now it's time for the red machine to push on once more.