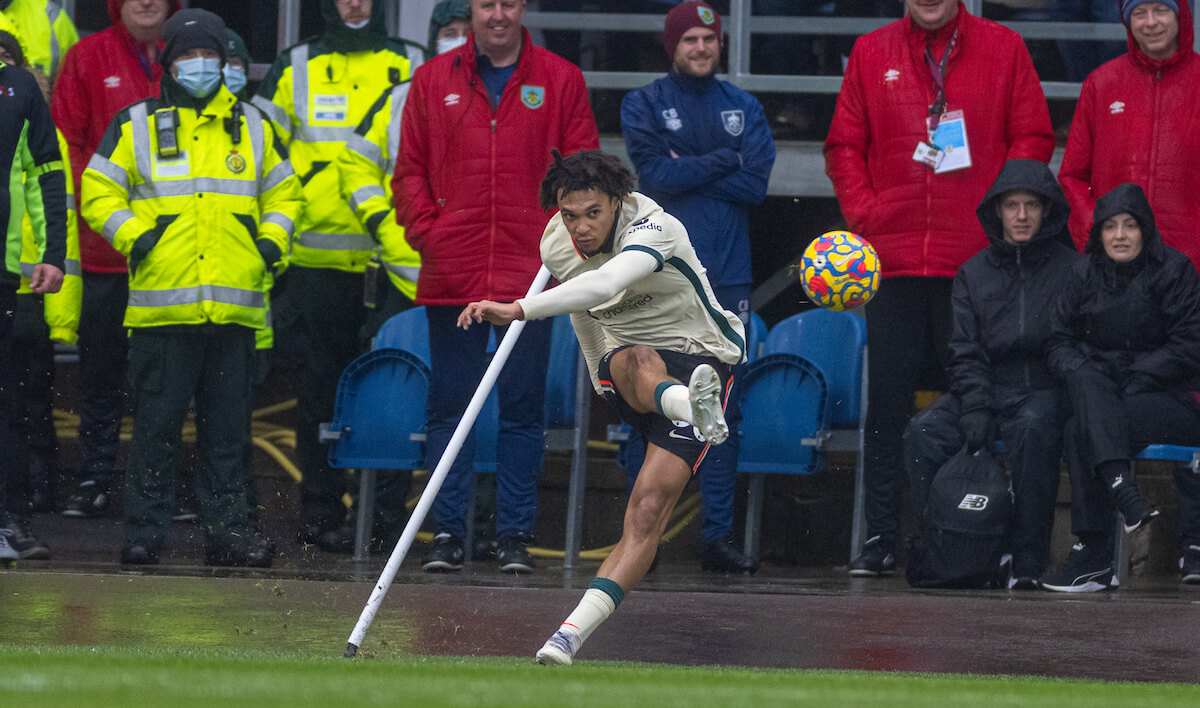 Making Trent Into A Modern Day David Beckham

Just as Trent Alexander Arnold has landed in 22nd place in the ballon d'Or listing for 2022, it comes after (and perhaps within) a period when much of Trent's abilities have been brought into question. Trent Alexander Arnold is a fantastic and world class footballer, with unbelievable attributes. His level is obviously fully appreciated within the halls of Anfield, and his career to date has been noting short of spectacular. When you try and pigeonhole Trent into merely a defensive player, you are merely refusing to look at the entire canvas, one which could become absolute masterpiece.
Liverpool Football Club play perhaps the most risk creating defensive line in world football. Narrow-minded pundits would have you believe that Trent is a poor defender, and unable to defend against most oncoming attacks. Throughout this season Trent has suffered some poor form for sure, alongside most of his Liverpool teammates also. He has been a part of what has been wrong, but not too much of our issues are about his own lack of abilities. What is certain however, is that he will be major part be part of what drags Liverpool back towards the top of the table. Trent is an attacking fullback, that relies on adequate cover and superb defensive co-ordination around him. He asked to break the lines, encroach the oppositions defensive third, and be a winger for the better part of games. The lack of coordination and structure around him, are two areas have probably been the reds weakest areas this season, and Trent seems to have been targeted as a result.
Football and it's various systems will forever evolve with time, and what worked perfectly once may have to be altered in order to maintain previous levels. What Liverpool fans began to see last season, was opponents becoming all too familiar with the reds open style of play, the areas where coverage was often lacking, and thus able to create opportunities that were once closed off. Liverpool have a peculiar midfield situation, where their are a plethora of novice & attack minded players, or players very much over the hill. Trent has been left outmanned, outgunned, and some poor work around him has clearly effected his performance levels. After the triumphant weekend win against City and the continuation of the 4-4-a against West Hame, a new system could now be the rebirth of TAA, and enable a world class talent to flourish once more.
With this new 4-4-2 system seemingly perfect for much of our world class players, it can also be a system that brings more tactical fluidity. As Joe Gomez continues to flourish at right back, I did wonder in the summer whether the new deal would in-fact see him play more and more in that role. The obvious benefits include his high level of defensive awareness, his mind blowing pace, his power, aerial ability, as well as his ability to compliment the team in possession. Whereas Trent was the perfect mould for Liverpool's last right back requirement, it could just be that Joe is the perfect fit for this next era under Klopp. The idea of Trent playing ahead of such a strong defender is ideal, and would give a gifted playmaker the licence to attack and produce service for those ahead of him. I once witnessed the devastating effect of the David Beckham & Ruud van Nistelrooy link up, and I strongly believe Darwin Nunez and Trent could form a similar alliance over time.
Darwin is a work in progress, but this raw and talented individual simply needs time to settle into a system that has been so unco-ordinated this season. To imagine a duo growing into a new style of play is tantalising, and one I hope Klopp will explore. To unleash such a gifted and ball hungry player like Trent must be tempting, and he has so many attributes that players like Beckham had. Even if you were to look at Kevin De Bruyne, are there really that many differences in their fundamentals…? Trent must be a player that is utilised in a way that extracts his best game, much like Mohamed Salah. This new system could see move into more influential spots, and release new levels of brilliance.
Time can only tell where we are a group are headed, but some decisions do feel a little reactionary. I hope this upcoming contest at Nottingham Forest will help shed some light on the current mindset of our manager, one that sees Mohamed pushed inside, with his right wing replacement none other than the marvellous Trent Alexander Arnold.