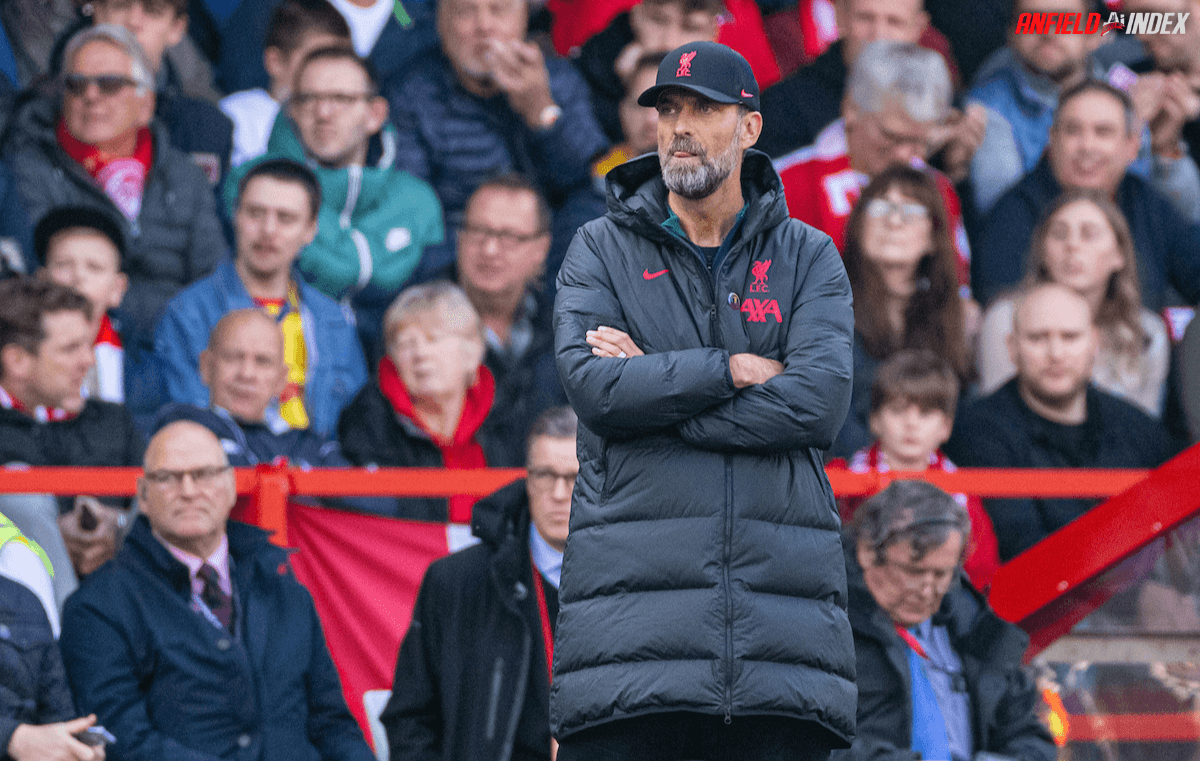 Nottingham Forest 1-0 Liverpool: What Went Wrong?
ah, where do we start. A rough night for the Reds in Nottingham.
The Goal
Another calamity of errors from Liverpool in the back. Gomez loses to Awoniyi in a terrible spot due to a brain lapse, and does the only reasonable thing left, take the yellow and gift Forest a deep free kick. The kick isn't taken particularly quickly, but Milner loses his man at the back post. Cook takes the clipped ball down, not pressured at all, surveys the scene, and drives a low ball across the middle. Van Dijk executes his trademark "face backwards, stick your leg out, and watch the ball roll past you" defensive maneuver, and Awoniyi beats Gomez to the ball. Awoniyi hits the post on a rocket, but is more alert than Gomez to the rebound and taps into an empty net. It's once again a lack of concentration and hustle in the back, all stemming from an unnecessary giveaway in a bad spot. It's becoming a recurring theme
The Team Selection
There was no doubt Klopp was short on options today, and he pretty much threw what he had on the field and prayed for the best. Well, the prayers weren't answered. A predictable theme of the midfield being carved open continued throughout the 90 minutes today, and Fabinho once again served as a speed bump in a game he should be controlling. Not sure if you can really blame him for that, as he was playing in a midfield with 3 attacking players. Jones and Elliott both looked bright, but it's not enough to control the midfield against any EPL team. Carvalho looked like an 135 pound player playing Premier League Football, which is not necessarily his fault, but makes the game a bit harder for him. An aggressive midfield like this either really works or really doesn't, and today it really didn't. Again, it was definitely a makeshift team, and an omen that a midfielder is necessary in January
The Attacking Play
Another problem with the Reds tonight was that there was no real attacking threat. In the first half, Firmino and Salah were consistently making aimless runs towards the corner flag, which isn't really helpful in a game like this. A run like that results in either Salah or Firmino with their back to goal, and the only real passing option from there is the layoff to Milner or Robbo so they can cross it to one of the 5″7 guys who is now standing in the box due to Salah and Firmino making runs into the corner. We only saw one real shot on goal in the first half, one when Harvey chipped over the top to Carvalho, a pass that no one even attempted to recreate for the 90 minutes, and by far the best pass of the game. Along with the tactics issue, none of our 5 attacking players were looking to take people on, make dangerous runs, or even get involved in the game, which resulted in needless giveaways and Forest chances. At times, one could easily forget Firmino or Salah was on the field, so it was no surprise when Firmino was withdrawn for Ox. Our only real chances came off of corners, and even then we were missing free headers inside the box. Van Dijk and Firmino both arguably should have been on the scoresheet, a disappointing performance from all aspects of attacking
The Midfield
Well, the only problem with the midfield was that it wasn't there. Forest frequently passed through the lines with ease, and created numerous 3 on 2's, 2 on 2's, and 3 on 3's due to a man running straight through our midfield with supporting runs on his sides. This issue could potentially be blamed more on the transfer window than the game itself, as two holding or box to box midfielders is required in every game, and today we only fielded one. Curtis Jones is a great player, but not a holding midfielder, and he showed both of those qualities in their own ways tonight. Once Henderson came on for Carvalho, the game calmed down and Liverpool took control, which was fairly predictable. Henderson's value has been shown today, and the odds of buying a midfielder in January should have greatly increased.
Lastly, The (Central) Defending
I have no complaints with Milner or Robertson's performance today. I thought they both defended well, maybe could have offered a bit more going forward, but weren't the source of problems in the back. Van Dijk and Gomez also both played solidly, but had about 3 or 4 lapses apiece, which resulted in some big Forest chances. The goal could easily be accredited to both of their lazy defending and concentration lapses, as could Yates's big chance, when Alisson came up brilliantly to save the day (temporarily). Alisson had an incredible game today, as Forest had 7 shots on target, and he had at least 3 big saves. Yates's weak shot off a great Kouyate run and Brennan Johnson's near post effort were both big saves for the Brazilian, and chances that could be accredited to a lack of defending from Van Dijk and Gomez.
Overall, it just wasn't the Red's day. An extremely shorthanded team starting a risky lineup on the road, some days just weren't meant to be. I wouldn't take this game as an omen of bad things to come, but rather as a sign of purchases needed in January ( a midfielder), and a reality check after two great games. This doesn't mean the top 4 race is over, it's just a showing of what can happen to this team on a bad day. We're not invincible anymore, and this was more proof of that. Vladimir Lenin said it best, "Two Steps Forward, One Step Back"