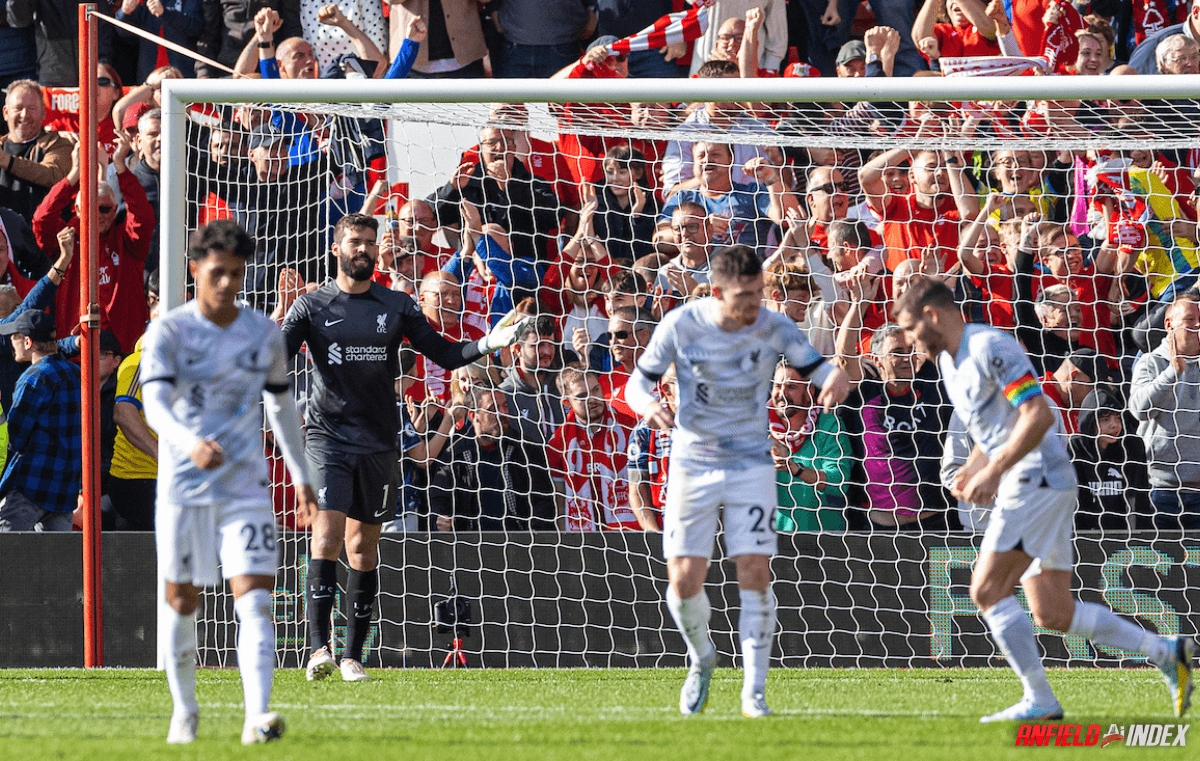 Nottingham Forest 1 - 0 Liverpool - PL Player Ratings

Starting XI
Alisson Becker – 8.0
The reds penalty saving hero in the week, and most consistently reliable shield against attacks this year. He was as critical with some smart saves early on, as Liverpool were slow out of the blocks. Made a tremendous save late on, and that's not a good thing to be so reliant on his brilliance.
James Milner – 6.0
Back into the fray, after a rest in midweek. He had lots of running to do, with Forest targeting his flank. Unlike the City game where he excelled, he simply averaged out here, but when so much of the team was struggling, he kept on going.
Subbed – 62 mins
Andy Robertson – 5.0
Came back in, with a good rotation gig ongoing with Kostas. Was very average for the most part, without the familiar bodies ahead of him. Just ambled through the game, and did very little at either end of the pitch.
Virgil Van Dijk – 5.0
The big man is showing more consistently how good he could be, and he was pretty solid through the opening stages, but then like much of the team, he drifted into a below par performance. Should have scored also, and the late one hurt. The levels are so high, we just need our defensive leader back.
Joe Gomez – 5.0
A good run in the team continued, and it was a bustling start with both teams taking their time to fully settle. His bad moments cost Liverpool, and he wasn't close to his best today. Erratic in his passing too often and gave Forest the free kick from which the winner came.
Curtis Jones – 6.0
Great to see this exciting talent back, and he started with some good physical challenges. He was clearly targeted on the ball mind, but grew as the half went by. He was keen and hard working, but showed little with the ball. Tough first 90 back.
Fabinho – 4.0
Uncharacteristically off when coming on versus the Hammers, and unfortunately that continued here. Seemed slow and unable to react quickly. The double pivot (without Thiago) just may not suit him, and the miles just might be showing.
Fabio Carvalho – 5.0
Kept his starting spot, with so many attacking injuries. Looks like a player underprepared for these games, and in a squad with so many questions, he just can't adjust. Good chance in an uneventful game.
Subbed – 62 mins
Mohamed Salah – 5.0
Started central, but had little to work off as those behind him struggled to grab a hold of the game. Couldn't work his way into the match, and struggled after a knock to become a danger. We need our attacking options back
Roberto Firmino – 4.0
Was more filler for the midfield early on, as Forest started with their tails up. Couldn't spike, couldn't make the difference m, and the fact that Ox came in for him was telling. Looked tired and overplayed.
Subbed – 76 mins
Harvey Elliott – 7.0
Back starting for the reds, to allow Mo into the front line. He was the best attacking player though the first period, but fluidity was lacking ahead.effort is never in question, but he really shouldn't be the bright spot in a poor team that often.
Subs;
Trent Alexander Arnold – 6.0 (on 62)
Nice moments, and showed his creativity on the ball.
Jordan Henderson – 6.0 (on 62)
Worked hard, but largely ineffective. The game was already in full drift by this point.
Alex Oxlade-Chamberlain – 4.0 (on 76)
This is where we're at.
The Manager;
Jurgen Klopp – 5.0
The rotation continued, with games coming thick and fast. Darwin was missing with a knock, so the front line picked itself, with a youthful midfield marshalled by Fabinho.
His team started slowly, like on so many occasions this year. The limitations with injuries certainly didn't help his selection, and the failed transfer windows that have drifted by came to light again. The injury list is now an ongoing concern, therefore a look into what is causing these issues is surely incoming.
The game was tough to watch, and the reds just look so poor at times. Without Thiago we just continue to look a team without direction, and this season now promises to be a long hard one.