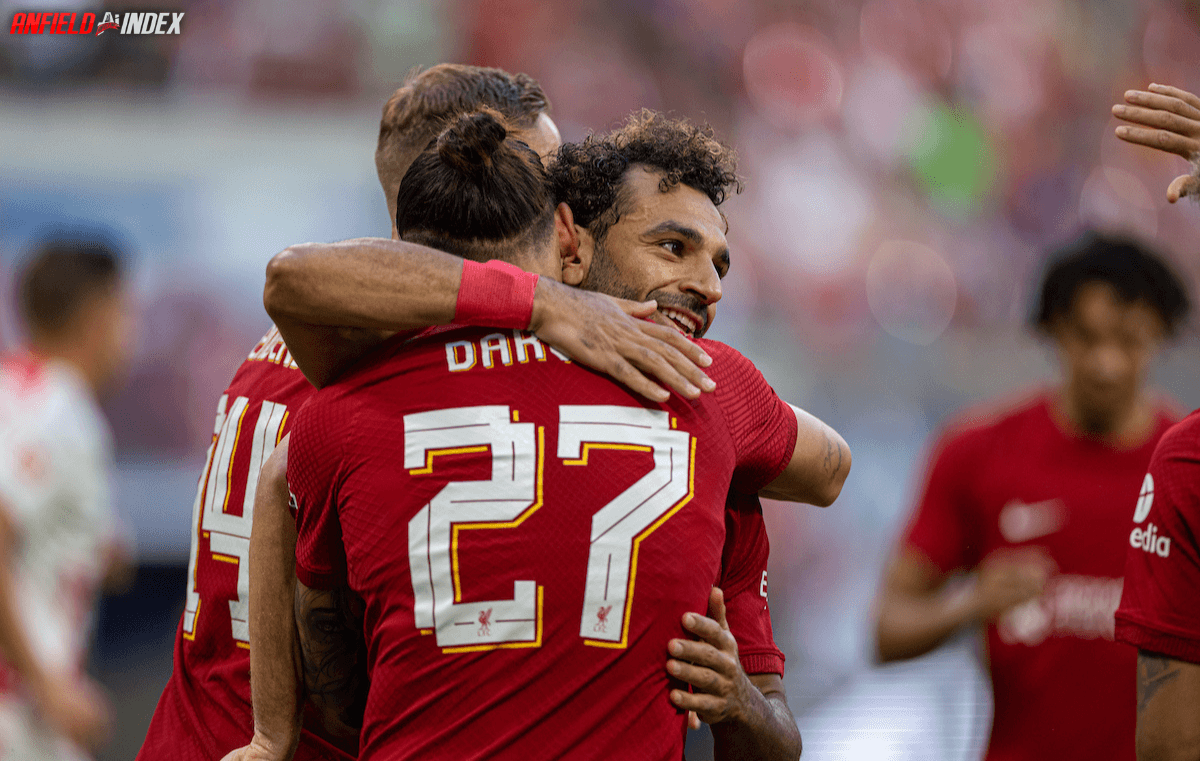 It's Time To See Mo & Darwin As A Pair
As a child of the early 80s, I was probably blessed by being able to see a number of talented strike pairings, this being throughout the Liverpool teams in the 1980s and 90s. As a teenager I would probably say that Robbie Fowler and Stan Collymore stand as the first pairing I truly appreciated, and for a short time they were a sensational partnership. At some point in the last 15 years however, we have seen more and more three man attacks incorporated throughout of most of Europe, with a common single striker being flanked by two 'inside forwards'. As we make our way through this next generation of football (and under the stewardship of Jurgen Klopp), it feels like a new strike partnership is about to be born, and is probably now a necessity.
For a number of years we were blessed to see Mohamed Salah, Sadio Mané, and Roberto Firmino, as a three-pronged attack. This forward line wreaked havoc in front of a rigid three man midfield. If not for the sports washing empire of Manchester city, Liverpool might have won everything domestically for the past few years, and may have added to their European haul if not for their on going Premier League battles.
Liverpool has had to fight tooth and nail for years, as Pep Guardiola's side has constantly been able to refresh, regenerate, and maintain their position as perhaps the strongest team in European football. This summer saw both Liverpool Manchester City make big waves in the transfer market, in recruiting a more traditional number 9, and start to reshape their own attacks. Where City continually address squad issues as they arise, it seemed that all of Liverpools midfield worries were ignored, and all their money was staked on Darwin making an immediate impression.

In an ideal world, I believe that Jurgen Klopp would've stuck with some incarnation of the 4-3-3, that would've allowed a fluid three man strike force to remain. But as the season has limped on, we've seen teams been able to infiltrate our defense, and at times walk-through our lackluster midfield. Due to these happenings (and our shortcomings), we have seen this team drift into a 4-4-2 system, which at times has brought the best out of Mohamed Salah. Those best moments of Mohamed Salah, have arisen with the Egyptian King as one of the two central strikers. To have Mo more central and able to penetrate from key areas, most certainly brings out the best in this wonderful goal scoring forward. The new 4-4-2 system should allow Darwin & Mohamed Salah to build a relationship that could possibly overwhelm all opposition defenses. We saw at the weekend Nottingham Forest outwork, out-position, and out fight us, in almost coasting to a 1-0 home win. Mohamed Salah was given no support by a desperately poor midfield showing, and once again Liverpool are lost.
If not for the injuries to Diogo Jota and Luis Diaz (and the good form of Bobby Firmino), I believe we would already be seeing this new strike pairing materialize. At the moment however, Salah having to split his time between the right wing and the central strike his position, and watch as an often times poor midfield loses individual battles. A midfield without Thiago has been proven to be vastly ineffective, so the next opportunity to put Mo & Darwin in as a pair, must happen.
I've written a piece recently about how I would like to see Trent Alexander Arnold shifted into the right midfield position, with Harvey Elliott as his back up. This would see Joe Gomez and Calvin Ramsay occupying the right back slots for Liverpool, and I believe this would give Mohammed Salah the freedom to push into the central strikers position. We have to push our best players into their most effective positions, and quite simply I don't think the team would lessen at all from seeing Trent and Mo in the spots I suggest.
We put it all on Darwin in the summer, and now we have to both back him and pair with our world class forward. There is something fundamentally wrong at Liverpool right now, and I'll be writing about various angles that could be effecting something which was once so brilliant. Right now has to be about out scoring teams, and hoping our killers are better than theirs. We have Ajax away followed by a visit by Leeds United, and if there is an opportunity to unleash a turbo charged Darwin & a stone cold killer like Mo Salah, then I'm all for it.