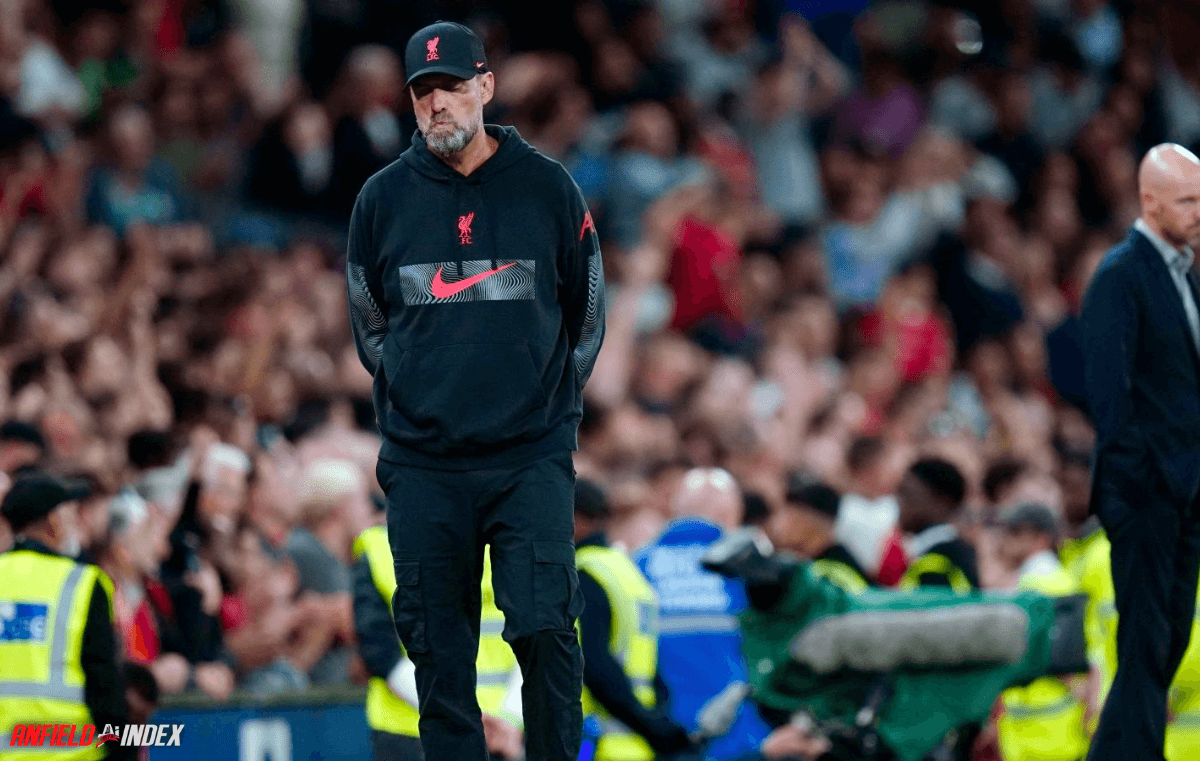 Can Jurgen Klopp Recover From This Slump
When Jurgen Klopp joined Liverpool, I think it was only he and Carlo Ancelotti that were in the running for the Anfield hot seat. In appointing the big German, we made the absolute right call, and his talents suited our needs perfectly. A fallen giant needed massive overhaul, and the playing staff needed a fearless leader to take them to the top.
In the 7 years that have passed we have enjoyed unbelievable success, and just as many near misses. All in all, I wouldn't have swapped Jurgen Klopp for any other manager on the planet, and I fully hope and believe he can rebuild the brilliance that is currently wounded and on its knees. Klopp is a world class operator, but he needs his owners to back some significant signings in the next few windows, otherwise the writing could well be on the wall for our cherished head coach. Jurgen Klopp is a winner, but will not stand idly by whilst others tear past him. The owners needs to back their manager, before he gives up the fight and leaves.
I recall the opening period of Klopp's reign, and the rock and roll football that soon followed. High scoring games against Southampton were a joy to behold, and the big Klopp hugs were being thrown about the squad like confetti. What was also apparent though, was the amount of players that fell under the weight of demands put on their body. Muscle injuries spread like a pandemic, and certain players like Daniel Sturridge could never really keep up with the high intensity demands of the new manager. Smart recruitment became a thing of legend, and slowly we built a world class team of Terminators that would swallow up and spit out opponents at will. The peak was phenomenal, yet the question now has to be uttered, are we now in full decline…?

Every elite manager, bar none, has a shelf life. The absolute top tier managers can only operate at such intense levels for so long, before they and their trusted players simply begin to fall away. Sir Alex Ferguson was the master of cutting away limbs in regression, and bringing in the replacements in order to rejuvenate before any fall. What we saw with the all time great, Jose Mourinho, was a slow decline from super human, to merely ordinary. It will happen sooner or later to all elite managers, I just hope what we are seeing at Liverpool is mere transition, and something we can overcome. After the Forest game though (and some of the decisions this season), my confidence is starting to sway. Klopp is someone I want to succeed, but so many variables are at work, and so much work is needed to undertaken. Whether or not Klopp is able, it will still come down to how willing FSG are able to back him, and that will surely determine whether Klopp can recover from this slump.
I don't want to remark on who could turn us around (if Klopp were to leave), as ultimately I only ever want Jurgen to be that man. I believe his brilliance needs squad additions, but what if that isn't forthcoming…? Will Klopp accept constantly being outspent, will he accept being overtaken by Newcastle, and will the fanbase continue to stand by a man they cherish so dearly…? I don't know the answer to these questions, and that in itself is telling. Jurgen Klopp is a master of management, but maybe it's just something he can't repeat at this club, under these owners.
We have a few weeks to get as many wins under our belts as possible, and a transfer window will shortly follow the restart. Many things have to be attended to before the seasons end, and I get the feeling that if the required investment isn't forthcoming, Jurgen Klopp could follow Michael Edwards out the door. I don't for a second believe FSG would sack this great man, but equally I don't believe he'll continue to be undermined in squad revitalization. I don't see Klopp demanding the heavens, but surely he will want to see significant money invested. The fact that Klopp is now openly questioning the Reds' inability to outspend even Forest (let alone City or Newcastle), points to an internal unhappiness at the the situation. We saw with Rafa how fractions can grow from post match comments, and in football any scenario is possible.
I believe there is more than meets the eye at Kirby right now, and I believe certain demands will be made as we close in on the next transfer window. If FSG continue to make this club work on a shoe string, I don't see Jurgen Klopp agreeing to such restraints. To have enjoyed such amazing success makes these moments even harder, and I truly hope  Jurgen Klopp is the man to get us there once more.
I'm just no longer so sure he will be.