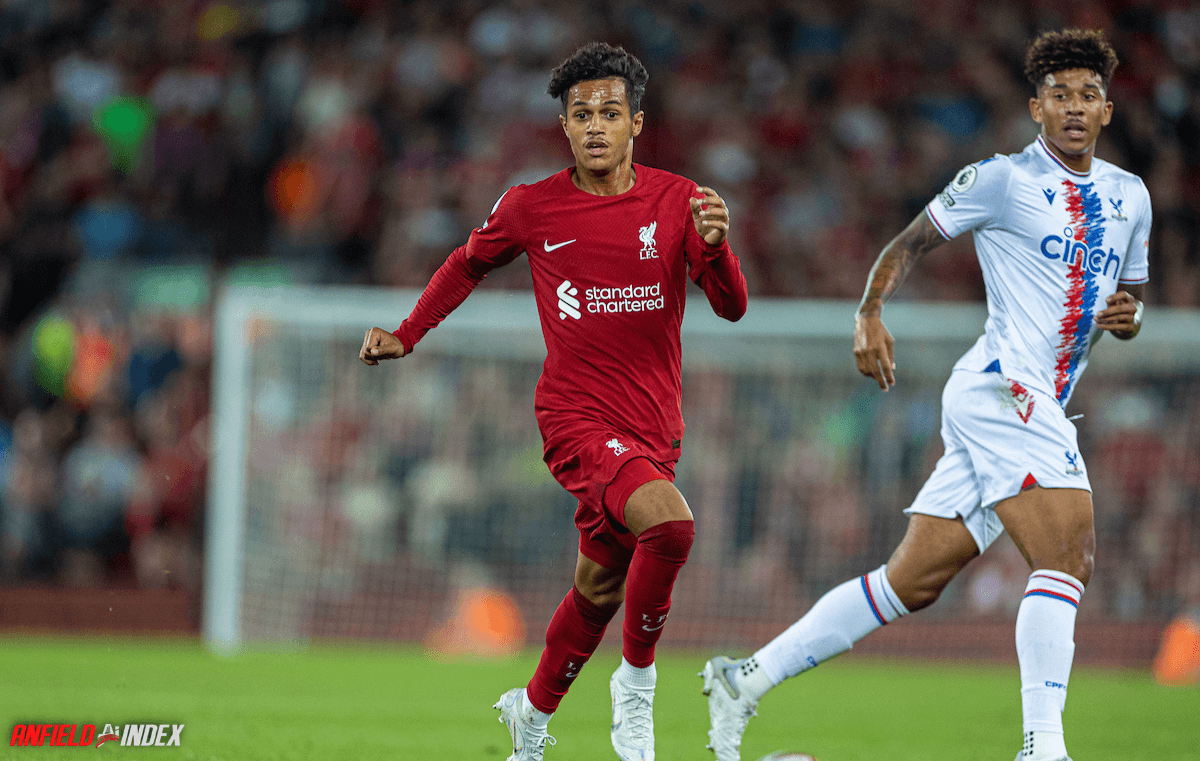 Fábio Carvalho - The Kid Isn't Ready Yet
The long process in finally signing young Fábio Carvalho came to a close in the summer, with the Fulham target finally making the move to Merseyside. When he arrived, he was to be the understudy in a couple of positions, with senior and established operators ahead of him. When he did finally arrive, Liverpool were still the Reds of old, but right now they are something else entirely. So far this season the Reds have been on a roller coaster of form, and young Fábio Carvalho has not benefited one bit.
Promoting and capturing talented youth players is vital for long term and elite success. We have seen Chelsea, City, United and Spurs commonly bring in talented youngsters, yet the migration for these kids has often been a controlled and patient one. Where Liverpool have been taken apart by injuries this term, it has seen the likes of Harvey Elliott and Fábio Carvalho thrust into the starting eleven, and perhaps too often. It really is a needs must right now, but for Fabio it has shown that although he is a very exciting talent, he must still be one for tomorrow, and certainly not today.
Fábio Carvalho should be nurtured and brought along steadily. With injuries to both Luis Diaz and Diogo Jota currently making the left spot precarious, Carvalho is now being ushered in as an emergency option. He's done absolutely nothing wrong (and that goal against Newcastle in the 97th minute was sublime); his struggles are down purely to the Reds being unable to field the experienced players needed. A massive summer failure in the market is an on going topic for discussion, and though Klopp will always stand by his players, he must know that established players are needed in order to work through their current troubles.
In selling Sadio Mane, Takumi Minamino, and releasing Divock Origi, they took a chance on the fitness of Luis Diaz. With both the first team LF / LW options injured (Jota & Diaz), and failing to recruit in the midfield area, they have been forced to play a raft of either over the hill midfielders, or kids that are not battle hardened for the the Reds' congested fixture list. We have seen at least three formations played out so far this season, and the structure has been missing for most of the games played.
Every great team will eventually enter a period of transition, as brilliance turns to something else. In the case of young Fábio Carvalho, it may have been a Taki type acquisition, where a talented player was obtained for a low fee. Dismissing that notion for now would be more fair, and what would be even more fair, would be to take an underprepared player out of the firing line. With players now steadily returning, more experienced options should be called upon, and Carvalho should either become that sporadic late option, or even better, be sent out on loan as soon if feasible.
Harvey Elliott, Connor Gallagher, William Saliba and Mason Mount are all examples of young players that grew away from their parent club. In being able to take in 20-30 games at a level more fitting their stage, allowed them all to return as assets readily prepared for a step up. Now circumstances have obviously forced certain situations for Klopp this term, which is why the transfer window has to be used in order to refresh the midfield with players that are good to go. We have been able to significantly increase the market value of Rhian Brewster, Marco Grujic and Ryan Kent, and this will also give a Julian Ward options later.
At the start of the year I wasn't particularly eager to see this World Cup imposed break, but now I only see a much needed opportunity to make something happen before January 1. At this moment we are doing very little in n putting Fábio Carvalho into situations where he is evidently ill prepared. Better squad management, better recruitment and better man management will all benefit players like Fábio Carvalho and Harvey, and hopefully both Julian Ward and Jurgen Klopp will be working to ensure that we damaging the short term future of a bright young talent.