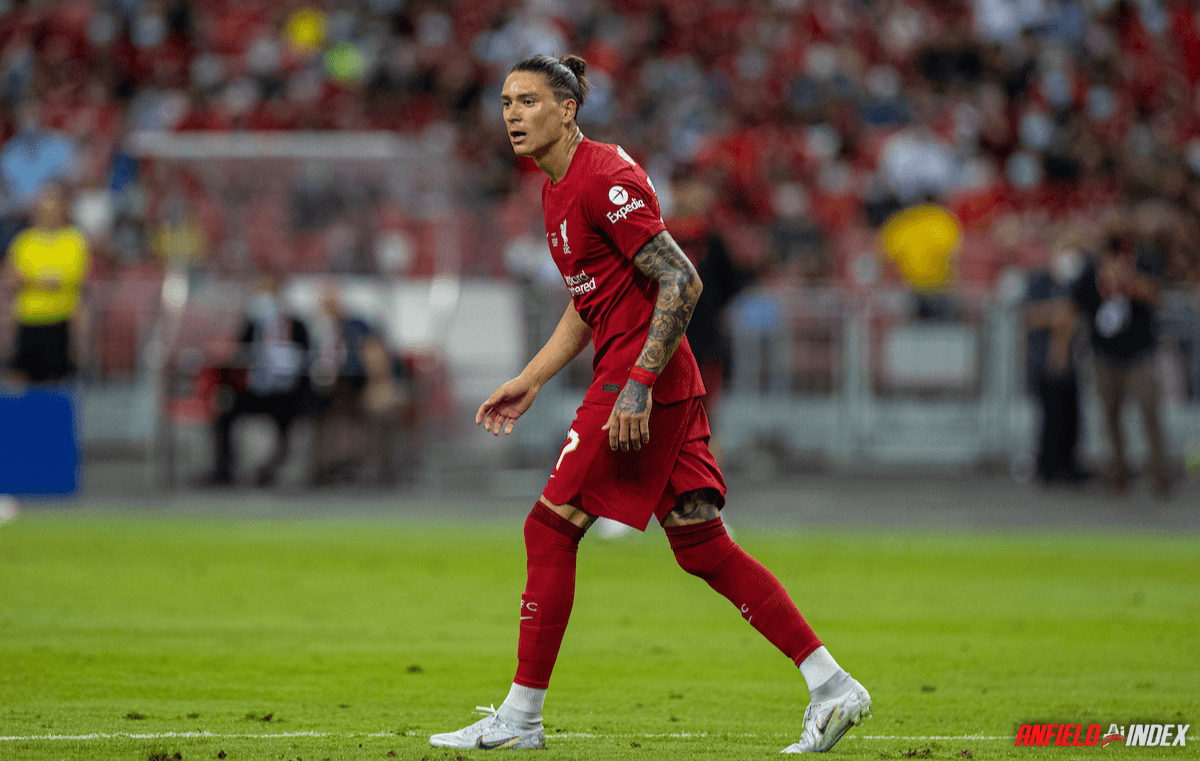 All Aboard the Nunez Rollercoaster…

Whatever the opinions… and there are many… it's impossible to deny Darwin Nunez is a compelling watch. Box office by all accounts. The Uruguayan has been ridiculed by many as a source of enjoyment, with snippets or clips of his performances leading to sweeping judgements and damnation of his ability to play at this level. Those who've been the 23 year old's most loyal defenders have just started to raise their voices somewhat though. Everyone else is slowly beginning to take note too.

This is no perfect player by any means. A fee which could potentially reach £85 million for Benfica comes with a certain expectation and pressure. Nunez has been honest about that in his interviews admitting that 'things didn't work out for me' in the opening games. There will still be the raised voices with every mistake or flaw. His touch can look laboured at times and a lack of composure still shows. A comparison with Haaland is an enabler for lazy punditry, as it's evident there's plenty of areas the forward can improve on.

That's a fraction of the real story though. A natural athlete, blessed with pace, acceleration, agility and a cannon of shot, the onus is on Jurgen Klopp and Liverpool to adapt to Nunez as much as the other way around. All the key parts are there and the job of the manager is to ensure he makes the most of that total sum. Luck hasn't been with Nunez either as the woodwork at Goodson, Anfield and the Amsterdam Arena would evidence. Maybe nothing more sums up Nunez's start to Anfield life more than an enthralling 61 minutes against Ajax.

In a front two with Salah for large parts, the former Penarol man ran the channels all night and often wasn't found by a midfield lacking control in the first half. The miss will be fixated on by many and to a lesser extent the cross turned shot which lead to a corner. What can't be ignored though is the power to hold off the defender and the arrow like precision of a header that went in off the bottom post. Off the back of his West Ham winner, it's clear the 6ft 4in forward provides Liverpool with a permanent aerial threat in the opposition penalty area. To greater astonishment of many, Nunez even broke up play and made a key defensive interception with Ajax attacking. That will endear any forward to his team-mates.

There will still be parts where you'll struggle to explain what he's done or how he can't control what looks like a simple pass. The former Benfica man hasn't been the only guilty party though and the pluses are well tipping the scales ahead of the minuses at the moment. 6 goals and 1 assist in less than 650 minutes of football is some start for any red. A rough diamond will always need polishing, but it will be a rollercoaster of high and lows with Darwin. By god, it's gonna be some watch.