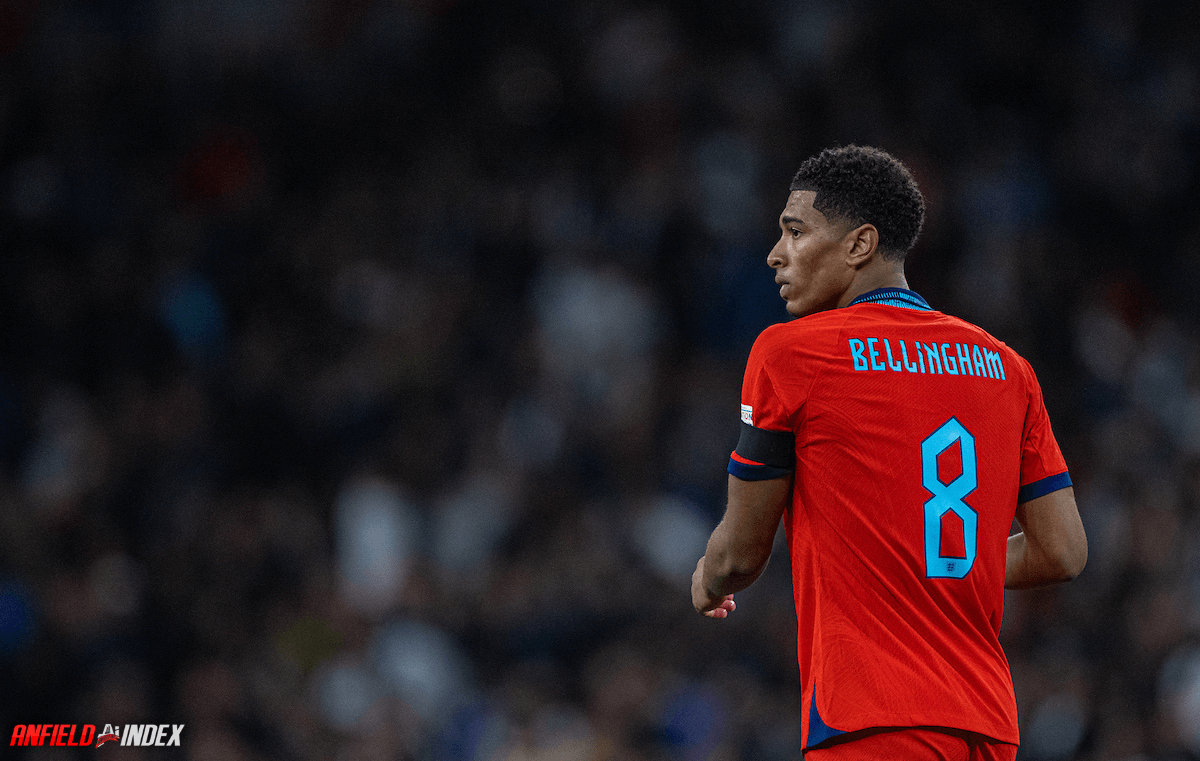 Why Liverpool Aren't Signing Jude Bellingham

Erling Haaland
Kylian Mbappe
Diego Costa
David Silva
Yevhen Konoplyanka
Sergio Aguero
Bruno Fernandes
Matteus Nunes
Saul Niguez
Aurélien Tchouaméni
Timo Werner
The above listed players represents an extended list of Liverpool targets, that never actually signed for the Merseyside club. This is purely a list off the top my head and would've been based around social media speculation, back-page transfer news, and any other form of media which was reporting Liverpool news. After a disappointing transfer window (within which no central midfielders were signed on a permanent basis), we have continued to be linked with a £100m bid for England starlet, Jude Bellingham. This story will bounce around until next summer when he eventually moves, but that almost certainly won't be to Anfield.
Borussia Dortmund's very own Bellingham is one of the most exciting players in world football right now. His ability to transform possession into potent attacks in the blink of an eye, is often breathtaking. For the few elite teams in the near future, he would offer a devastating option within their ranks, and offer new dimensions to well structured teams. In terms of Liverpool he would certainly add immense talent, attacking play, and undoubtedly improve us. The question is however, would we pay that £100m+ fee, would we match the wages that certain other clubs could offer, and would his huge signing not scupper the midfield rebuild that is actually required…?
The most attractive and financially viable teams in world football are Manchester City, Paris Saint Germain, Real Madrid and Bayern Munich. You could probably look see Chelsea, Spurs, and maybe Arsenal as outside candidates. But it feels like Bellingham will only be looking at the very top table of teams, that can almost guarantee him both instant success and money. As it stands, Liverpool is so far from the top table, Bellingham wouldn't even consider us as an option. Moments and form can change of course, but it's clearly going to take midfield additions in January to improve our current fortunes. Jude Bellingham is not a January type transfer, and thus the notion beckons, how do we get back to the level he needs, without dipping into the money needed to get him…?
For me, the list above is sporadic, but he is very much like Erling Haaland. Bellingham's value, demands, and allure mean we simply can't compete with top table teams right now. If we weren't competing (in the market) when we were the top team in world football, we aren't competing in our current predicament. A regeneration of the midfield area is required, and to least two (hopefully three) starting quality midfielders will need to become Liverpool players in the next two windows. James Milner, the Ox and Naby Keita, are all likely to leave next summer. To see three midfielders leave when we already needed one, points to clarity regarding Jude Bellingham. We simply can't do everything we need to do, and destroy our transfer record for a player like Jude. Jude is the type of player you sign after you've just won the League or Champions League, when you're adding to a brilliant set up. Jude will end up at Real Madrid or Manchester City, and each will offer perfect scenarios that'll see Jude replace an ageing first team player. This will be done whilst they are on top, and is what Liverpool should have been doing the past five windows.
For reds fans, the nearest we'll probably get is if his next move fails. On FIFA any player is gettable, and Football Manager is of course a viable option if you want to see him in Liverpool red. In reality, he just isn't what we need right now, and would probably restrict everything we would need to do if we did get him. The click bait won't stop, but I'm hopeful that a realistic target or two is soon identified, so that we can start getting back to the level we all know.