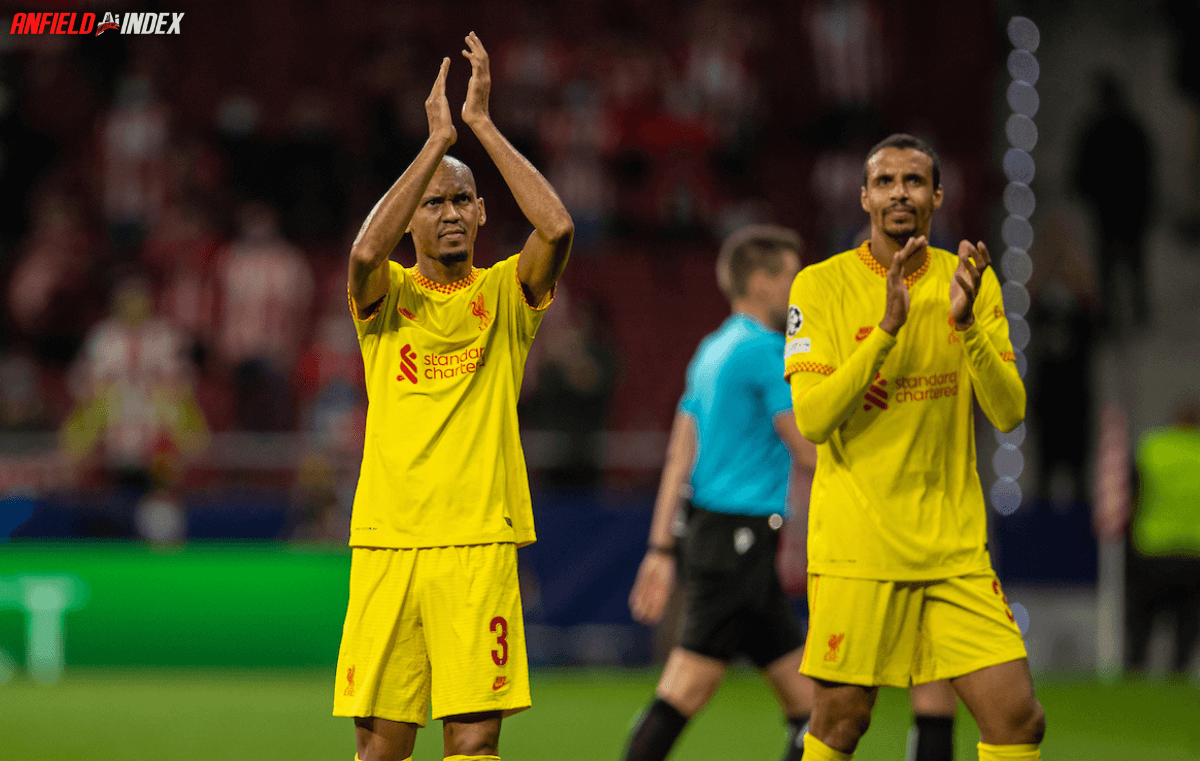 Fabinho: The Conversation that's Getting Harder to Ignore
Sometimes problems can stare you in the face no matter how much you may want to ignore them. There's been plenty of examples this season for Jurgen Klopp and Liverpool. As the weeks and games go by, it's becoming increasingly impossible to bury any concerns Reds may have around Fabinho. Too many games have gone for a 'blip' to be finishing and the evidence continues to stack up. It couldn't have come at a worse time, but the club may have to make a real decision come the summer.

It seems lunacy to utter anything of the sort out loud. A rebuild of the engine room will be needed, as the likes of Ox, Milner and Keita seem destined to enter the final months of their Liverpool career. The other senior midfielders in Thiago and Henderson are over 30 and nothing without their own injury concerns. Players will undoubtedly need to be brought in, from January if at all possible, but that doesn't mean everyone else has to be retained.

The shocking defeat to Nottingham Forest, laid bare the Brazilian number 6's struggles this season. Looking leggy, tired and offering little to no real aggression or destructive qualities in a fraught game with little contest. The 30 year 'lighthouse' used to be the key source of protection for an assured Liverpool defence and at his best, arguably the best in the world. A combination of factors have likely played a part in what we see now.

A Jurgen Klopp midfielder will be expected to run and run hard. That much has always been clear and it will no doubt take its toll. Playing 3,693 minutes last season and 3,434 minutes for your club the campaign before will have an impact too. Potentially, it was never more evident than the games being missed through muscle injuries (thigh and hamstring) at key periods. Liverpool's injury problems have been well documented no doubt, but it's in recent years that Fabinho's name has crept into the discussion.

The 30 year old is unlikely to see any rest which many feel would be of huge benefit, due to a looming World Cup campaign and a distinct shortage of alternatives for Jurgen Klopp to call upon. However, it's difficult to argue that a player that wasn't started against United or Arsenal away or Rangers and West Ham at home should require significant rest-bite. If Thiago or Henderson had been available throughout the campaign so far (fanciful I know), the former Monaco man may have had even less minutes to his name.

A change can be as good as a rest and who knows what effect a mid-season break from domestic football will have on the player. Let's hope the conversation becomes moot and a return to form is swift. Fresh reinforcements are needed though and the Reds look short of sellable assets, if FSG continue their hard bottom-line approach. Sometimes a sacrifice may have to be made for everyone's good. As Bob Paisley famously stated, the first two yards are in your head and reading the game has been they key reason for Fabinho's recognition throughout the world of football. Football is a ruthless game though. When the legs don't do what the body is wanting, that's time for a serious conversation.