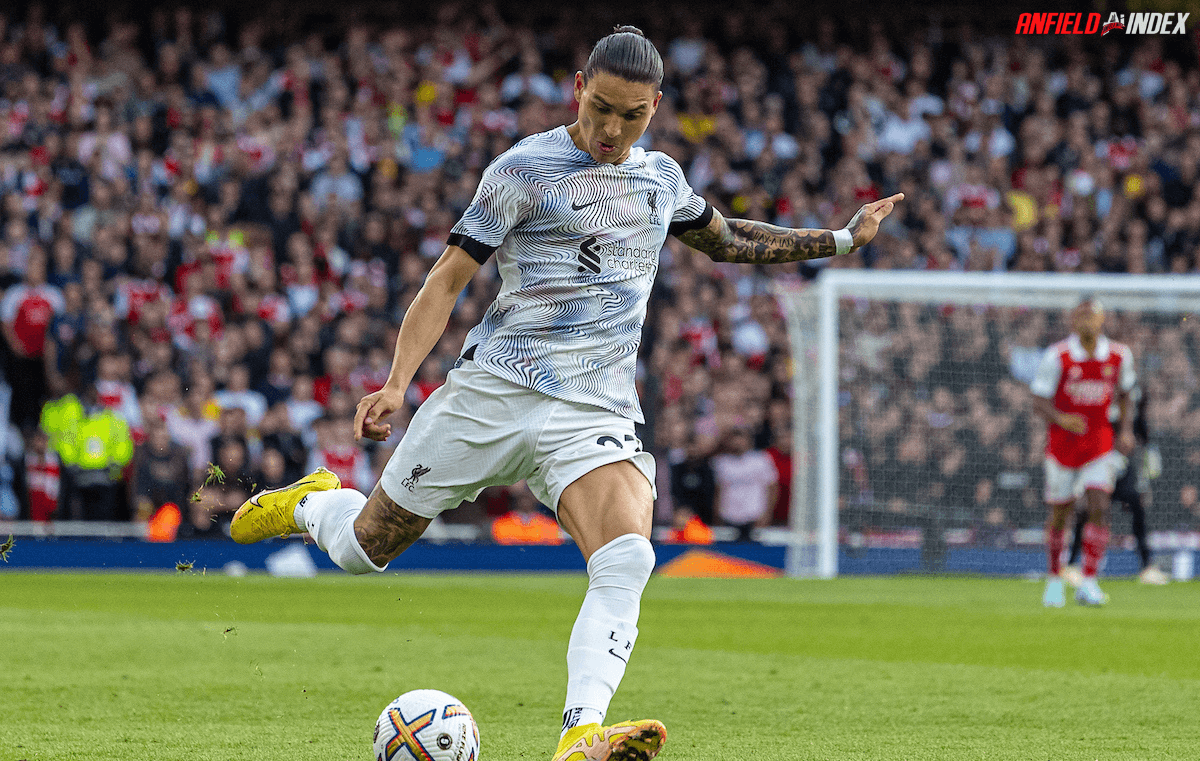 Just how many shots is Darwin Núñez taking?
Darwin Núñez is currently taking 7.37 shots per 90 in the Premier League. That seems good, right? But just how good is it? Is it sustainable? If it is, what does that mean about his potential goal scoring for Liverpool? And how drunk would you get if you took a shot every time he did during a match? Read on to find out.
First, we need to talk about sample size. Darwin has only played 3.8 90s in the PL this season. That's not much, and it's reasonable to assume this level of shot-taking will not continue. But even if it drops by a small amount, he would still be in exalted company. In his 2.9 Champions League 90s, the figure drops to 5.15 per 90, for a combined total of 6.65. So, if we take something like that as a baseline, where does that put us?
Well, in the last 8 years (including this season), only 11 players have managed over 5 shots per 90 in the top 5 European leagues, per FBref. Bear in mind that with these datasets, players must meet a certain threshold of minutes before they get on the list, so that we aren't swamped by kids taking a single shot in their only 3-minute cameo of the season. Darwin himself just misses out on this threshold so far in the PL.

That leaves us with: Fati, Osimhen and Mbappe so far this season. No-one in 2021-2022. Messi, Ronaldo, and Muriel in 2020-21. Ronaldo, Mbappe and Muriel in 2019-2020. Ronaldo, Messi and Insigne in 2018-2019. Ronaldo, Messi, Kane, and Insigne in 2017-2018. Ronaldo, Messi, Dzeko, Aguero, Mertens in 2016-2017. Ronaldo and Messi in 2015-2016.
When you list out each players totals, you find that only Messi and Ronaldo have managed over 5.5 shots per 90 in a season, and only Ronaldo has managed over 6. So, Darwin's form in the CL places him amongst the lower end of the pack, his PL form is stratospheric, and the combined figure still puts him in heights only Ronaldo has sustained over a season.
Ronaldo x6 (6.42, 5.74, 6.85, 5.73, 6.02, 5.14)
Messi x5 (5.21, 5.69, 5.79, 5.47, 5.69)
Mbappe x2 (5.18 and 5.02)
Muriel x2 (5.00 and 5.26)
Insigne x2 (5.13 and 5.12)
Kane x1 (5.30)
Fati x1 (5.35)
Osimhen x1 (5.17)
Dzeko x1 (5.23)
Aguero x1 (5.21)
Mertens x1 (5.21)
What does this mean for goals though? I mean, we all know Messi has scored more goals than Ronaldo on a per 90 basis, yet he has less shots. And Lewandowski is nowhere to be seen! So clearly, shots aren't everything. But even still, when you are looking at quantities this large, it puts a floor on how low it can get. So how well does this translate in our list? (Figures are goals/per90 goals, seasons placed chronologically from left to right).
Ronaldo (35/0.99, 25/0.89, 26/1.02, 21/0.70, 31/0.96, 29/0.93)
Messi (26/0.86, 37/1.18, 34/1.02, 36/1.20, 30/0.89)
Mbappe (18/1.07 and 10/1.02)
Muriel (18/1.29 and 22/1.38)
Insigne (8/0.23 and 10/0.43)
Kane (30/0.88)
Fati (3/0.73)
Osimhen (4/0.65)
Dzeko (29/0.86)
Aguero (20/0.75)
Mertens (28/0.99)
Beware, beware, the cautionary tale of one Lorenzo Insigne. The Italian has two seasons of over 5 shots per 90, but managed a measly 8 and 10 goals respectively, just 0.23 and 0.43 goals per 90. His story shows us that there is no guarantee, and you still need to make sure the shots are at least of decent quality. But outside of him, this is extremely encouraging reading. Only Mbappe and Muriel have otherwise had seasons of less than 20 league goals, and those were clearly down to lack of playing time, with both averaging over a goal a game each year, despite totalling just 18 goals.
Our lower figures tend to be around 0.7-0.9 goals per 90, whereas the higher end caps out around 1.2 per 90. Only Muriel, Mbappe, Messi and Ronaldo have broken the 1 goal per game mark. So how does Darwin compare so far? Well, he's scored 5 goals so far, 3 in the PL and 2 in the CL. That's 0.79 and 0.69 per 90, putting him in the lower end crowd. Looking at the average quality of his shots, he's been coming to 0.11 xG per shot in the PL, and 0.16 in the CL, combining to 0.13. This stat only goes back to the 2017/2018 season, so we can't check everyone, but let's have a look at our list.
Ronaldo (0.13, 0.10, 0.09 and 0.13)
Messi (0.12, 0.12 and 0.10)
Mbappe (0.18 and 0.14)
Muriel (0.10 and 0.16)
Insigne (0.08 and 0.07)
Kane (0.12)
Fati (0.20)
Osimhen (0.12)
Oh Lorenzo, here's your problem. You gotta stop shooting from long range buddy. There's an interesting mix here. Fati appears to have been getting lots of sitters so far this season, and Mbappe looks to be consistently getting pretty good chances. Messi, Kane, and Muriel are excellent finishers, sustaining high goal volume from merely ok shot quality. Ronaldo, however, is a pure volume monster. His shot quality ranges from mediocre to good across seasons, and this translates to very high goal output thanks to his frequent breaking of the 6 shots per 90 barrier. Clearly, there's more than 1 way for a high-volume shooter to rack up the goals. Darwin is middle of the road here for quality so far. All of this suggests that, so long as he keeps the volume in this prestigious 5+ crowd, he can expect to stay at least at 0.7 goals per 90, probably more if his poor finishing form recovers.
So, what's the ceiling here? Darwin has been doing all this whilst playing in a struggling Liverpool team that is still new to him, in a new league. At Benfica, his shot quality was actually closer to Mbappe, so there's some evidence that if the Reds start functioning properly again, he does know how to get on the end of great chances rather than forcing things. And with his finishing, his two seasons in Portugal gave him one underperforming season, and one vastly overperforming season, last year. It averages out to a decent overperformance across the two years, so there's nothing to suggest his current sluggish shooting boots is a long-term problem.
Assuming Klopp grants him the minutes after baking him in gradually over the opening weeks (partially enforced by the suspension after Crystal Palace), it seems like the floor for a 5+ shot Darwin is 20 league goals per season, and if all the pieces come together with Ronaldo-esque volume, the starry heights of 30+ are worth dreaming on.
Just maybe don't make a drinking game out of it, for your own sake.