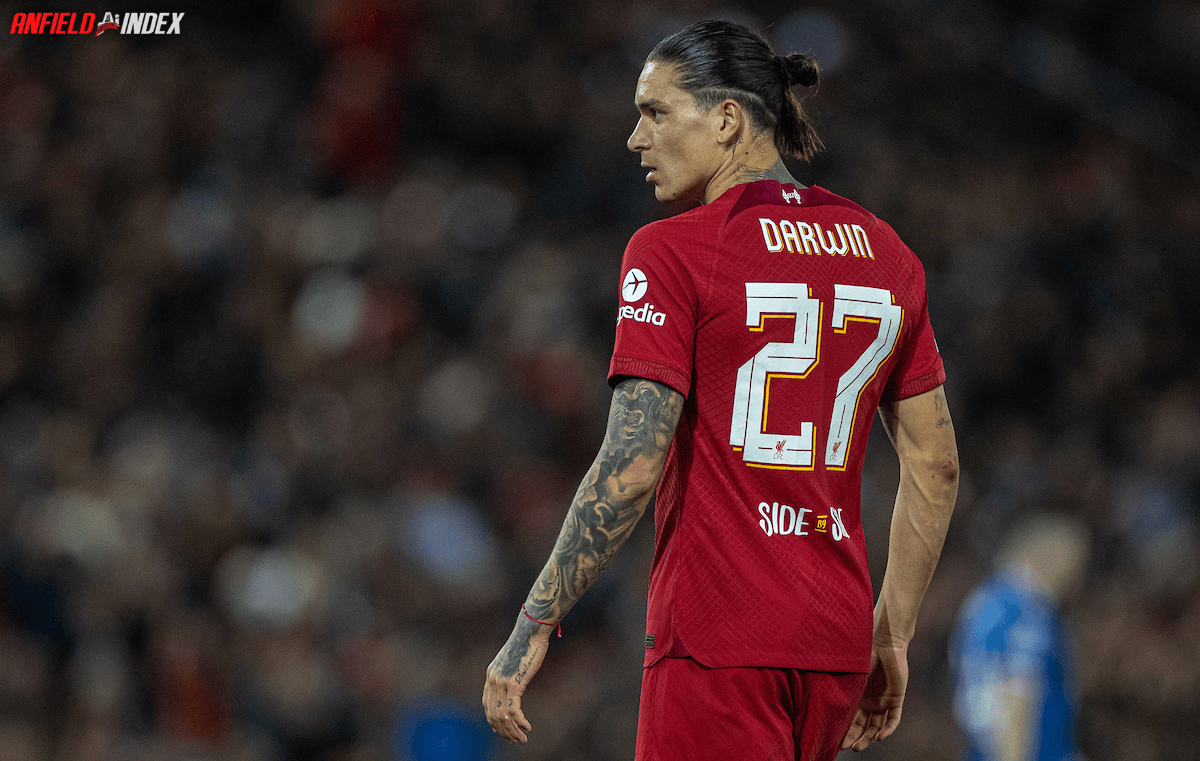 Darwin Núñez & His Importance To This Team
I once visited the Amsterdam Arena many many years ago on a youth football trip. We were due to play some games, take advantage of the low drinking age (16 years old back in 1996), and generally have a fun filled trip abroad. The Johan Cruyff Arena is a wonderful venue to visit, and Ajax are a historical European side, much like our own Reds. On Wednesday night Liverpool ran out winners, and for me it was another huge step in the emergence of our own Darwin Nunez, a man Jurgen Klopp needs to help reinvent his stuttering side.
When Sadio Mané left Liverpool football club for FC Bayern this past summer, he was pretty much already replaced (last January) by the Colombian flyer, Luis Diaz. But it was this past summer where Darwin Nunez was recruited for a hefty fee, in order to fully revitalise the central attacking area. Now I don't know what formation we're supposed be playing right now, what system was supposed to be implemented from the season start, but what I do know is that Darwin Núñez has to be a central figure, in order for us to run through the obstacles that we have been facing. Injuries and availability have obviously been a decisive factor in our systems, and perhaps a system will organically evolve, much like when another Uruguayan striker was at Anfield.
Last night in Amsterdam, Darwin Núñez showed the abilities of a rampaging number 9. His tenacity, enthusiasm, and willingness to work can sometimes see his game become over-exuberant, but we are still seeing flashes of the brilliant player he can become. I myself absolutely love what we are seeing from Darwin Núñez, and I don't care about the snapshots of him hitting the post, or the erratic moments that stem from over-enthusiasm. What I see is the absolute potential of someone that could be the most dangerous number nine in Europe, and once we get our house and structure in order, I can see this young boy exploding.
The diamond formation that we saw last night didn't look like the blueprint for something that's going to stick. I think it's just a moment where we have limitations in the wide positions, and that once Luis Díaz and Diogo Jota are back, we will move more into a more solid 4-4-2 system. In this situation we probably need a right winger to come in at some point. What we most definitely need is at least one more central midfielder to dominate the central zones, especially when Thiago Alcantara is not available.
The most telling part about last night's win over Ajax, was the fact that Mo and Darwin were able to occupy central areas together, with Roberto Firmino floating in behind. We are clearly going to have a shuffling formation that suits the players that are available at any given time, but at the moment we have to persevere and play Salah with Darwin in as many games as is feasible. Despite what we have seen this season, we are a good defensive unit, we are a structurally solid team, we just appear locked in a position where transition (and lack of enough depth) in key areas, is harming our ability to control situations. With that being said, we need to make ourselves as dangerously offensively as possible. In Darwin Núñez I believe we have a battering ram of a forward, that everyone can play often around and benefit from.
This coming Saturday evening, we welcome Leeds United to Anfield as the Premier League once again resumes. The fact that Darwin was taken off last night in the 63rd minute, points to Klopp understanding the need to safeguard the strapping young man. Mo looked right last night, Bobby had moments last night, and Darwin was just able to explode wide, centrally, Trackback, and basically be a thorn in the opposition side. It is an arrogant to know that you're better than the team you're playing, it's only arrogant if you play like you are. What we need to do is force this will upon every team and that has to start with Leeds on Saturday.
Despite a horrible start to the season, we need now have three league games before the winter break, and in that period, Darwin Núñez has to be on the pitch for every single match. The Napoli game next week now becomes a complete non-event, and every avenue to rest first team assets should be explored. Equally so, the Derby encounter (in the League Cup) should be viewed for what it is. Both the Tottenham match prior, and the Southampton match afterwards should take precedence, with top 4 qualification vital to our growth.
I'm all in on Darwin, and I believe the fans are really starting to get excited about what he can be. I believe Jurgen is equally keen to see just what this talented young forward can do, and at some point soon, everything will surely come together. With Leeds visiting Anfield this weekend, I believe a match under lights could see our very own Darwin create some Halloween Havoc, and start dragging a ravaged reds back up the table.