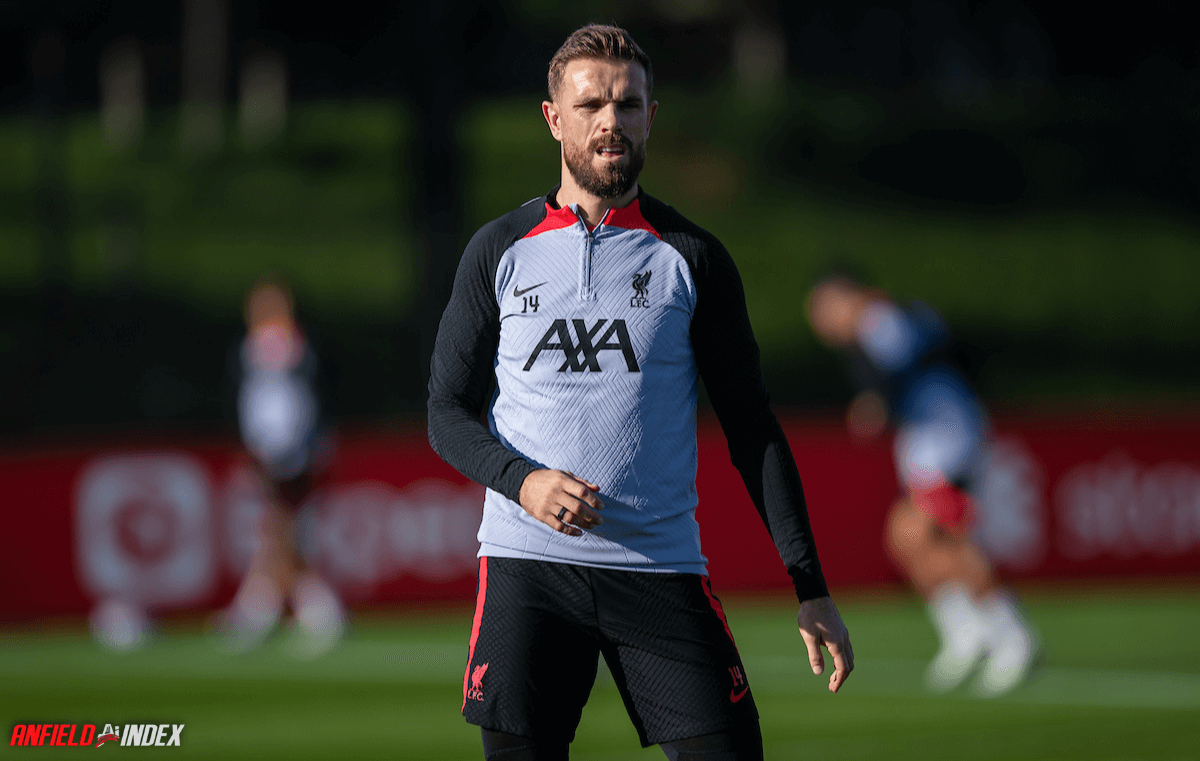 Tony Evans: The Henderson Haters Will Never Go Away
Jordan Henderson has a new autobiography out. It will make for interesting reading.
Henderson is the most misunderstood and maligned player of the FSG era. He was bought for a position where he was rarely used. Kenny Dalglish envisioned him and Stewart Downing pinging crosses in for Andy Carroll but it never happened. Why? Luis Suarez came along and plan A got junked. From early on he was forced into unfamiliar roles.
There was also the suggestion that he was bought to replace Steven Gerrard. That idea was plainly stupid. No one person could ever fill the boots of the man from Huyton. The club were conscious of that and knew it was the job of a platoon, not just one individual. Henderson was never going to match up to one of Anfield's true greats.
He's done alright, though. Even if you wouldn't know it from some of the criticism he gets.
It's remarkable he's still at the club. Brendan Rodgers tried to ship him out to Fulham as part of a Mourinho-style power play against the owners in 2012. John W Henry would have gladly let Henderson go. Even as late as the beginning of the Klopp era, the American told me he'd move the captain on tomorrow.
Rodgers didn't think he could rely on him. And, sure enough, he wasn't there when the manager really needed him – but not in the way the Northern Irishman thought. In 2014, the three-match ban that Henderson picked up for the red card against Manchester City may well have cost the club the title. Surely the team would not have been so tactically naïve against Chelsea with Henderson in the side?
Much of what he does is not flashy. The ball he played for Mohamed Salah's goal at Ajax shows he is not one-dimensional. The truth is – certainly at this stage in his career – he's not going to win you many games but he may stop you losing them.
No one was more perfect for the system that evolved under Jurgen Klopp, with the wingbacks flying on and the midfield working to win back the ball and screen the defence. These tactics are now less effective. Opposing managers and coaches know what to expect. Age, too, is having an impact.
At 32, Henderson has lost a little zip. Sometimes he fails to track runners like he once did. That's obvious to observers and it's easy to complain about. Less obvious is what he does when the opposition has the ball. His use of space is superb. Legs fail with age but knowledge grows with time. The problem is it's hard to see this aspect of his game, especially if you're watching on television.
The Henderson haters will never go away. He's proven managers and owners wrong but some fans are a step too far. The only explanation is that some supporters are seriously deluded.
On the subject of delusion, the FSG Out crew were enjoying themselves after the 1-0 defeat by Nottingham Forest. Having had a lot of dealings with JWH during the first half of their tenure ('the shambolic years') I know their flaws. But, like, it's not been too bad over the past five years, has it? A title after 30 years, a Champions League win and two other finals. Entering the final week of last season with four trophies available.
Nah, let's make some shit banners and start marching.
The recruitment could have been better but buying players with potential will always be a crapshoot. Top-quality players make a difference, as Virgil van Dijk and Alisson proved. But Liverpool were never in the frame for Erling Haaland. The club were conscious that City would not allow themselves to be outbid. Darwin Nunez, who needs a fair amount of polishing to shine anywhere near as brightly as Haaland, was the less expensive option. He will turn out to be a bargain. Clubs with the wealth of nations behind them can't be outflanked in the market very often. That's not FSG apologism. It's the brutal truth.
The biggest question, then, is simple: if not FSG, then who?
There are no buyers out there at the prices Fenway would want – and they would definitely sell if the right offer came along. I don't know what's happening in the FSG Out world, but in the real one there's a global recession and a destabilising war on Europe's edge.
There are three types of buyer. The first involves investing for profit. One proposal from a venture capitalist company that I saw – a business that pumped money into other sports – wanted a 35 per cent return. Annually. That was in their business plan. Good luck with competing in those circumstances.
The second is the vanity buyer, the boyhood Liverpool fan with spare billions who just wants to be king of the Kop. There's loads of them out here. Honest.
Then there's the nation-state/emirate. Dubai tried to buy Anfield but did not want Liverpool enough in the end. Saudi, Qatar and Abu Dhabi have their own clubs. Are there other countries in the market for a superclub? Probably not.
The City experience should have taught everyone (even Newcastle fans) that being the sporting wing of a country has a severe impact on the culture of a club. This might be controversial, but I feel sorry for City and Newcastle supporters. It was their team before Abu Dhabi arrived and the sensible ones – and there are plenty – are just as queasy about human rights in the Gulf as we are. The ones who are appalling are the individuals who seek to justify some of what's going on in the UAE and Saudi instead of just saying 'sadly, we can't choose our owners but we back the team.'
I suspect the FSG Outers are the sort who'd rationalise a repressive regime as owners if they delivered trophies. Maybe that Putin fella has a spare few quid. He's a bit busy at the moment but he's ambitious. He wants to conquer Europe and he's prepared to spend a few roubles to make it happen, unlike those FSG bastards.
Leeds on Saturday night tomorrow. A stupid kick-off time. We can expect another round of Hillsborough abuse and JFT39 bollocks. It's been normalised now. The only way to stop it is for the football authorities to treat it as seriously as racism and homophobia.
The fight for justice is long over. We need to change how we think. It's now the battle against injustice.
We need to mobilise the fanbase again. This new phase of the war is only just beginning. Here's an idea: maybe this is something the FSG Outers could put their misplaced energy into. I'll believe that when I see it.
Read more of Tony Evans. His new novel Good Guys Lost is released next month. Preorder now: https://www.northodox.co.uk/bookstore
Far Foreign Land, his book about travelling with Liverpool from the 1970s to Istanbul, is available here http://paypal.me/evans92a UK £8.50, Europe £14, Rest of world £16. All including postage