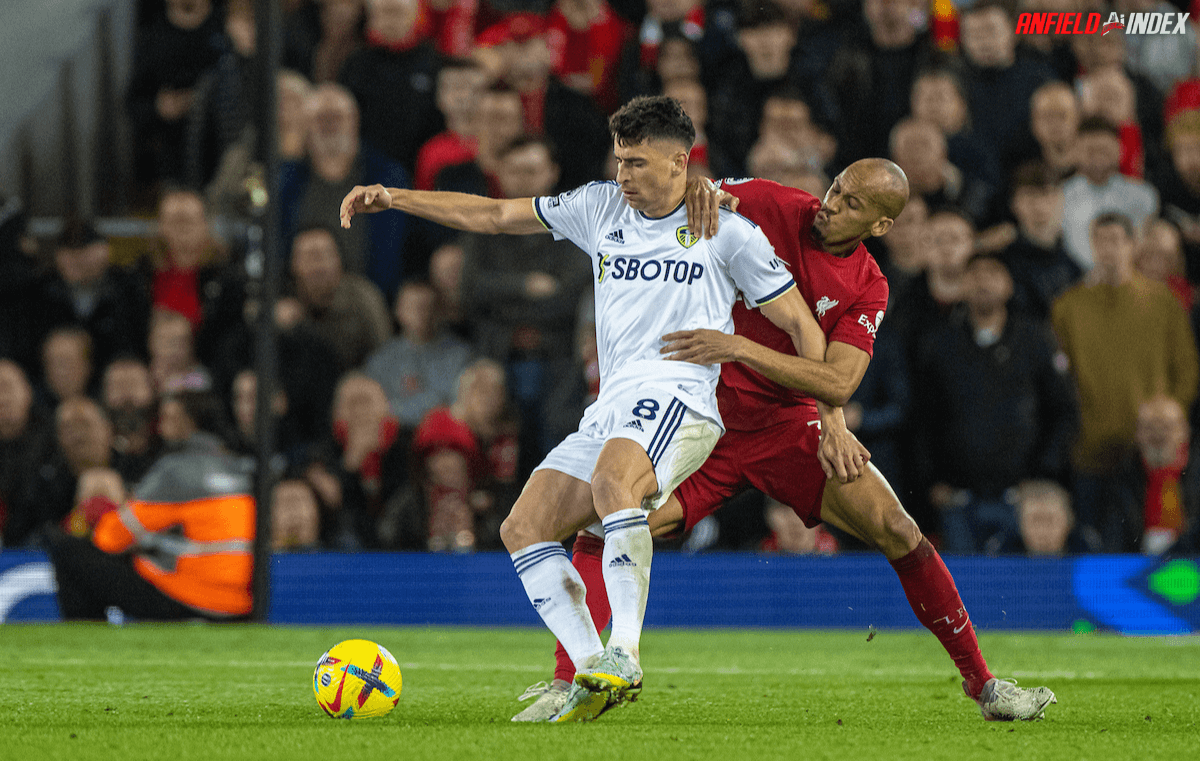 Liverpool 1 - 2 Leeds - The Postmortem

Decline can be gradual, and decline can usually be hard for supporters to take, but any sporting decline requires reaction from those tasked with running said sporting entities. On Saturday night we saw Liverpool FC run 11km less than their opponents (Leeds United), as reported by Anfield Index's own Simon Brundish. I'm not a stat guy, but I'm sure there are a number of horrendous statistics that lead to the notion we all believe, the Reds are in full blown crisis.
Underperforming players can often be carried by the quality of the surrounding cast, and Liverpool has be been able to do that for a number of years. The odd player that falls below the usual intensity standards can be replaced, either on the pitch or in the market. The key point right now however, is that Liverpool appear to be a squad unmotivated, underprepared, uncaring and most alarmingly, unwilling to match the intensity of their opponents.
The Community Shield offered false hope of a successful season ahead, and much of the fanbase (alongside a management group) probably saw a camp in a good moment to mount multiple challenges. Liverpool played their 12th league game of the season on Saturday night, and the 16 points garnered leaves them in mid-table mediocrity. Often times form and other issues can be explained away, but this seems different, and to be honest, our level of play means we are getting exactly what we deserve.
The transfer bungling is well documented (by everyone reporting on the Reds), with FSG clearly having held too tighter grip on the transfer budget, and it's showing with alarming effect. Yes we have a wonderful stadium that continues in its regeneration, yes we have a modern training ground that allows elite preparations, and yes we have some wonderful individuals within our group of players and coaches. But what we haven't allowed for (yet moaned about consistently) is the abundance of games that the squad has to entail which would ultimately cause havoc with fitness. It's very clear that our on going desire to do the bare minimum in the transfer market has left our team exhausted and uninspired.
Leeds were coming for a fight, and in any contest where an opponent senses weakness, it literally creates a fire within those that enter Anfield. Our home ground is the envy of the world, but Saturday evening the Reds' support had to witness the most uncoordinated group of players since the darkest days of Brendan Rodgers. A pandemic of lacklustre displays spread like wildfire on Saturday night, and we looked like a team that had no patterns of play, no knowledge of how to open up a poor Leeds side, and any good attacks seemed spontaneous and crafted by individual moments.
We have built our craft under Jurgen Klopp by out working teams, outrunning teams, being tactically astute, and being able to defend to a world class level. Teams being able to 'figure us out' is part and parcel of modern day football, and the managers job is then to introduce small changes in personnel (and play) in order to maintain levels. System players, players that can be tactically aware on the pitch, are an absolute requirement, and perhaps the bedrock of Klopp's best football teams. We seem to have allowed such players to leave or regress, without ever really replacing them. Kids have come to the fore, weird signings have emerged, and all whilst our rivals continue to evolve and gain strength.
For me, the World Cup cannot happen soon enough. Players need to rest, players need to undertake huge tactical instruction, and then players need to undertake a perfectly designed 'pre-season' that enables them to come back stronger. The handful of games before the transfer window opens needs to be nothing more than a countdown to new additions. The midfield needs a minimum of two two new players, and these players have to be good to go. Dave Hendrick (of Two Footed & AI fame) is all in on Moisés Caicedo and Enzo Fernández. If these types of young and hungry players are available, then serious bids need to made, and signatures secured.
Liverpool's next two games are Napoli & Spurs, and both will probably see the Reds fall. We as fans can't really point to what is causing this collapse of form, but what must be certain of is that Jurgen Klopp has the characteristics to overcome. In the coming weeks and months, hopefully FSG & the players will buy into what is needed, and get the reds back on track.