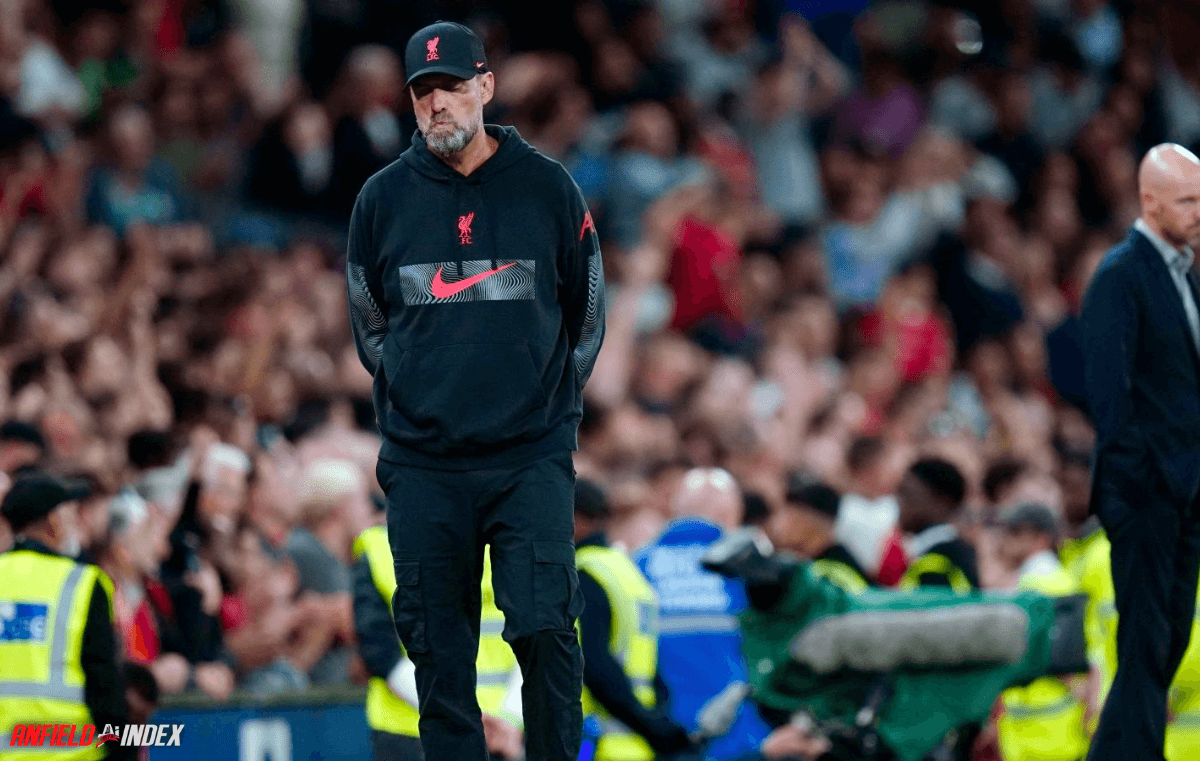 Who Are Liverpool's Premier League Competitors This Year

For the last few years, Manchester City would be the early season team compared to Liverpool in the Premier League title race. This early season looks like a one horse race (Arsenal will inevitably fall away), and the Reds currently languish within mid table mediocrity, though thankfully not as lowly as their blue neighbours, just yet anyway. Manchester City are the club with huge domestic success during Klopp's Anfield stay, but this could now be the moment where City have no genuine rival. Liverpool have fallen off a cliff, and some harsh internal diagnosis needs to be undertaken.
Liverpool were a club drifting towards a permanent mid table position, when Jurgen Klopp arrived. The era of Luis Suarez generated a side that was hugely entertaining (under The previous regime), but was never sustainable once the Uruguayan departed for Barca. Klopp's Anfield revolution will never be forgotten, and perhaps the standards were set so high, it's become a difficult task to observe the decline.
Various generations of football will see English teams rise, varying teams slide, and huge clubs endure periods of transition. The early Premier League years saw Liverpools 1980's dominance fall away, as Sir Alex Ferguson's Manchester United took their place as the English superpower. That first generation of the Premier League saw Manchester United share fleeting power with Arsenal and Blackburn Rovers, as Liverpool looked on from their perch of regression.
The following generation would see Chelsea rise from the brink of obscurity, and become the first English club to both outspend Manchester United and sustain their success. Roman Abramovic brought glamour, success, and Jose Mourinho to our shores, and their period of the top division was spectacular. Despite moments of rivalry and the famous Champion's League win (vs AC Milan), Liverpool were still a domestic side that struggled to keep up with the lead pack, and so we contributed on.
It is in this last generation of the Premier League, which saw the most domestically dominating side of them all rise to power, as the state funded Manchester City became the most successful team in England. City operate with near unlimited funds, very little in the way of sanctions, and are on the verge of becoming the Bayern Munich / PSG equivalent of the Premier League. Absolute dominance is almost guaranteed right now, and despite Liverpool's efforts to maintain pace, their own model has been unable to sustain its assault on Pep Guardiola's men.
So with the Premier League title out of reach, reality has to set in alongside realignment of the club's ambitions this season. Top 4 is clearly the biggest priority, and understanding the Reds' immediate rivals will be key to how they take on the coming months. Though I believe Arsenal will fall way short when the final league positions are confirmed, their own tremendous start to the season should see them carry through to a top 4 finish. With City almost certainly finishing in top position, that leaves two places up for grabs, and probably four teams battling for those.
Though Newcastle United are having a very good run (another state owned club), their growth will probably see them fall short this year, but if their spending (and the leagues lack of FFP control) is anything to go by, they will soon be regular challengers for top 4. Spurs are probably the early favourites for third spot, with the world class talents of Antonio Conte at the helm. Their own squad is very strong, with a good sprinkling of elite talent within. Conte is forever on the verge of implosion, and that is a circumstance that Jurgen Klopp will be hoping for.
The next candidate is of course Manchester United, the city's second footballing side. United are improved, but are still finding their patterns of play and preferred system under new stewardship. The inconsistencies of their game will surely take time and see points dropped, and again Jurgen Klopp will be hoping that their own in house issues can benefit his teams charge.
The next rival in the mix is Chelsea, who have probably undergone a similar period to what the Reds are currently experiencing. The Blues have a multi talented squad, but one that has been built through the minds of too many different coaches, and now an enthusiastic owner / sporting director. Chelsea will take a few years to get back to where they were, and that's if Graham Potter proved o be real deal. Liverpool have a more structured squad than the Londoners, yet Chelsea still have an abundance of players to call upon.
Then there is Liverpool FC, who would have been hoping for a title charge that lasted beyond week 1. The Reds are in utter disarray, and only a solid break and some influential January additions will see Liverpool as top 4 contenders. If the Reds continue to reach for the bare minimum (in the transfer market), then Thursday night football will become a reality next season. Liverpool have to make significant changes in the playing personnel, accept the shortcomings of some of the first team, and find a system that will get the best from our elite assets. Julian Ward and Jurgen Klopp have to convince FSG of their needs, and FSG have to realise that the Champions League revenue requires on going (and substantial) investment in order to sustain qualification. With this, a World Cup break needs to see genuine tactical innovation from Klopp, genuine player instruction (to those that stay home), and a clear plan of how to get back to somewhere close to their best.
The answers are clear to most, but FSG always seem reluctant to move beyond a preordained structure. Many fans saw this coming, and I believe Michael Edwards sabbatical was all about the on going limitations. We are Liverpool FC, and to be competing with the likes of Spurs, United and Chelsea, is no great shame. The problem is, we know we can be so much better, and it may take only take a few smart moves in the upcoming window, to engineer a strong second half to the season.
On the flip side, if Liverpool were to do nothing in the window (and some type of trust was wielded to this current crop), then I imagine I will be re-writing this piece in early February. If we continue to stand idly by, the listed competition will be decidedly lower, yet thankfully still not as low as our noisy neighbours, but still far too low for the mighty Reds.