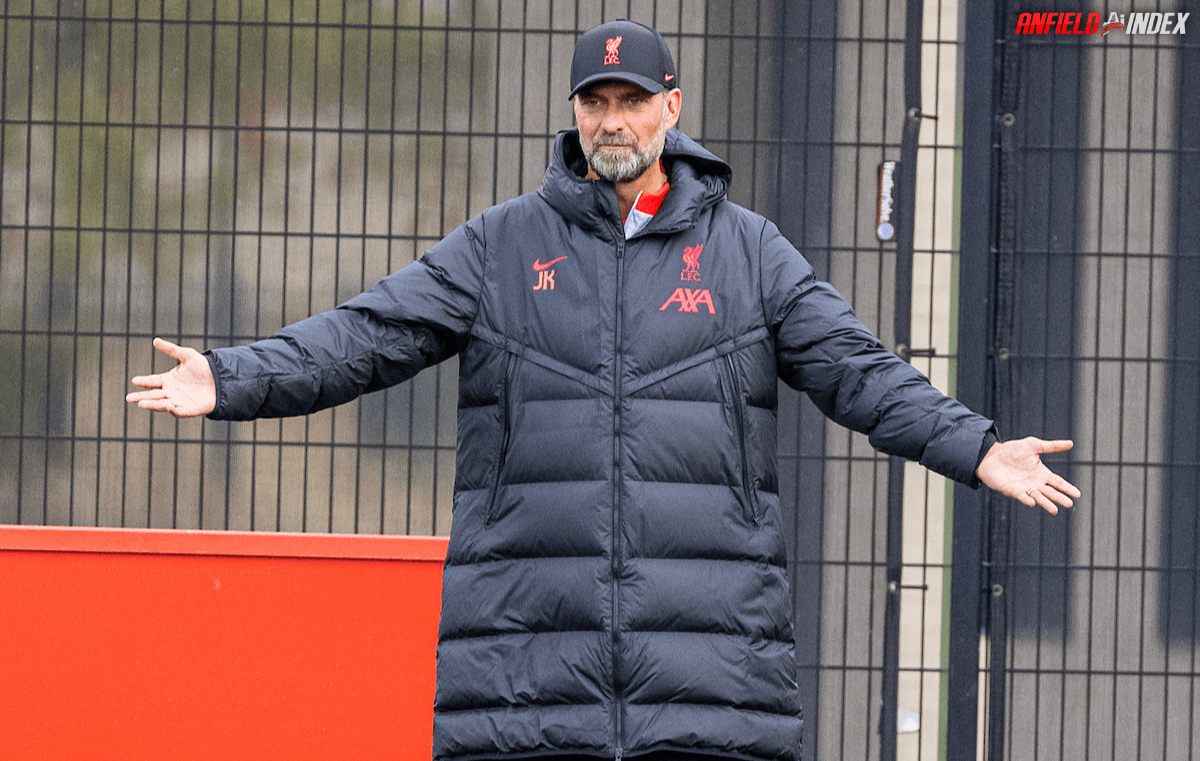 The Liverpool Crisis: We've Been Here Before
It's no secret that the Reds have been on a bit of a dreary start to the 2022-23 campaign. The Premier League season started with 2 points from 3 games, and it hasn't really been much better since than. Liverpool currently sits 9th in the Premier League, with 16 points from 12 games, and 8 points back from the top 4. Although tonight's win against Napoli was a high point in the Champions League, consecutive losses to Leeds and Nottingham Forest have seen media claim that Liverpool is at its "lowest point yet" (under Klopp). That's quite the statement, but it's understandable how the media could be astounded by a team who nearly completed the quadruple suddenly falling into 9th place.
However, we've seen this before. We've seen this at Liverpool before. We've seen this under Klopp before. During the 2020-21 season, while the coronavirus ravaged the Premier League, Liverpool had their own little case of pandemic fever. During a stretch from December 15th, 2020 to March 7th, 2021, the Reds picked up 12 points in 13 matches. A nearly season-ending slump, which almost ruined the Reds' top 4 hopes, and had the fans calling for heads left and right. After a March 7th 1-0 home loss to Fulham, Liverpool sat in the 8th spot, 5 points from the top four, with a healthy first-team centrebacks, and coming off one of the worst streaks in the club's history.
However, we turned it around and went unbeaten for the last 10 matches of the season, winning a Champions League slot on the final day of the year, mostly thanks to an Alisson header the week prior. Who's to say we can't do it again? There's 26 games left to play, and we're only 8 points back. We've already played against 6 of the 8 teams ahead of us, we have a favourable next 7 games. And, we're playing well in Europe, so it shouldn't be that complicated to start showing some good results in the Premier League. The odds are in our favor in every possible way, yet so-called "supporters" still doubt the abilities of Klopp and the players to right the ship, something they've done in recent history.

Now, there are some differences between the 2020-21 collapse, and the one going on right now. First off: the injury situation. A main reason for the 2020-21 slump was all 4 of our first-team centre-backs sustaining long term injuries, forcing us to look for solutions in unexpected places. Fabinho and Jordan Henderson were both utilised at centreback, and suffered from their own injury problems, which left the midfield stretched incredibly thin. Eventually, the answer came from the kids, with Rhys Williams and Nat Phillips stepping up massively to fill the gap and save our season. This year, we are dealing with injury problems, but none in the defence. All 4 first team centrebacks are now healthy, but Diogo Jota, Luis Diaz, Naby Keita, and loanee Arthur are all dealing with long term injuries, while James Milner, Joel Matip, and Calvin Ramsay have all missed time due to smaller issues. Our front line is being stretched, but not much, as Fabio Carvalho, Curtis Jones, and standout Harvey Elliott have all stepped up to fill the gaps well, similarly to the way Phillips and Williams did.
Next up: The system change. During the 2020-21 season, through the slump, the formation never changed, as Klopp went ride-or-die with his 4-3-3, which ended up being the right call. This year, everyone we played seem to have our number with the 4-3-3, so Klopp switched to a 4-2-4 setup, hoping to be able to use Diaz, Nunez, Salah, and Jota in the same lineup. However, Jota and Diaz went down, so the 4-2-4 evolved into a narrower attack force, using Firmino, Carvalho, Elliott, or Jones where Diaz or Jota would have been. The new system worked brilliantly for a couple games, but has been very up-and-down since then. A major criticism of the 4-2-4 is that the Reds only have two in-form holding midfielders, one of whom is made of glass, so the system can't be consistently counted on. This problem has forced us back into the 4-3-3 for some games, including the win over Napoli. Well, part of the problem is "two" in-form holding midfielders.
A very common theme between the two collapses is players falling out of form instantly, going from top 5 in the world to having their starting spot questioned. We saw it happen with Trent Alexander-Arnold and Sadio Mane in the 2020-21 campaign (both of whom had an excellent 21-22), and now we're seeing it happen to Fabinho. Fabinho walked into Liverpool's midfield in the 2017-18 season, and the Brazilian destroyer has been a consistent presence until right about now. During this campaign, Fabinho has struggled, often seeming nothing more than a speed bump as our midfield is passed through by a relegation zone team. He's been a step behind the pace, which just can't happen for a Liverpool holding midfielder. This could potentially be blamed on a lack of support, as he's usually starting games with midfield's consisting of attacking players, but he's also been terrible in appearances next to Henderson and Thiago.
So, what if Fabinho can't pick his form up, and we're forced to drop him to the bench. What if the new tactics don't work and we're forced back into the 4-3-3? Well, we'll deal with it, just like we dealt with issues in the past. If we could salvage a top 4 appearance with Rhys Williams (who can't get on the field for Blackpool) and Nat Phillips at centreback, then we can salvage one with Jordan Henderson and Thiago in the midfield. We've got two more EPL games to play, and then most of our team gets a month off. We'll have a couple players in Qatar, but a much lower percentage than most of our Premier League rivals. We can take the time to recover, regroup, and come back better than ever. We've got UCL knockout football to play, and we're not out of the top 4 race in the slightest bit. Things may seem dark, but take a breath. We've been here before, and we've came back from worse.