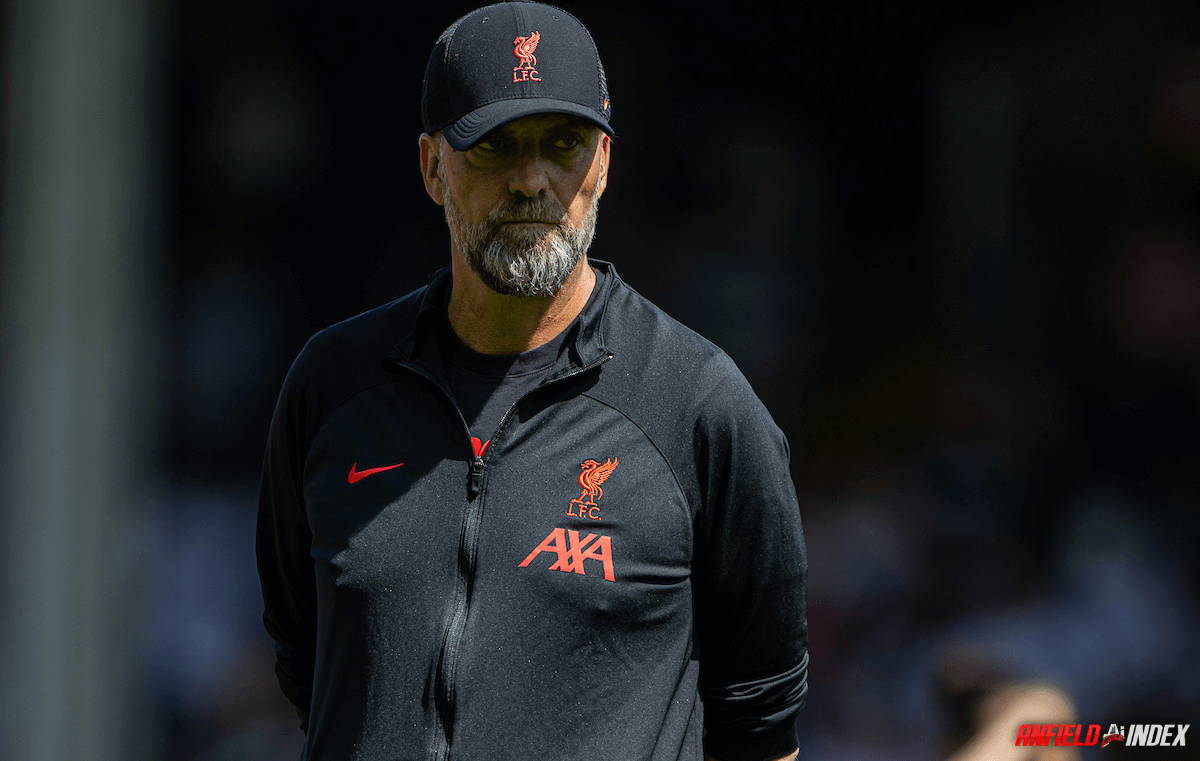 Does Jurgen Need To Switch To A 3-4-3 Formation

With the Liverpool team's on-going issues, there's also going to be endless antidotes to solve the problems at hand. To start from the top (then all the way down), below probably represents all the pieces that need change, apparently:
The Ownership – FSG
The Sporting Director – Julian Ward
The Chairman – Tom Werner (FSG)
The CEO – Billy Hogan
The Manager – Mr Klopp
The Assistant Manger (Author) – Pepijn Lijnders
The Head Of Medical Services –  Andrew Massey
The Physiotherapist – Lena Aschenbrenner
The Team Chef – Chris Marshall
The Captain – Jordan Henderson
The Vice Captain – James Milner
The Former U23 Captain – Curtis Jones
The Formation
If you were to add Joe Gomez, Trent Alexander-Arnold, Fabinho, Naby Keita, Alex Oxlade-Chamberlain & perhaps week 1 Darwin Nunez to that list, that'll probably cover most of what the fanbase have pinpointed as the main issues. For me, it's a combination of a few, and this article will focus on whether a more widespread formation change is required.
When Jurgen arrived to replace Brendan Rodgers, we immediately implemented a 4-2-3-1 or 4-3-3 system that would out-work and attempt to strangle the opposition side in possession. As the manager started to finesse the system and bring in bespoke players, we very much settled on a 4-3-3 system that incorporated a false 9. Now I always saw this system as a fluid 4-3-3 that would become more of a diamond. This diamond would see Bobby drop into a creative role, as the two wide forwards would channel in. Out of possession the wide forwards would then stretch the play, and give coverage to their respective flank. Most top tier managers require their systems to shift into different shapes, and ours has been no different.
The middle ground (initially anyway) was built around workmanlike midfielders, with one designated as the holder (Fab). The outside midfielders (let's say Gini & Hendo) would offer solid running, coverage and recycling of the ball. This midfield three would pretty much control key areas in transition, and allow the defence and attack exactly what they needed. All was rosy, and Liverpool elevated themselves to the top of world football.
As football evolved and players aged, the system (as we see now) has all but deteriorated. The midfield has not the legs nor the desire to outwork its opponents, and the defence is getting about as much protection as cat from a pack of wolves. Our attacking patterns of play have disappeared, and our system looks very painful on the eye. The 4-3-3 has shifted to a 4-2-3-1, then a 4-4-2, before the diamond formation worked.
And then, just like that, it didn't.
So with Ibrahima Konate set to return to the starting eleven, maybe certain games simply require better defensive systems to level out against the lack of protection. With Trent Alexander-Arnold often heavily exposed (yet still required to bomb forward), perhaps an added centre back could aid against the inevitable counter attacks that the reds struggle to contain.
In a 3-4-3 system, it would enable Joe Gomez to play that half space between right back and centre back. He has so many tools, but clearly his decision making is still working its way back. On the left of a back three, Virgil would cruise through games, in the knowledge that either Ibrahima Konate or Joel Matip were covering central areas. In those wonderful moments where Joel ventures forward, the outside defenders could condense, and some form of fluidity would evolve. But for me it would be the enhanced attacking output on Trent Alexander-Arnold, who is struggling with the continuing lack of midfield coverage he gets. I don't want to see Trent as a right-sided midfielder, but as a right wing back, I'm also keen to see how that would work. On the opposite side, Robbo or Kostas would have the absolute freedom to push high, in the knowledge that an extra defender is offering added stability.
We have seen our limitations, and we have seen players' form fall off a cliff so far this season. The changes in system often appear reactionary, and we simply don't always have the players to fit what we are doing. In this drastic period where we are struggling to keep teams out, maybe a more dramatic shift in shape could enable the stability we lack. The middle two (let's say Thiago & Fab) would be flanked by the wingbacks, and both Mohamed Salah and Bobby could roam behind Darwin as the 9. The roaming 10's would also suit the skill sets of Harvey Elliott, Fabio Carvalho and Curtis Jones, and give them minutes from the bench in spots where they can actually excel.
The 3-4-3 system is clearly not one loved by our manager, as we have only ever seen it implemented to close out games. The issue is, we aren't even getting near to closing out games, and it may just be that shutting the door on teams needs to happen before we can find ourselves again. Our patterns of play are jagged, our confidence is shredded, and there seems no real indication of what we are doing to overcome the problems.
If a 3-4-3 system were to be at least attempted, it could release certain players from continuing pressure situations, and allow us to control our defensive third. The lack of wide forwards or genuine wingers would be negated by our selection of bodies that can play wing back, and give license to those ahead. Nothing can be ruled out, but against Napoli when the game is there to be experimented upon, I might just want to see how this system plays out.
We are already losing games, so what more do we have to lose in a dead rubber match…