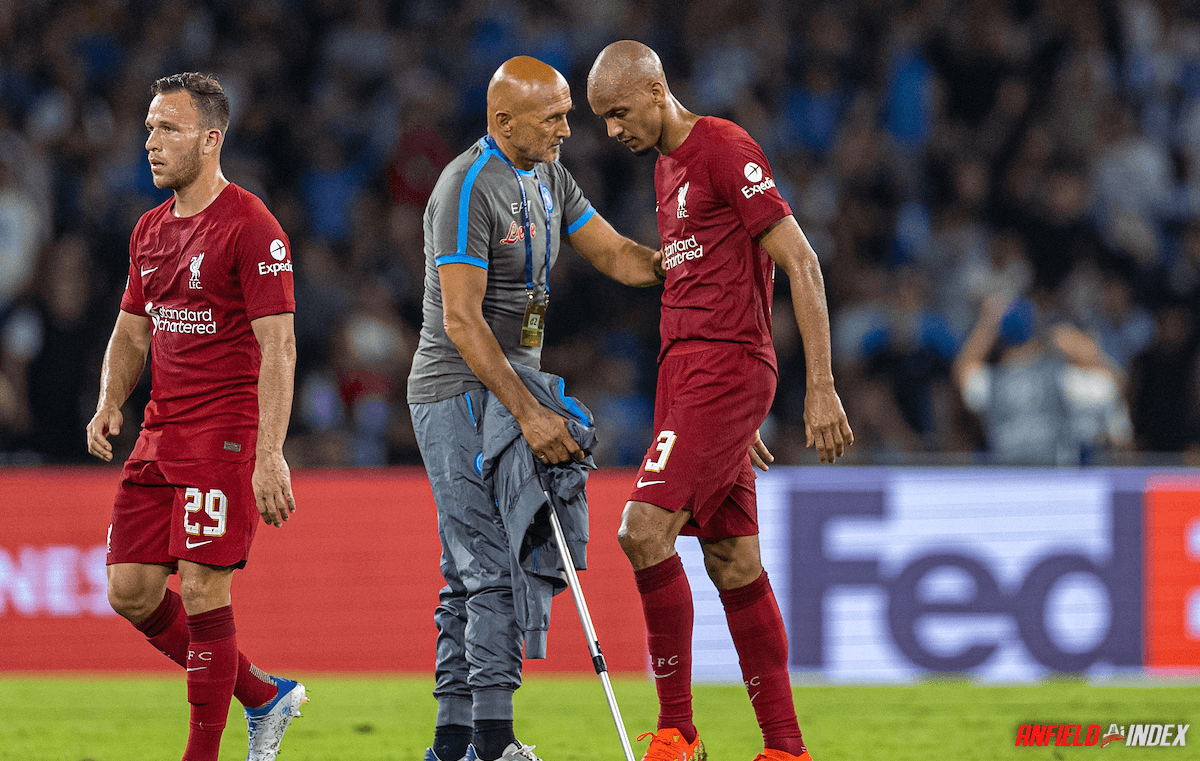 Liverpool v Napoli - The Champions League Preview

Both teams are qualified, so the team sheets could be much changed from the norm. The Italian visitors are flying high in Serie A right now, so will probably take this game to fully rotate their traveling squad of table toppers. Napoli will finish top of the group regardless, so hopefully (for the reds) they won't look to further punish an out of sorts Liverpool side. Napoli are fighting on multiple front this year, and must go into the last 16 as one of the teams favoured to win.
With regards to player availability for Napoli, Amir Rrahmani and Salvatore Sirigu are both still out injured. Napoli's weekend fixture saw them take Sassuolo apart, with the sensational Victor Osimhen netting a hat-trick in a 4-0 home win. With a healthy 5 point gap separating them from 2nd placed Atlanta in the Serie A, Luciano Spalletti (Napoli manager) will surely look to give his brilliant first team a night off. Only ego and the want to increase confidence will see him go strong, so either full strength or rotated are possibilities.
With regards to selection, I would expect at least 7 changes to be made, with many of the more influential players potentially coming into the game later, if needed. With a huge and potentially historical season ahead, Spalletti will have to be careful not to overstretch his side in games that hold no consequence. Last weeks 3-0 victory against Rangers confirmed their place in the next round, so tonight will surely represent a good chance to give minutes to various other squad players.
Liverpool have some big decisions to make (again), and given their relatively long stretch till they visit Spurs (next Sunday afternoon), it may be a chance to try some things out. Just like their visiting opponents, Liverpool are confirmed qualifiers for the Champions League last 16, so can afford some rotation. Jurgen Klopp will have to decide whether to give in to mass rotation and rest, or try and play his first team into some sort of form.
On that form front, a solid enough away victory against Ajax (0-3) last midweek, was sandwiched in between two disastrous losses to Nottingham Forest and Leeds United. This opening period of the season represents the lowest point in Jurgen Klopp's Andield reign, and it is a big question as to how the problems get resolved.
In terms of availability, Joel Matip is still out with an injury, and Arthur Melo is out until after the World Cup. Luis Diaz and Diogo Jota are both also sidelined till after the International break, so the forward options are once again limited for the reds. In midfield, Naby Keita is back in full training, and could be used from the bench.
It probably splits opinion as to who starts this game, and whether physical rest overrides the need to gain rhythm. From an availability point of view, the 5 substitute rule will hopefully see Klopp try something a little different. Given their are only four games remaining until the World Cup break, this dead rubber match could represents a moment for Klopp and co to experiment. After this contest there is the weekend visit to Spurs, the midweek League Cup encounter against Derby (at Anfield), before Southampton also make their league trip to the reds.
To see Trent Alexander-Arnold play in midfield would be interesting, especially with Joel Matip set for a return next week. Some degree of the 4-4-2 will most probably be used, however the return of Ibou may just allow a look at 3-4-3. It's literally anyones guess what the line up will be, but the hope is that there is some much needed rejuvenation in those that start. Joe Gomez moving to either RB or RCB in a 3-4-3 is something I've mentioned, and could be a way to create improved solidity on the right hand side. Moving Trent forward would give more creativity, and perhaps more balance to a midfield that lacks cohesion.
Some players simply have to be dropped or rested for this game, and I expect Fabinho to start from the bench. In terms Bobby Firmino, he will need to come out for this one, so this could again open the door for a new 10 or forward option, especially if Trent were to move to RM or RWB. This match could be a good moment to rest Alisson Becker also, with his weekly heroics perhaps needing a break.
Both managers desires will ultimately decide the result, and I expect a high scoring affair given the expected raft of changes and substitutions. Anfield nights in Europe usually entertain, and I expect this to be an interesting match up.
Player to watch – Ibrahima Konate
Score Prediction;
Liverpool 3 – 3 Napoli