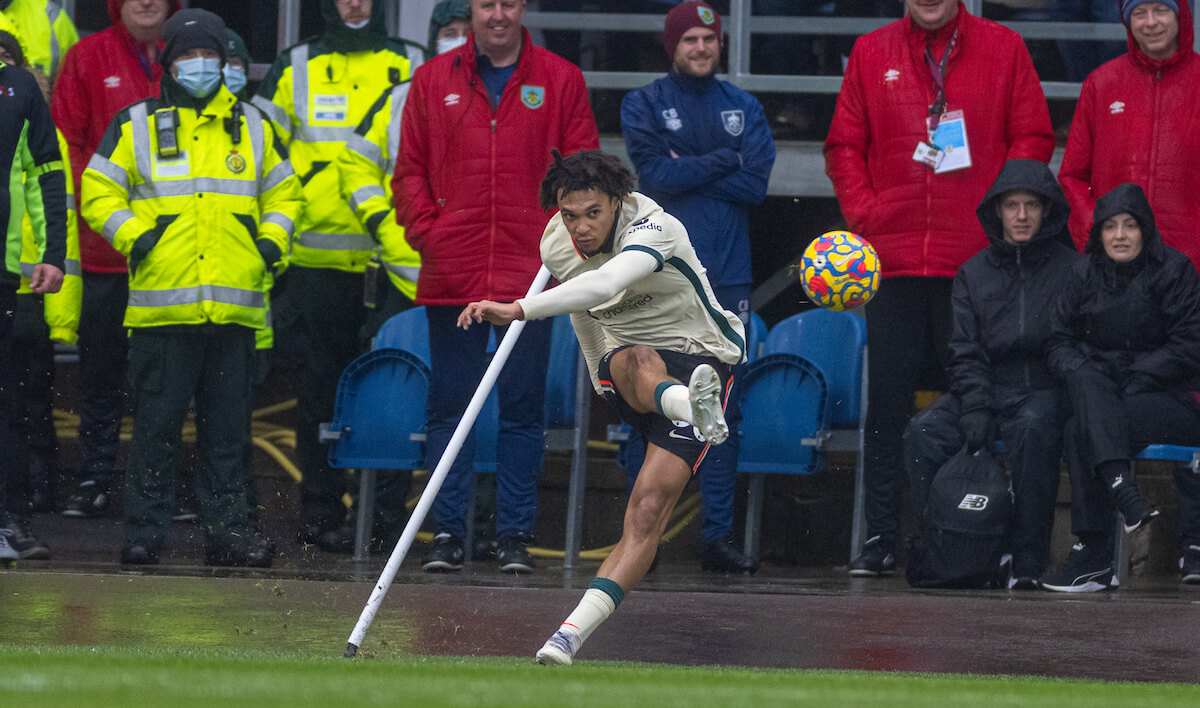 Is it time for Trent Alexander-Arnold to play in midfield for Liverpool?
Desperate times call for desperate measures, so is it time for Liverpool to give Trent Alexander-Arnold the midfield role he once shone in?
Another week, another bleak feeling of emptiness as a Reds supporter.
Last Saturday's 2-1 defeat at home to Leeds was arguably the nadir of the season to date, as the grim results keep coming at a relentless rate.
Liverpool have had major issues in various areas of the pitch throughout the campaign, from individuals looking out of sorts to new signings struggling to fit in.
There is no doubt that Jurgen Klopp's midfield has been the biggest concern, however, with a once-dominant unit now looking horribly porous.
Fabinho is in comfortably his worst run of form in a Liverpool shirt, running in cement and looking 38 instead of 28, while James Milner and Jordan Henderson are a long way past their dynamic best.
In Harvey Elliott and Curtis Jones, the Reds have two raw footballers still far from the finished article, while Naby Keita and Alex Oxlade-Chamberlain cannot rid themselves of injury problems, and never will.
It has reached the stage where Klopp is so desperate for an injection of life in his midfield that he should push Alexander-Arnold further forward, in a role he played regularly in his youth team days.
When captaining both the Under-16s and Under-18s, the Englishman was far more renowned for being similar in style to his boyhood hero Steven Gerrard than the rampaging right-back Klopp turned him into.
Four goals and assists apiece in just 14 appearances for the Under-21s is proof of Alexander-Arnold's productivity in a more attack-minded role, so it wouldn't be some seismic shift for him.
I can hear some of you losing your minds from here – "WHY WOULD YOU MOVE HIM FROM HIS BEST POSITION", etc – but needs must and Liverpool's midfield really can't get any worse, can it?
Granted, taking Alexander-Arnold away from the right-back position he has been the best in the world in since 2019 is far from ideal, but Joe Gomez could do a solid, unspectacular job in his place.
Plus, it's not as though Trent has been pulling up trees there this season, looking poor defensively and not yet assisting in the Premier League or Champions League.
What the 24-year-old would bring to the midfield is much-needed freshness and youth – he is 12, eight, seven and four years younger than Milner, Henderson, Thiago and Fabinho, respectively.
Deploying him in that right-sided central midfield role could see him enjoy similar success to Kevin De Bruyne at Man City, popping up in the right-hand channel to deliver inch-perfect crosses, driving runs and long-range strikes.
Expecting him to hit the Belgian's level is asking too much –  he is arguably the best player in the world at the moment – but he has all the tools to wreak havoc more centrally in the final third.
Will midfield end up being Alexander-Arnold's long-term position? Who knows. It could be a masterstroke that signals the start of the next phase of his career, or it could just be a short-term solution before Klopp's men revert to type again.
When Liverpool are at their best, not using him at right-back makes no sense at all, but this is a very different Reds team to the one that has wowed us for so long.
Should Klopp take a punt on Alexander-Arnold, it is a decision that, at worst, won't make Liverpool's midfield any better, but it certainly won't get any grimmer.