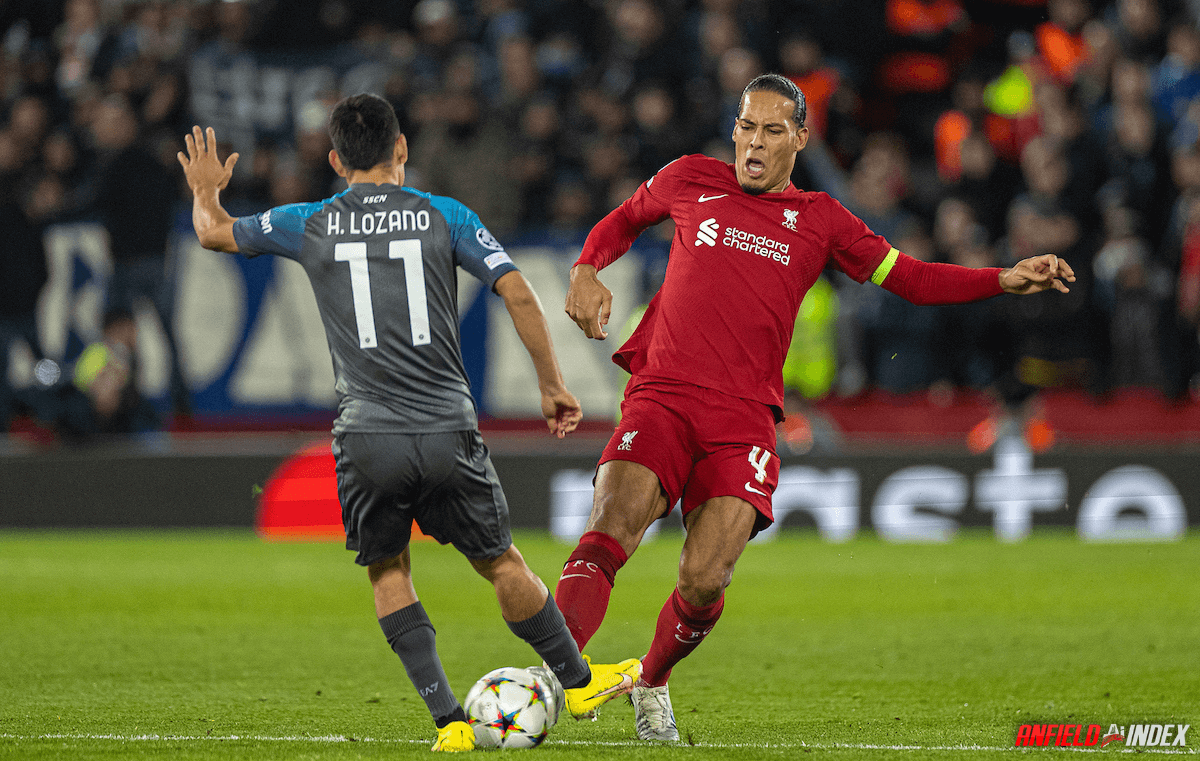 Liverpool 2 - 0 Napoli - The Champions League Post-Mortem
With the group stages of this year's Champions League drawing to a close, the Reds managed to ignore recent form and put together a very solid performance. Napoli arrived with a very strong side, and a clear intention to be the first Italian club to win all 6 group games in the European Cup. Luciano Spalletti selected a very strong side, despite being guaranteed a spot in the last 16th, and in turn Liverpool themselves went strong.
It's difficult to pinpoint just where the issues have been this season, as the Reds have struggled across the board in various games. Only now with the return of certain players (and with these players together on the pitch), can we perhaps start to envisage how we work out way back to normality.
The league form for Liverpool has been pretty tragic thus far, with their last outing seeing them lose at home to a spirited Leeds team. In the Champions League however, the Reds have been able to claw back some form, and last night represented five straight European wins. The opening group stage game saw Liverpool taken apart in Naples, but on this very Anfield night, they were able to hand out some much needed revenge, and you could see the confidence starting to build to its brilliant finale.
From start to dramatic finish, the Reds looked pretty much in control of their own game. So often this year have we seen this team unable to carry out the simplest of jobs, but against Napoli everything seemed a little refined, with a dash of intensity. The organisation of the Reds seemed far more structured, with a base formation of 4-3-3 returning. Jurgen Klopp had no real left winger to call upon, so he simplified to system into something all the players could buy into.
In goal was the world's most reliable stopper, Alisson Becker, who for once (this season) didn't have to keep the Reds at the races. Trent at right-back looked assured and reliable in his work, and with the monster that is Ibrahima Konate beside him, suddenly the worries seemed unwarranted. Kostas was lovely and efficient, and the backline just looked strong.
In the centre, Ibou was dramatically good, and at at times defended with pure excellence. Few centre backs will be able to contain Osimhen over the coming years, but last night the huge Frenchman was able to dominate and overcome the world class threat. Every moment seemed like a dual, and hopefully we can once again watch him flourish in full fitness.
We waited a full year (that year of no defenders) to get Ibrahima Konate out of RB Leipzig, and we can all see why Michael Edwards was willing to wait. If Virgil represents the perfect prototype of a modern day centre half, then Ibou might just be the inevitable upgrade. His power, pace, aggression, anticipation, and ability to carry the ball out seemed to lift the whole team, and it also seemed to up the performance of his rearguard partner, Virgil Van Djik. The big Dutchman had a very solid game (not quite to the level of Ibou), and was much improved from recent form. To see this young colossus (Konate) roaming the Reds' defensive third like a juggernaut, may just shake Virgil back to form, as an internal pursuit to be the clubs best defender can be a good thing.
In midfield, the Thiago & Fabinho partnership purred once again, which may have had a lot to do with how solid the backline was looking. With a dependable Milner flanking the right hand side of a midfield three, the trio was able to control both tempo and stem any Napoli breaks. Thiago was close to brilliant at times, and Fab was efficient with a lovely dash of snide. Those facets are what we want from that tandem, and hopefully some balance in the two lines (defence & midfield), will see the league results improve.
Up top we had a curious trio, with Mohamed back into his familiar right forward role, but with a clear license to roam inside. On the left was the multi talented and fleet footed Curtis Jones, who looked reborn without the midfield responsibilities he possibly struggles with. Curtis can be a maverick, but he has to be allowed to express himself. I sense the game versus Napoli was him reminding his manager, of what he can do as a final third piece of the puzzle.
Through the middle Roberto Firmino acted as a facilitator through the midfield to attack, and was the selfless false nine we all remember. With Salah & Curtis the more creative wide players, Bobby was more the worker, with the odd sublime moment of skill. There seemed a good balance between the three, but it was the introduction of Darwin Nunez that created havoc later on.
Darwin looks like a raw monster of a striker just primed to be moulded but Klopp, and his aggressive enthusiasm (much like Ibou's) seemed to cause no end of problems for Napoli. What we are witnessing through these two players is what is needed in the midfield, and hopefully the next few windows can be spent re-energising that middle ground, with both supreme talent and youth.
This could be another one off game, much like the Manchester City game. We have seen false hope diminished before this season, but what we need against Spurs on Sunday is equal measures of urgency and control. This Liverpool squad is built on achieving great things, and hopefully we are starting to see what these young assets can offer the experienced players.
Jurgen Klopp may just have turned a vital corner, but only the weekend's performance and result will be the true indication of that. Ibou & Darwin need to start against Tottenham, and maybe the older heads should follow their lead and start forcing their game on the opposition sides. Against Napoli we were good with moments of great, we just need to keep that going.