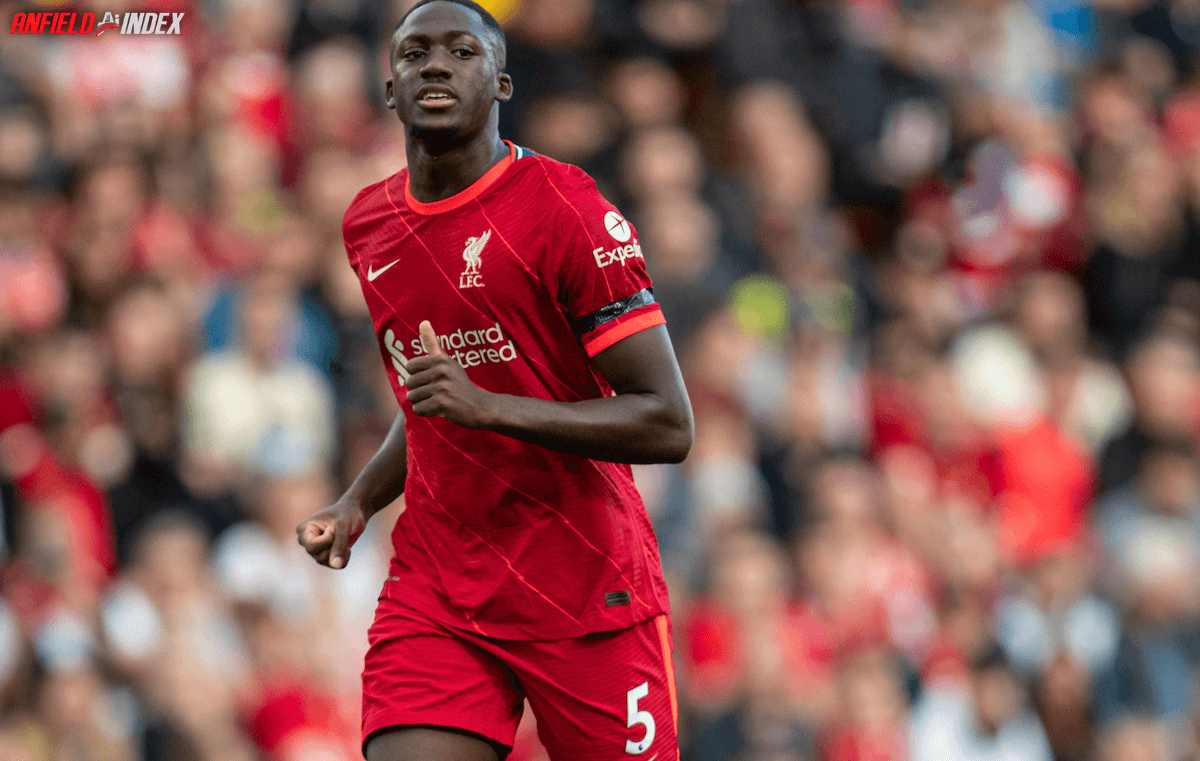 The Ibrahima Konate Effect

The summer before last saw Liverpool pay £34m for Ibrahima Konate, securing his services from German outfit RB Leipzig. The season prior had seen Liverpool's central defence end the season with Nat Phillips and Rhys Williams in the first team, as they scrambled for Champions League qualification. That season had seen Virgil van Dijk, Joe Gomez and Joel Matip, all succumb to long-term injuries. This also came after the sale of Dejan Lovren. Lovren was not replaced that summer, and in rolling the dice on three senior centre backs, the Reds' season crumbled during the winter months. The January signings of Ben Davies and Ozan Kabak (loan), were a bare minimum bandage, when major surgery was required.
Liverpool have only laid out big money on two central defenders during the era of Jurgen Klopp. In both instances, it became pretty clear that Klopp & Michael Edwards were willing to wait to get their men, and though it was frustrating for the fanbase, the quality of each (Virgil & later Ibou) made the wait justifiable. When Virgil eventually signed from Southampton, his impact was close to spectacular. There was the obvious questions surrounding the £75m fee, but that quickly subsided as he rose to become the worlds leading defender.
Liverpool's defence has been somewhat of a shambles so far this season. You can count on one hand the number of good games that Liverpool have had, as the inconsistencies grew and grew. This past midweek saw Liverpool entertain one of Europe's most frightening teams, Group A rivals Napoli. The Italian side currently sits five points clear at the top of Serie A, and look like strong candidates to stay there. After a summer overhaul of their ageing playing squad, Luciano Spalletti now possess a team with one of the most frightening forward lines in all the world football.
In the centre of that fluid attack is Victor Osimhen, a ferocious Nigerian striker whom Liverpool were linked with in the summer. In the Champions League's opening group game, Liverpool were taken apart by Victor Osimhen and co, losing that game by a comprehensive 4-1 scoreline. That night saw Joe Gomez have one of the poorest displays by any defender in Klopp's tenure, and was very much on par with 'that game' where Harry Kane tortured Dejan Lovren.
With Napoli coming to town this past Tuesday night, there was quite a bit of anxiety as to how the game would unfold. It wouldn't take long for Victor Osimhen to start wanting for the ball, but it was the giant frame of Ibrahima Konate that was able to outgun the Napoli front man, and remind us all what a special player he is primed to become.
In terms of Virgil van Dijk, we saw a much better display of control that night, with his defensive coordination and levels looking far more to his usual level. Any number of reasons could be the cause as to why his performance was so improved, but I believe it was the stellar performance of Ibou that reignited the quality within Virgil. Virgil is a leader among men, and perhaps the most important piece within our team. I think there could be some logic in him holding back before the World Cup, but I also believe it's the midfield's lack of protection ahead of him, which has caused his game to slide. Something seemed to click into place against Napoli (for many players), and it could just be that the desire and strength of Konate may have caused a stir in some senior players, who had been so inconsistent this season.
Any great team that goes on to win silverware needs to sort out their defensive shape first and foremost. Before Liverpool started winning trophies under Klopp, Virgil van Dijk, Allison Becker and Fabinho had to be recruited in order to shut down position attacks. As soon as the defensive structure was in place, the team became almost impossible to beat, and perhaps now we need that new injection to drive certain players back to their best levels. I believe Ibou could be the catalyst for this, and his performance could help to awaken a few players that had been stuttering along.
Much needs to be done to regenerate the side, and there are bound to be bumps along the way. But in the case of Darwin and Ibou, there is genuine signs of how we can evolve. Virgil is still the world's best defender, and with Konate next to him they could become the world's most dominant centre back pairing. The next game (Spurs away) is massive for Liverpool, but with Ibou Konate in the side, I'm genuinely excited to see him & Harry Kane collide. We need the brilliance of Ibou to spread through the side, and hopefully the Napoli game is merely a sign of things to come from the giant defender.