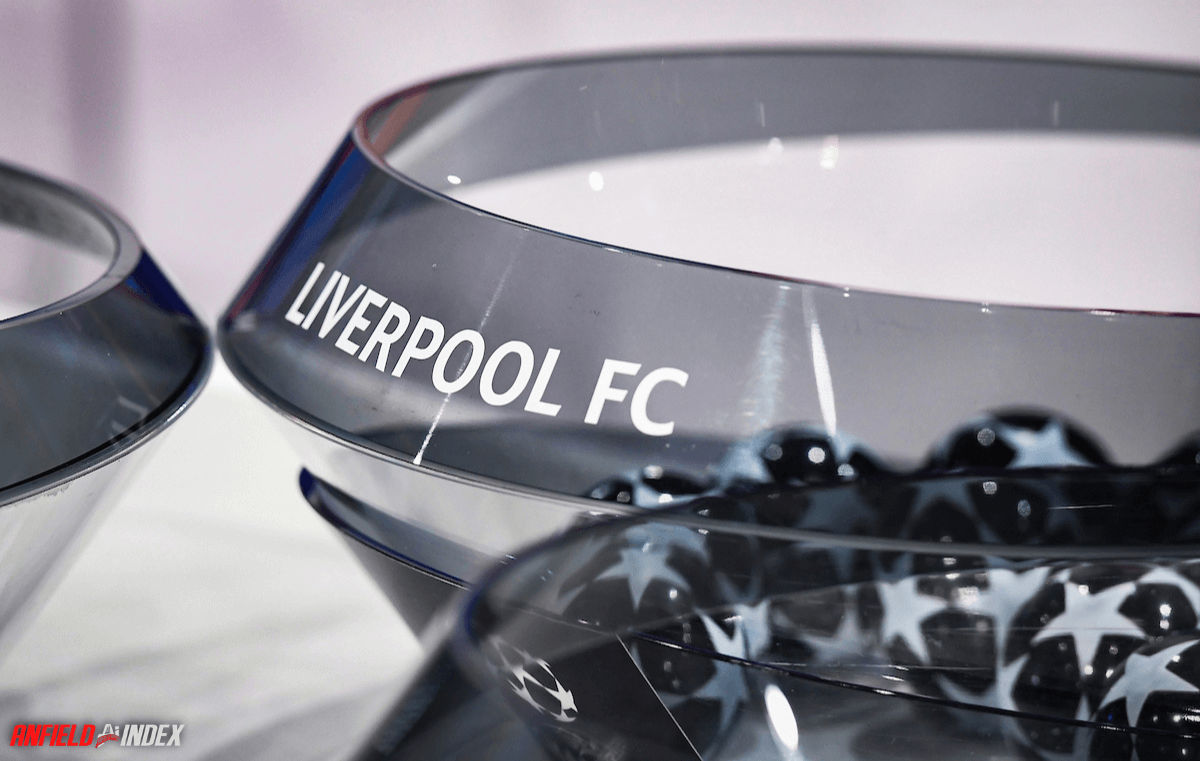 Champions League Knockouts: All the Possibilities
Well, the Premier League certainly hasn't been going well for Liverpool, but we've gotten the Champions League somewhat right. The Reds took 15 points from 6 games, and only finished second in the group by 3 goals. However, those 3 goals could potentially mean the world, as they mean we are forced to draw against the 1st placed teams from their respective groups, while Napoli draws against weaker teams like Club Brugge, Frankfurt, RB Leipzig, and Dortmund. (Both Milan teams also in this draw but ineligible for Napoli).
However, we certainly don't have a worst-case scenario list of options. Barcelona, Ajax, Atletico Madrid, Sevilla, and Juventus all surprisingly bowed out of the competition in the group stages. PSG shockingly dropped to the 2nd spot in their group by the overall group stage away goals tiebreaker (which is 7th in the order of UCL tiebreakers).  Man City, Tottenham, and Chelsea all finished 1st in their group, but are ineligible for us to draw due to UEFA rules (thank god we can't draw City, but I'd take the other two at the moment). And lastly, under-the-radar killers Napoli are thankfully also ineligible for us, due to playing in the same group. These restrictions limit us to a possibility of 4 draws.
The last 4 teams that we could possibly draw are Benfica, Porto, Bayern Munich, or titleholders Real Madrid. A fairly easy trip to Portugal with a chance of scouting the next Diaz or Nunez, a perfect chance for Robertson to brutally two foot Sadio Mane, or a chance for revenge on Las Blancos, which includes perfect chances for Robbo to brutally two foot anyone he wants. Well, when we put it like that, it's all sunshine and rainbows. And then you realise we've lost our last 2 EPL games to Leeds and Forest. No longer sunshine, or rainbows. Here we take a look at all 4 teams, their recent form, the last time we played, why we want them, and why we don't.

Porto
Recent Form
Porto were drawn into one of the most balanced groups in the Champions League, where no real winner could be predicted. The Portuguese side ended up beating out Club Brugge (led by world class keeper Mignolet) by one spot, with Bayer Leverkusen falling into the Europa League, and Atletico Madrid being completely knocked out of European football. In that group, Porto took 12 points from 6 games. Meanwhile, in Liga NOS, Porto is finding less success than usual, in 3rd place, 8 points from league leaders Benfica, with 23 points from 11 games.
Last Time We Met
Liverpool and Porto met twice in the group stage of last years UCL. Liverpool emerged on top both times on their way to completing a perfect group stage. The first meeting, Liverpool won 5-1, powered behind goals from Salah, Mane, and Firmino, while Curtis Jones excelled, providing 4 of the 5 assists. The second meeting, after Liverpool had already sealed qualification, was a 2-0 victory for the Reds, highlighted by Thiago's stunning volley. For this match, Liverpool started a much-changed lineup, featuring Neco Williams, Kostas Tsimikas, Alex Oxlade-Chamberlain, Tyler Morton, and Takumi Minamino, but they all stepped up and filled their roles, leading to an electric Anfield win.
Why We Want Them
Porto has had by far the worst start out of the 4 possible teams. They've only tested themselves against a ghost of an Atletico Madrid squad. We battered this squad twice last year, and they would be a very comfortable draw for a struggling team. A draw against Porto could serve as yet another mundane trip to Portugal, and a confidence building victory for the Reds without much stress.
Why We Don't
Mehdii Taremi has been on fire in Europe. He has 5 goals in the UCL this year, all 5 of which came from Porto's three most recent games. An in-form striker like Taremi against a struggling defensive side like ourselves means problems in the back. In Europe this year, Taremi has had 4.5 expected goals, and scored 5. Liverpool have conceded 7 expected goals (1 per game) and conceded 6. Against a striker in the form that Taremi is in now, 2 minor mistakes at the back will likely be 2 goals.
Benfica
Recent Form
Benfica was placed into a very difficult group, consisting of PSG, Juve, and Maccabi Haifa. Benfica only ended up on top of the group by the slimmest of margins, away goals combined through the group stage, the 7th in the list of tiebreakers, and they only got that goal through a 92nd minute Joao Mario stunner to make it 6-1 against the Israeli side. PSG narrowly followed them in 2nd, while Juve took the UEL spot and Maccabi Haifa crashed out of Europe. Meanwhile, Benfica lead Liga NOS by 6 points, having so far taken 31 out of 33 possible points.
Last Time We Met
Liverpool's last clash with Benfica was fairly recently, in the quarterfinals of last year's Champions League. Liverpool won the first leg 3-1, with Ibou Konate and Mane getting on the scoresheet in the first half, before Nunez pulled one back against his future club, and Diaz scored against his former rivals to wrap it up. The second leg ended as a 3-3 draw, with Konate once again on the scoresheet in the first half. Benfica equalised through Goncalo Ramos before Firmino chimed in with a brace to put it out of reach, and Roman Yaremchuk and Nunez both scored late consolation goals.
Why We Want Them
This Benfica side is very similar to the side we faced in the UCL last year, with the only changes being Nunez and Adel Taarabt gone. Any chance to take a trip to Portugal in the knockout stages is a good one, no matter who we're playing. Nicholas Otamendi was a shaky Premier League centre-back in his prime, and he's far from his prime now. Nunez running at Otamendi should be an absolute dream for any Liverpool fan. Any excuse to take a closer look at Goncalo Ramos is a good one. Overall, it's just a great draw if Benfica comes out of the hat. A chance for an easy win, some extra scouting, and Nicholas Otamendi defending, it just all adds up
Why We Don't
This Benfica team is dangerous. Scary dangerous. They beat Juve twice, they drew PSG, they've beaten Porto. This is a team that can put other teams away. Even though a closer look at Goncalo Ramos would be nice, I'd like to avoid a closer look at him putting the ball in our net. Rafa Silva is unbelievably quick, Grimaldo and Alexander Bah are both threats on the wing, it could be argued that this is a much more dangerous team than Porto. Although a trip to Portugal always seems safe, this is a team that could potentially play us off the park.
Bayern Munich
Recent Form
Bayern was arguably put in the hardest group of the Champions League this year. They took all 18 points, with a +16 goal differential. That speaks levels. They played 4 games combined against Barca and Inter, and won by a combined score of 9-0. They only allowed two goals in 6 games. That's absolutely remarkable, two teams that would give any other team trouble, shutout across 4 games. Inter followed them into the knockouts, Barca once again fell into the Europa League, and Viktoria Plzen deservedly fell out of Europe. Meanwhile, in the Bundesliga, sailing hasn't been as smooth. For once, we're 12 games in, and Bayern isn't leading the Bundesliga! Upstarts Union Berlin (26) lead Bayern (25) by one point, and Freiburg (24) only trail Bayern by one. It's a relatively close title race, although hard to imagine it stays that way.
Last Time We Met
It truly was a clash of the titans when Liverpool met Bayern in the Round of 16 back in 2018-19. A surprisingly bland first leg involving Fabinho at centreback, James Rodriguez, Franck Ribery, and Javi Martinez ended in a stalemate, a 0-0 draw. On the other hand, the second leg certainly had goals in it. Sadio Mane opened the scoring in the 26th minute after losing both Sule and Neuer with a beautiful turn after Van Dijk clipped him in. In the 39th, Gnabry whipped a dangerous cross in, which forced Matip to turn the ball into his own net. Van Dijk then turned in a thunderous header off of a James Milner corner in the 69th, and Mane completed a brace against his future club in the 84th when he turned in a beautiful Salah trivela cross to wrap it all up
Why We Want Them
So someone (or everyone) can recklessly two foot Sadio Mane at Anfield, and so Bobby Clark can legally drink after the game in Munich, and then proceed to do exactly what he did against Ajax's U21 to random pubgoers in Munich. On a slightly more serious note, because they don't have Karim Benzema. Or Vinicius.
Why We Don't
I mean, might just be me, but I'd like to avoid the team that shut out Barca and Inter across 4 games. De Ligt is fast enough to shut out Nunez, and Davies is fast enough to cause problems for Salah. Coman, Gnabry, Sane, and Mane are all defensive nightmares just based off of pure pace, and then occasionally one of them randomly scores from 35 yards out to make everyone feel great. Well, maybe the midfield's not great? Haha mate, try again. Kimmich, Muller, Goretzka, Sabitzer, and Gravenberch are all enough to make a grown man (or a Jordan Henderson) break down into tears.
Real Madrid
Recent Form
The titleholders (god it hurts to write that) were handed what should have been a cakewalk of a group, but they only took 1st by a point. Real emerged with 13 points after a loss to Leipzig and a draw against Shakhtar Donetsk. However, this is the same team that lost to Sheriff Tiraspol and then won the Champions League in the same year. Leipzig followed Madrid into the knockouts, Shakhtar moved into the UEL, and Celtic were eliminated from European football. Meanwhile, Real are leading La Liga by a point, just narrowly in front of their El Classico rivals at the top, with 32 points from 12 games. After Barca (31), Atletico (23) trails the "Big 2" by 9 points.
Last Time We Met
In case you needed a refresher. I sure as hell didn't. After a delayed start of 30 minutes due to UEFA incompetence, and rumors of another Thiago warmup injury, we finally kicked off, and Thiago started a final! Felt like 1-0 already. Well, it wasn't actually, but it felt like it. A pretty common theme from these 90 minutes was us doing something good, and then Courtois doing something better. Liverpool conjured up an expected goals tally of 2.5, but we were unable to put one past the seemingly 9 foot tall Belgian. After Benzema's goal was disallowed in the 42nd, Liverpool shooting at what looked like the bottom corners but turned out to be straight at Courtois continued until the 59th minute, when Valverde's shot (I refuse to believe it was a cross) found it's way to Vinicius (who had somehow frozen Trent in place using witchcraft) at the back post, who tapped into an empty net to win it
Why We Want Them
After Bayern beat PSG 1-0 in the final in 2019-20, PSG knocked Bayern out of the UCL in 20-21. Chelsea beat City 1-0 in the 2020-21 final, and City did the double over Chelsea in the 21-22 Premier League campaign. Besides this very possibly meaningless 2 year pattern, Nunez biting/headbutting Rudiger could be a positive, as could Firmino assaulting Vinicius in a desperate attempt to win his Brazil spot back.
To be fair, Real aren't in the best form at the moment…..so maybe them before Bayern?
Why We Don't
Current-form Vinicius against Trent is a nightmare. A Ballon D'Or holder against Joe Gomez could be considered domestic violence. 37 year old Modric and 32 year old Kroos would run circles around Fabinho or Henderson, and Valverde's shooting will either beat Alisson or decapitate him, or very possibly both. Salah and Nunez will have trouble against Mendy, Rudiger, Alaba, and Militao. Right now, they're just better.
One thing that we need to remember is that this game doesn't happen until 2023, so a lot can and will change before them. We get Diaz and Jota back, they probably lose a lot of guys to injuries in Qatar, we don't because our players aren't actually making the trip, and so on. There really is no definite answer to which one we would prefer, but it's pretty obvious that we want Porto, than Benfica, and then either Bayern or Real (in my opinion Real, but it's questionable). Let's just hope Klopp and the lads are getting on a plane to Portugal, and it's not to inform Carvalho's mom that Nunez head butted and accidentally killed her son in Qatar.