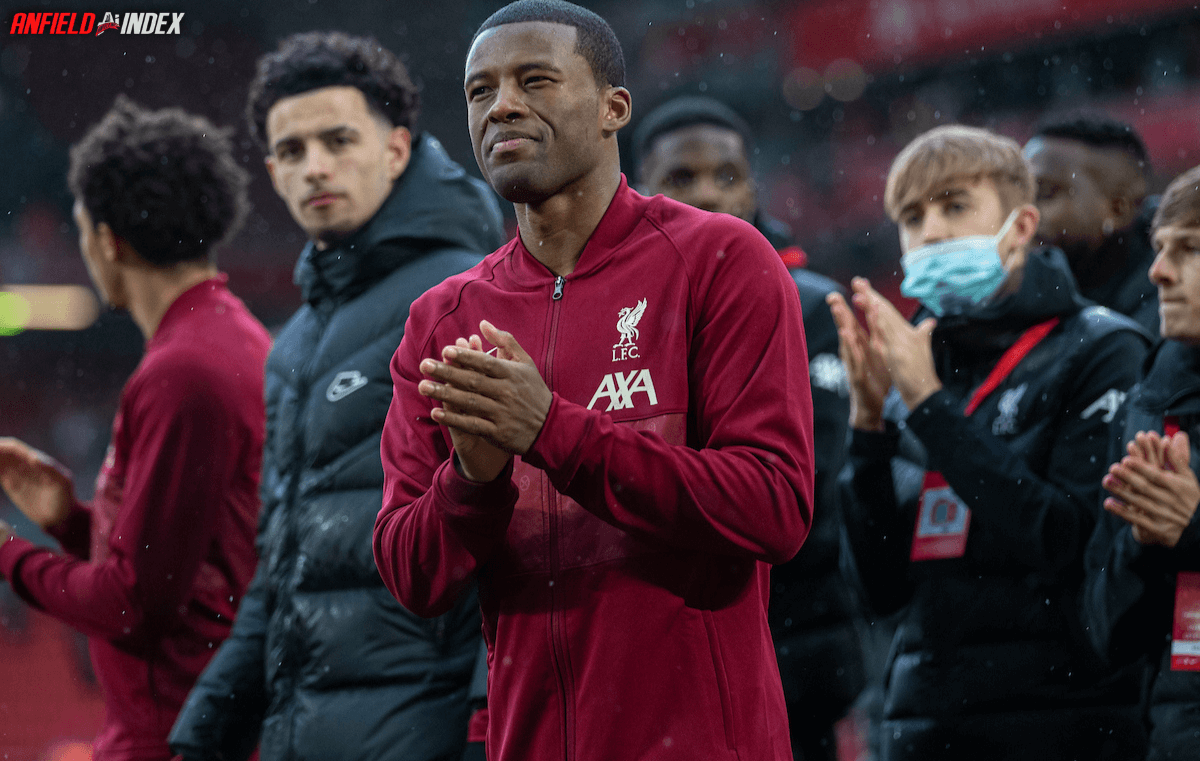 Imagine If We'd Renewed Gini's Contract

Apparently it annoys some people to mention certain former players, especially those which could (and should) have been retained by the club. In the case of one former red, Gini Wijnaldum, it seems that only one of him or Jordan Henderson were ever going to get improved terms on a new longer term contracts, with the other allowed to leave. The captain eventually got the contract both desired, and Gini  Wijnaldum was allowed to leave for PSG on a Bosman free.
Since Gini departed for PSG, he's had a pretty rough ride in a post-Liverpool world. After he endured a single season at PSG, he then headed to Roma to be managed by Premier League legend, Jose Mourinho, this past summer. His Italian-based career has been temporarily cut short by a broken leg, which means he will not be going to the World Cup. This unfortunate injury is a massive disappointment for both himself and the Dutch national team, given his international impact over the years.
When Gini eventually left Liverpool, it was a case of allowing a vital system midfielder to simply walk away from the club for free, and there's no other way of viewing it. I'm certain that Gini would've stayed at Anfield on improved terms, and probably only wanted parity with the likes of Jordan Henderson and James Milner to extend his deal. When Gini arrived from Newcastle, he was a little more than a good player that had a reasonable impact on his Newcastle side. When he signed as a red for £30m, we didn't realise that we were signing an ultra adaptable, ultra intelligent, ultra versatile, and ultra reliable midfielder that could play anywhere on the pitch. Much of the midfield issues we are currently experiencing is purely down to not having replaced such a player, and relying on either inexperienced or over the hill squad players.
It would be ignorant to suggest that Gini has excelled since he left Liverpool, in fact it's been close to disastrous. Paris Saint Germain is a ridiculous footballing entity, which has recently given partial ownership to one of its players in order to keep him at the club. We have seen great managers and players come and go since they became State owned, and it's an almost impossible task for such a player (as Gini) to be successful in that type of circus. Last season we saw a brilliant system player ignored (at PSG), due to the team not having any real identity or system in which he would excel. Jose Mourinho has clearly identified the talents that he can eventually offer Roma, and it's a shame we didn't look to move ourselves this past summer
The very point of this article is look at what would've happened if we had been successful in getting Gini signed to a new deal. In the multiple transfer windows since he departed, we haven't signed a single central midfielder, and Arthur Melo is not counted. If Gini had stayed on, It would've allowed the system to be more solid, more reliable, and more consistent. If Gini had remained a red, he would still have been that fifty game a year player, that was able to complement any midfield partner. If Gini was still here, it would've meant that either Harvey Elliott or Curtis Jones would've been able to go out on loan, and return with valuable first team experience. And if Gini had still been here, we absolutely would not be 9th in the Premier League (this year), and more than likely would have have more silverware last year.
Where we have attempted to regenerate the attack this past calendar year or so, it would have been far smoother sailing to have had a well oiled midfield. Integrating any new players need the parts around them settled, and having issues throughout the team could have been avoided in retaining Gini. We have an opportunity this next window to bring in players that can add that system mentality, but in just upping an important contract a couple of years ago, we could have maintained our levels much easier.
It's such a difficult balance between the huge benefits FSG has given Liverpool, and the limitations they so often impose on Jürgen Klopp. I can only assume that Jürgen was given the right to extend one of his senior midfielders that summer, and Jordan Henderson was the man that got the deal he desired. At some point in the very near future, I just hope that we're able to recognise the continual investment that's needed to stay at the top of the game. We can no longer idly sit by and watch players walk away for free, and not replacing them with adequate bodies. I'm still waiting for the Gini Wijnaldum replacement, and it's amazing to me that this will be yet another transfer window, where I'm sat waiting and hoping that actually happens.