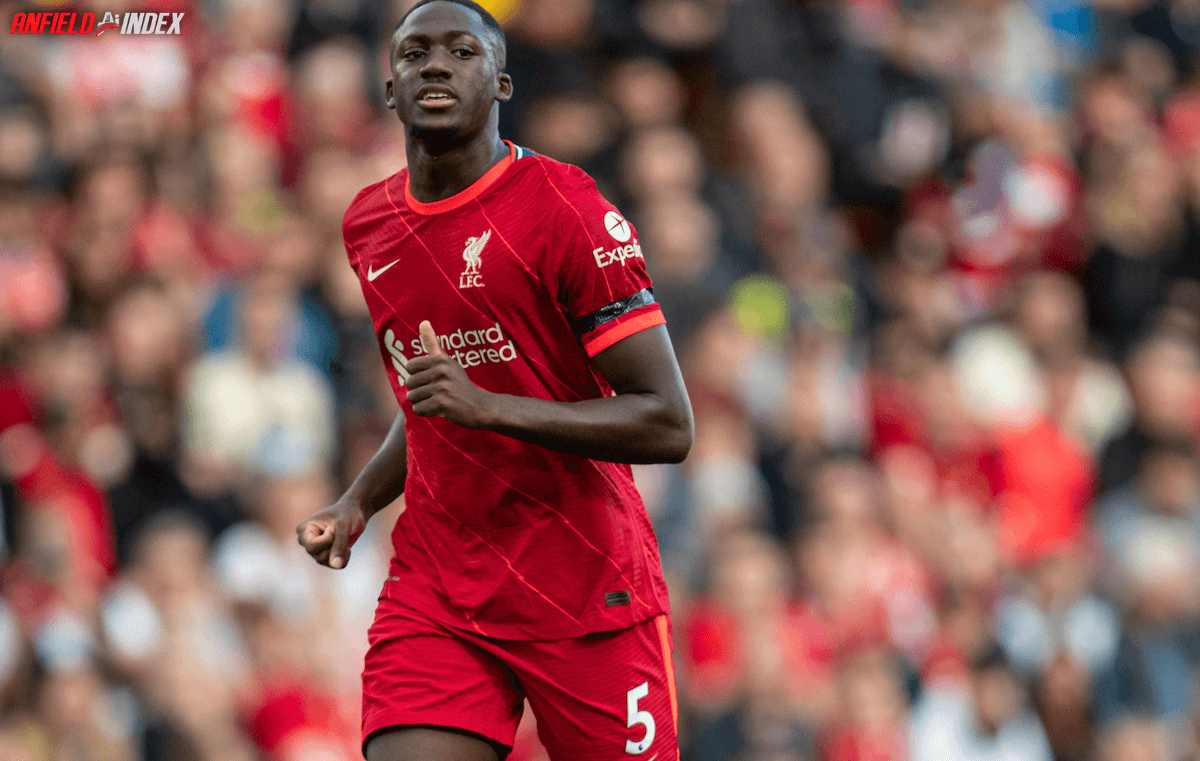 Ibrahima Konate: The Present and Future of Liverpool's Defence

Sometimes, all you need is one individual to make a huge difference in a struggling season.
When it comes to selecting Liverpool's best and most important player, the same four or five names will always be bandied around.
Alisson leads from the back and is unrivalled in his position in the world, the same applies to Virgil van Dijk despite an iffy campaign to date, while Mo Salah could now be one of the Reds' three greatest players of all time.
Trent Alexander-Arnold is the creative hub of the team, Fabinho is colossal at his best and Roberto Firmino's influence has been gargantuan over the years.
Not many would single out Ibrahima Konate for being a priceless figure, however, despite his immense potential, but his return has made everything feel better, safer and more positive again.
Sure, the 2-1 win at Tottenham was far from perfect, but with the 23-year-old back alongside Van Dijk, there was more of an aura about Liverpool, not to mention much-needed added legs and youth.
Konate was the Reds' standout performer in north London, along with Salah, standing tall during a hideous second half that threatened to cause more weekend-ruining misery.
The Frenchman won a staggering 88% of his aerial duels against Spurs, towering over Harry Kane numerous times, not to mention making nine clearances and 11 recoveries.
Had it been Van Dijk, the wider footballing public would have been calling it an iconic return to top form for a legendary figure, such was the brilliance of the performance.
Sunday's game was a reminder that Konate is now very much the first choice in that right-sided centre-back role.
In Joel Matip, Liverpool have another wonderful player who provides calm and elegance on the ball, but his younger teammate is the greater foil for Van Dijk and makes the Merseysiders more of an all-round force.
Van Dijk has arguably lost some of the blistering pace he once possessed, but Konate's Gazelle-like speed makes up for that hugely.
The high line feels far less susceptible with him in the team, too, with his recovery pace allowing the bold system to be used better compared to when Matip is in the team.
There's Joe Gomez, too, of course, but he looks past his best after so many serious injury problems and he doesn't have the consistency or concentration levels to be ahead of Konate in the pecking order.
There are many reasons for Liverpool's struggles this season – physical and mental fatigue, injuries, players ageing and more – but in hindsight, the pre-season fitness issue suffered by 'Ibou' has played a big part in their woes.
Without him around, Jurgen Klopp's men have been painfully easy to run through – a limp midfield has been the biggest reason for that – and his aggression and naturally front-foot approach have been sorely missed.
Van Dijk and Matip have looked their 31 years alongside one another and Gomez has been poor too often, so Konate represents both the present and future of Liverpool's defence.
At 23, he still has so many years ahead of him to hit new heights – Van Dijk hadn't even moved to the Premier League at that age – and he is now a shoo-in to start any big game, as the Champions League final last season showed.
There may be the odd error along the way, which is only natural from a young player who is still raw, but Liverpool have a player in their ranks who has all the tools to be a colossal figure at Anfield for a decade.