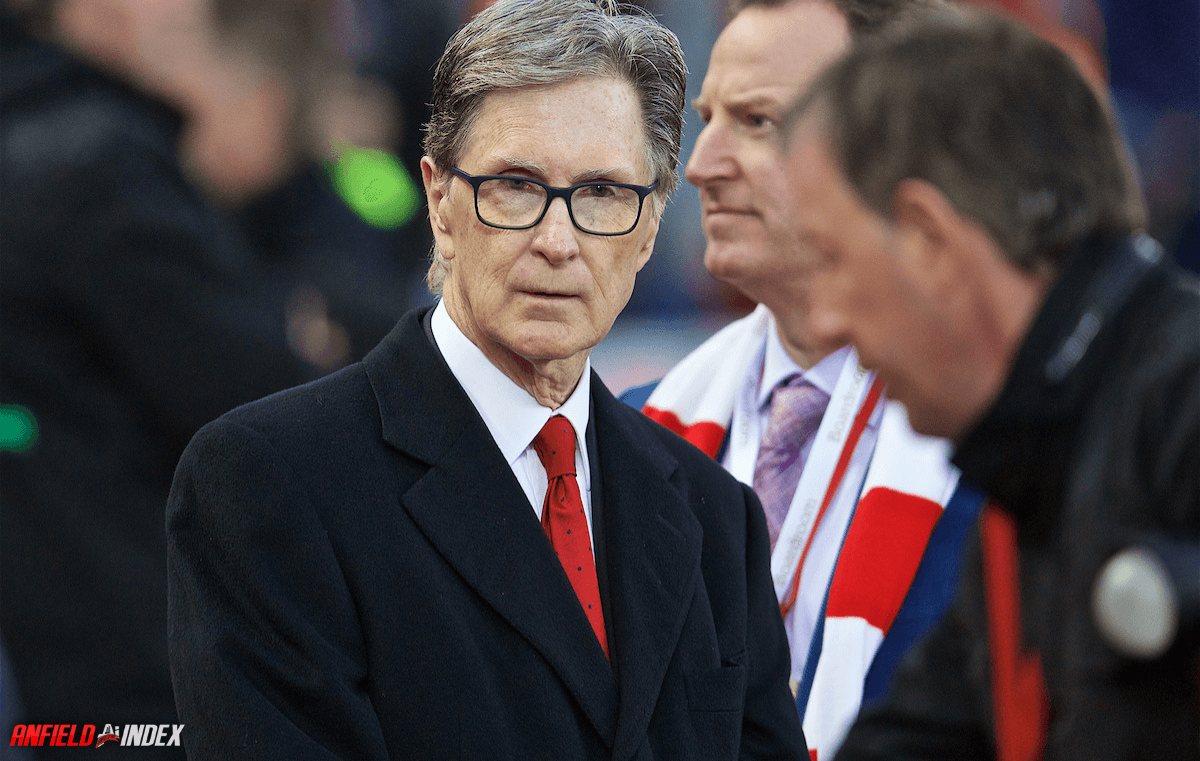 Understanding The Timing Of FSG's Sale
It was always inevitable that FSG would sell the club sooner rather than later, but the key point is to understand the timing of their 'For Sale' sign and statement, and what has led the Boston-based consortium to choose now as the moment to cash in.
FSG are primed to make an enormous amount of profit from the proposed sale of Liverpool Football Club, and that in itself is very reflective of how they have marshalled the Reds' transfer activity. Each situation seems to be heavily engineered, thoroughly considered, and much like when choosing to cash in on stock, they have seen this moment as the ideal time to cash in their chips.
With the wonderful Kirkby training complex fully in motion, that was a key point ticked off. With the latest phase of regenerating Anfield nearing its completion, that was another key point ticked off. With the side currently on a roll of Champions League qualifications, and with a good few pieces of silverware added, now probably represented the peak of their ownership powers. In order to undertake the next phase of redevelopment, it would have involved vast amounts of money to be invested into the ageing first team squad, and evidently that is where they have drawn the line.

All the of the structural improvements, and the current management and squad, has increased the value of LFC exponentially since FSG arrived. Our ownership understood the model and growth of sporting entities more than any other, and with huge investment being undertaken by their rivals (City, Newcastle, Man U, Chelsea, Spurs & Arsenal), it created an unknown amount of money that would be needed to fully compete once again. That in itself becomes detrimental to their brand building, and they are in a position to sell a team only just loitering outside of top 4 (with many many game to go), within the last 16 of the Champions League, with a squad of players that needs a few recruits this winter, and a manager still very much considered world class. If we continued on this path of stagnation however, none of the above may be relative next summer, therefore now is the moment to start the process of a sale. For FSG, the value of Liverpool FC may never be this high again, and this is why John Henry has chosen this very moment to act.
With 8 weeks until the transfer window opens, and a further 4 weeks until it closes, it gives a nice moment to offer up to potential bidders. Any successful takeover would inevitably see monies invested in the market, and with the fanbase (and probably Klopp) crying out for elite midfielders, this would offer new owners the chance to secure an immediate win. With just a week to go before domestic and European football shuts down (for the World Cup), it also offers a perfect window to establish the field of bids. This moment has been carefully considered, and the logic is there for how FSG have always operated.
Everyone (even our rival fans) can see this club requires some form of injection. We are a cash rich club, but are owned by prudent and sensible owners within an area that lives far beyond those measures. FSG are working for their own gains, and will have a plan for their next venture, but this moment can also benefit Klopp to the highest order. We need an injection of quality in the new year, and it was always doubtful that John Henry would have loosened the purse strings for that to happen. This is nervous news for sure, but the bigger picture dictates that FSG will be leaving us as an elite footballing empire, one which is still feared across the globe. What they bought was a shadow of who we are now, and for that we have to respect the work done during their tenure.
My only hope now is that they can find the correct group of investors, to take us back to the peak of our powers, and that we may finally get to see what Jurgen Klopp can do with the spending power of his rivals.