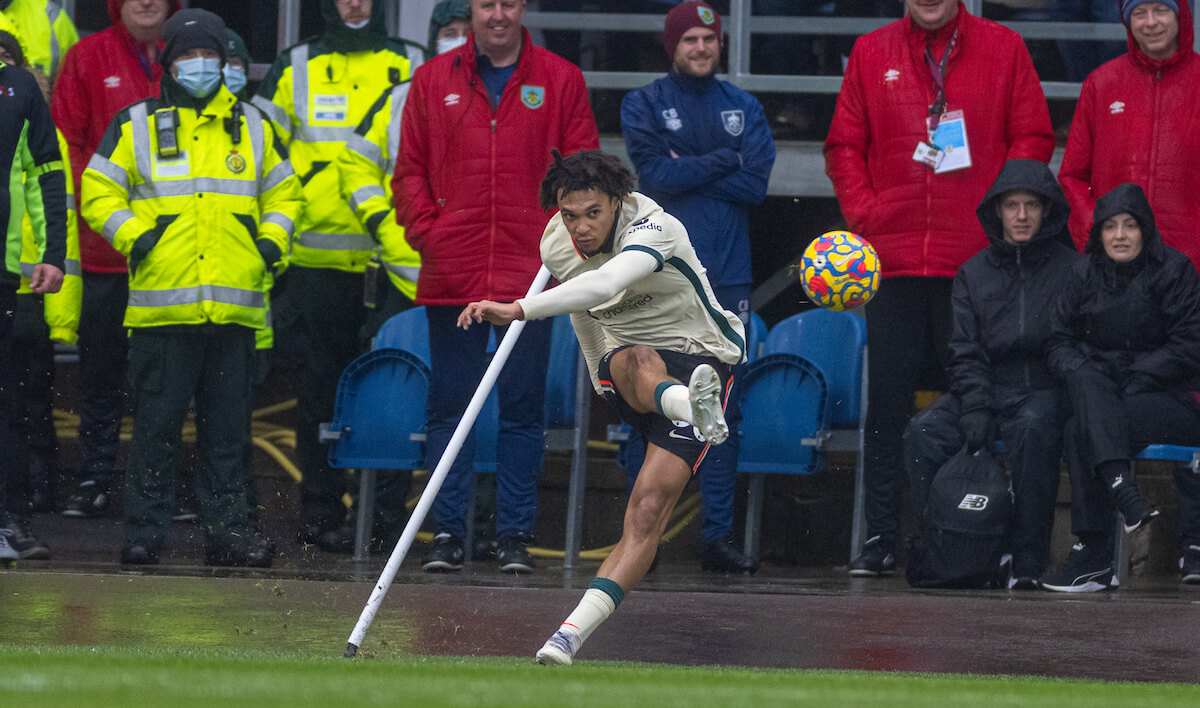 Can The World Cup Reinvigorate Trent Alexander-Arnold?
It's confirmed, Trent Alexander Arnold will be participating in the World Cup in Qatar. With the injury to Reece James, Gareth Southgate had little choice but to call upon the heavily criticised Liverpool fullback for his final squad list. There has been a few eyebrow raising decisions made (by Southgate), but for the purposes of a successful England campaign, having the world's most creative full back in a squad of 26 seems a no brainer to me.
When you look at the England squad, you can probably make a case of many players having had a poor season thus far. At Everton, Jordan Pickford and Conor Coady have been part of a Toffees defence that struggles continually. At Manchester United, Harry Maguire is only a step above Phil Jones in the Red Devils' pecking order these days, and is often hapless in his limited appearances. Eric Dier has improved under the defensive mind of Antonio Conte, but was very much at fault for Liverpool's win against his team last weekend. Luke Shaw is in because he's left footed, but has been below average ever since those annoying fans were allowed back in stadiums, and Kyle Walker has a groin issue, which will surely cause an issue at some point.
That's the defence boxed off, and I won't even get into the strange omissions of two particular centre-backs, that are greatly outperforming most of those actually picked. The midfield has called upon Kalvin Phillips (who basically hasn't played since he was a Leeds player), and Jordan Henderson has been selected who has been both injured and woeful this season (at least). The attack sees Jack Grealish called, because he plays once in a while for for City, and Marcus Rashford has been ushered back in, despite his continual inconsistency. Most of these are necessity calls of course, but some are just bad decisions by a manager who has never actually proven his credentials.

The above are all notable issues and relevant to the England squad, yet all will pale in significance to the call up of Liverpool's Trent Alexander-Arnold. TAA has indeed had a poor overall season, and his defensive deficiencies have mirrored the general form of his team. His attacking play has been pretty sporadic, but we are still talking about a player with world class abilities, that will inevitably bounce back. His on the ball play can still be breathtaking (this season inclusive), and in this England team he should be installed as the primary playmaker. Most of the before-mentioned picks are average players that will never have outstanding moments, or even have the ability to get there. It is in this situation however that I believe Trent can use this World Cup to rediscover his best form, and perhaps calve a new path at his beloved Liverpool.
Gareth Southgate generally plays an ultra safe style of football, that allows as much defensive cover as possible. His continual use of the 343 / 3/5/2 system will probably be present, and that is a system that can benefit Trent throughout the competition, especially the latter stages. At Liverpool, our fullbacks are asked to play the most risk inviting style of football possible, and even Jurgen Klopp was keen to point out the risks that are expected of Trent. With an ever changing cast around him, a vastly underperforming midfield, and no real working system this season at Anfield, we have indeed seen Trent struggle when targeted. What both England and Liverpool need to do is stop focusing on the negativity, and find a way (I have a plan) to unleash one of the best footballers on the planet
With England, you would fully expect him to be a rotation piece at RWB, alongside Kieron Trippier. With a RCB in behind (let's say John Stones) and a double pivot midfield generally asked to shield the likes of Maguire (let's say Rice & Jude), it offers an awful lot of creative control and freedom to the wing backs. We saw the impact Luke Shaw had at the last Euros, and this system is perfect for the immense skill-set Trent possesses. I'm an advocate of Trent moving into a RM or RCM slot for Liverpool, as they continue the evolution of their side. This is why I believe the World Cup can offer Trent a huge opportunity to stake his claim for a midfield spot at Anfield.
For me, a wing back is part of the midfield group though not the attack. This position often requires bespoke talents, which is why we rarely see Kyle Walker there (good defensively with immense pace), while Reece & Trent are very much at home in that slot. Both Trent and Reece are dangerous assets going forward, but in Liverpool's back four, Trent is often targeted, whilst lacking coverage. The same can be said of Reece James at times, with his skill-set not ideal for a back four or as part of a back three even.
The added protection by the third centre half creates a higher starting position (ideally) for the WB, and leaves less chance of direct balls coming to fruition. At Liverpool, Trent has commonly been asked to play as high as an orthodox right winger, despite having a central midfield no longer physically able to cover the departed (as requested) zones. Liverpool will continue to play a back four, but with England, Trent could very well push forward his case as that forward thinking wide man. Liverpool have a real issue and decision to make at RCM/RM and I believe the long awaited debut of Calvin Ramsay can also help Trent slide forward one. Harvey Elliott is a good option, but Trent is the level of creator the reds need fronting on all cylinders once more.
England will inevitably start with Luke Shaw & Kieron Trippier at full back, as once Glenn Hoddle started an ageing Teddy Sheringham ahead of the world class Michael Owen. I believe England will struggle more often than not to find the net, and the introduction of Trent will be forced upon Southgate at some stage. Now whilst I think it may take until the last 16 for Trent to really get his moment, I think that moment to be inevitable. Neither Shaw nor Tripper are good enough to play their way to anything close to Trent's level of creativity, and despite the never ending talk of Trent's weaknesses, no football fan alive can question his stunning ability to influence an offensive pattern of play.
I believe in Trent, and I'm mystified as to why Gareth Southgate isn't pulling any agenda to try and back this world class footballer. He has never really afforded the chance for Trent to stake a claim either, and the whole situation is at times bizarre. This is a young man that has won every domestic honour, and been one of the best players (in an elite unit) throughout. His form (alongside the Reds) has been stuttering this season, but whereby Gareth is forever keen to jump to the defence of the Harry Maguire's & Kalvin Phillips' inclusions, he seems completely reluctant to do so with someone that could genuinely help England win this World Cup.
I'm an England fan, and though I don't trust the abilities of the manager (due his lack of credibility), I'll always support the team no matter who is playing. I just hope that some form of realisation kicks in before it's too later, and Gareth Southgate sees exactly what Trent can do for this Three Lions team. If we get that moment, hopefully Jurgen Klopp will finally be tempted to throw his young man into the reds midfield, and see what he can do.