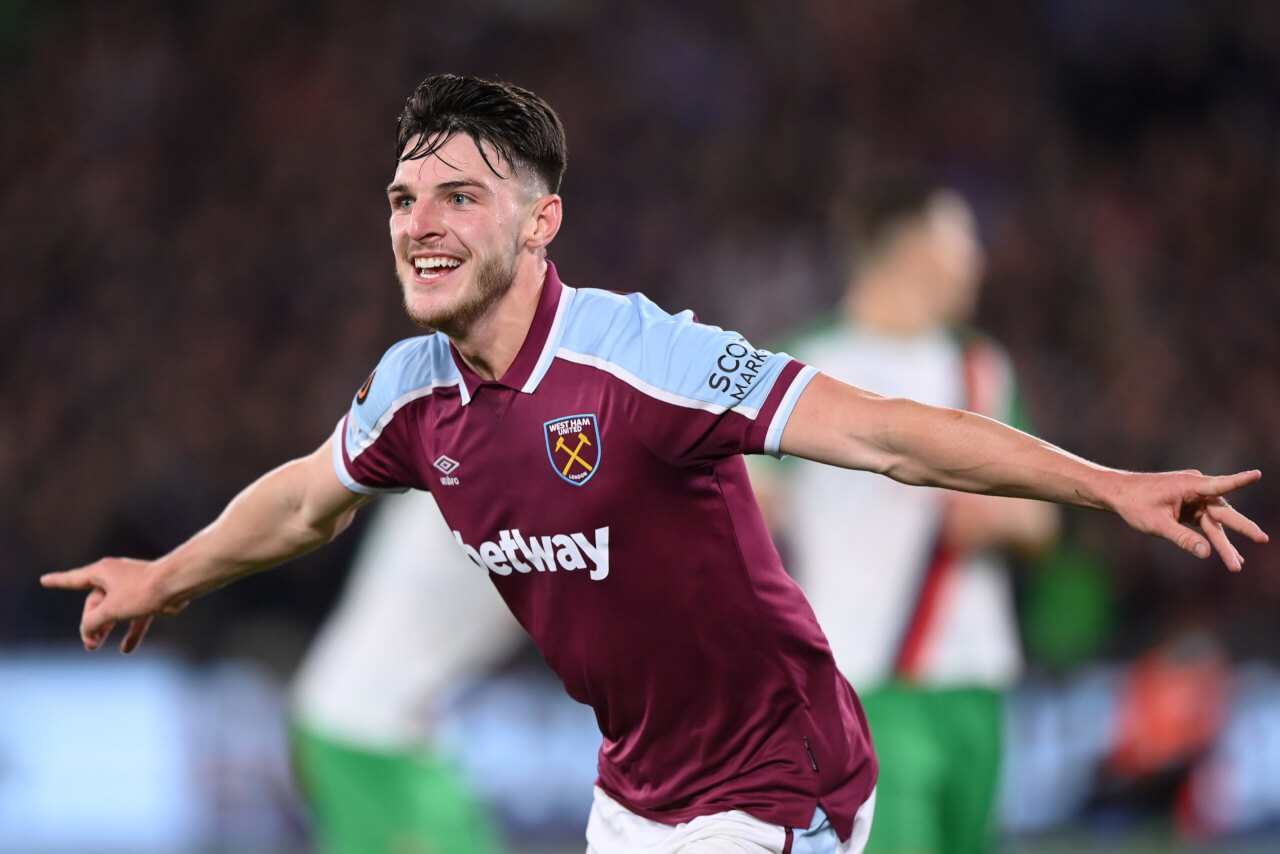 Why Liverpool could sign Declan Rice in January

The first phase of this enthralling Premier League season is now in the dust, and ridiculously, the World Cup in Qatar begins this coming Sunday. This whole international competition is a complete farce, from the moment the destination was announced, until the moment it ends. It'll bring controversy, injuries, upset and fatigue. Yet the mid-season stop (in many ways) helps Liverpool to recalibrate their own campaign and presents them with an opportunity to get one or two deals over the line before the January window opens.
I've previously written a feature focusing on Jurgen Klopp's recent comments, based on future spending that is needed. For me, this was a very strategic and timely array of comments designed to trigger a reaction. I've stated that I don't believe the completion of any sale will stop FSG green lighting a new signing. I would be confident that a £4bn sale could involve a signing in the pipeline, and that cost would simply be absorbed into the sale price.
Everyone would win at this point, and it would especially aid our much-needed squad regeneration. If an incoming signing of some standing were to be announced, the current regime would leave Merseyside on a transfer high, the new owners would arrive having agreed to an incoming deal, and all of a sudden the new era starts on a good note. The question is, of course, what and where do we need to focus on first?
In terms of our squad, the club need to be very clear on how to proceed. Julian Ward needs to make sure they are running point on any incoming players, so that we don't see another Todd Boehly (new Chelsea owner) scattergun approach. His recent acquisition of Chelsea saw a very entertaining beginning, with a raft of new signings. With his self-appointment to Sporting Director (apparently, yet only interim), it really was a strange way to blow a few hundred million pounds. There was no real direction, and it truly seemed like the actions of a man that had played a little too much Football Manager in the weeks leading to the Stamford Bridge buyout.
Liverpool appear very different, and despite the want from fans demanding our recruitment strategy to be altered, many things still have to stand firm.
Every key decision must revolve around the short and long-term vision of our 55-year-old manager, and our recruitment department needs to be identifying the perfect and viable candidates. We have been and must continue to remain on the same page as to how we proceed. The key point of change has to be the financing and increasing our ability to consistently regenerate our squad.
I've heard rumblings this weekend regarding the potential signing of West Ham club captain, Declan Rice. The midfield general had a very good performance against the Reds a few weeks back, and though his second-half level only increased once our own Thiago had left the field, it still might have left a strong impression. When last season's Champions League run paired us with Benfica, it seemed to rubber-stamp our desire to sign Darwin Núñez. The infectious Uruguayan striker has steadily risen to become a beloved member of our team, and we are all excited about what he could become. His performances against us last season (and Virgil Van Dijk specifically) were emphatic and enriching to the point where we spent heavily to get him through the door.
In terms of Takumi Minamino, we signed this player after his own very impressive outings against us, also in the Champions League. Whereas that deal was probably more a smart investment signing (from RB Salzburg) with the low buyout fee, it's still a fact that he impressed so much against us, we brought him to Anfield.
With all selected players departing for their international call-ups, we will almost certainly start to see a good few agents start to ramp up their calls. Players that are maybe looking at the horizon and the potential for future clubs will see most definitely see some personal agendas arise. This morning as I write this, I've seen snippets of the Cristiano Ronaldo interview that has been undertaken with Piers Morgan.
Ronaldo will always look to force the issue in his favour. He clearly wants away from Manchester United, and I'm certain he would sign for any Champions League team that would take him. I recall Roy Keane once giving a wonderful interview (many moons ago), where he tore down the curtain on what he believed was a circus within the corridors of Old Trafford. The former Irish captain never played for the club again and was next seen in a Celtic jersey after being moved on by Sir Alex. With regards to the former Real Madrid forward, Ronaldo, he has clearly taken the same path in order to force his way from his present situation, and that kind of situation is perhaps where the reds can take advantage.
I don't believe the West Ham skipper will force the issue in any type of dramatic fashion, but I do believe he may see an opportunity to engineer a move away. If an established European club such as Liverpool were to come knocking, this could represent the ideal moment to forcibly ask for that move. The Hammers currently reside in 16th position in the league, with just 14 points accrued thus far. Their fantastic couple of seasons may have seen this side reach its breaking point, with the domestic and European adventures often taking a toll on a squad of players. David Moyes will surely be given every opportunity to correct their current position, but certain players such as Rice, may not be willing to invest their prime years in such an objective.
At 23 years of age (he turns 24 on 14th January), this west London-born midfielder is about to enter the prime years of his career. After leaving the Chelsea youth academy in 2016, he clearly found the correct path within West Ham's famed Dagenham facility. A slow progression ensued, but with a move from the centre of defence to the centre of midfield, he began to find his true footballing path. The 34-cap England international went on to become a very good holding midfielder before he progressed into a box-to-box type, who was able to help dictate a game. Much of the east London outfit's recent success has been based around the form of their talisman, and it was inevitable that the top table of football would eventually make some form of move.
I always assumed that a Chelsea return would be the most likely, but it seems their own ship is still searching for calmer waters. The Blues owner, Boehly, has invested vast amounts in the team so far this season. Given both their league position and the likelihood that the huge spending will slow, a move back to his old club now seems less likely.
Manchester United were another club that I considered a strong candidate for the Rice signature, and that may still be something that happens. The issue for the Red Devils though, is that their own spending spree must surely soon require a period of working with what has already been acquired. If Arsenal were to continue on their impressive table-topping trajectory, I could see Mikel Arteta testing the Capital waters, but again, the North London table-toppers have already spent heavily in the recent past, and another big deal may not be feasible.
Rice is a player that has amassed 215 senior appearances since his Hammers debut in 2017. He has a career total of eleven goals, with another two coming for England. This England first-team starter is by no means a Kevin De Bruyne, nor is he a Thiago Alcantara type that could dictate an elite team's use of the ball. What he is, is a strong and dynamic player that could potentially complement certain players around him.
Within a midfield three, the West Ham starlet would walk into our right-sided midfield role, in either the 4-3-3 or diamond system. As that box to box engine, he could offer intelligent positioning & protection of Trent, he could add strength and the off-ball defensive awareness we often lack (with Harvey Elliott or Jordan Henderson), and he would add to our leadership group. What I've just described pretty much lists many of the key attributes that Gini Wijnaldum was famous for, and despite the switching of sides, he could be a player that we require to help regain midfield control.
I would prefer Moises Caceido, as I believe he offers far more potential, and increased defensive awareness, would be a cheaper option, and is probably playing to a higher level now despite being only 21 years old. Rice would be a very good signing, however, and would give us most of what we are lacking at this moment. We know that Trent Alexander-Arnold is too often abandoned at right back, and perhaps Rice would be that player to offer more right-hand stability amongst the attacking patterns of play. His ability to cover Fabinho at the base of the midfield is also a bonus, and though I wouldn't call him the ideal six in our system, the same could probably have been said of Wijanldum. West Ham's No41 often plays within a double pivot, and this is another facet of his play that could be appealing to Jurgen Klopp. His nationality is always a bonus, but with that always comes a premium on the initial transfer fee.
At 6ft 2 inches tall, the physical stature of the England midfielder would be yet another point to consider. Our last few signings have included some very physically dominant players, and Declan would match the attributes that we praise in Nunez, Calvin Ramsay and Ibrahima Konate.
With a contract that has a current maximum of two and a half years to run, now may be the moment to strike. We know that David Moyes held some mild interest in Alex Oxlade Chamberlain in the summer, and if not for his injury, he may well have ended up in the claret & blue. Perhaps offering to make Ox part of the deal would again be a scenario that appeals to all parties.
Since his breakout season in the 2017/18 campaign, the availability of the West Ham player has been almost constant. With all competitions included, the season totals of 31, 38, 40, 35, and 50 for last season, show a player that is always available. Last season's spike tallied with West Ham's European run, which is again another consideration for Ward and the recruitment team. We currently have a raft of midfielders prone to injury, and a lack of stability within that middle group has evidently caused harm to the surrounding cast.
To have a player with no particular injury issues in his career, we would be attaining an asset that can work within that 40-50 games per season range, and that is once more something we never replaced in Wijnaldum.
Is this a viable deal? I would say that it's a deal that can certainly get done, and maybe without too much real competition. Most of our competitors are well-stocked in midfield, especially at this mid-season point. The stumbling block will always be the cost, and whether or not West Ham will drop from their £100m valuation. If a deal could be agreed in the £60m + Ox range, that would be more reflective, but again, I would be far more inclined to target Brighton's Ecuadorian Caceido.
The point of gossip has now fully begun, and at least the reds are being linked with the types of players that are truly needed. Over the next few weeks we will see multiple links on both the ownership and player front. Hopefully, both items get resolved swiftly, and we as a club can start building for how we attack the second half of the season, a period that just might include the talented Declan Rice.